As with the left, so with the right: the Power LR Ultegra R8000 power meter from Stages
With the Stages Power LR, Stages Cycling debuts a power meter that measures the individual pedal input of both the left and right leg, including concentricity and torque efficiency. Like all Stages power meters, it features Active Temperature Compensation (ATC) technology, which ensures consistent measurement. Measuring accuracy is +1.5/-1.5 %, and measuring sensors not even 40 g in overall weight.
When you combine Stages Power LR with the Stages Performance training platform Stages Link and a
Stages Dash
cycling computer, it provides you with additional data, just like the professional cyclists use to get the most out of themselves. The Stages Power LR power meter is not only compatible with Stages Dash, but also with any third-party bike computer as long as it can display performance data and works with ANT+ or Bluetooth.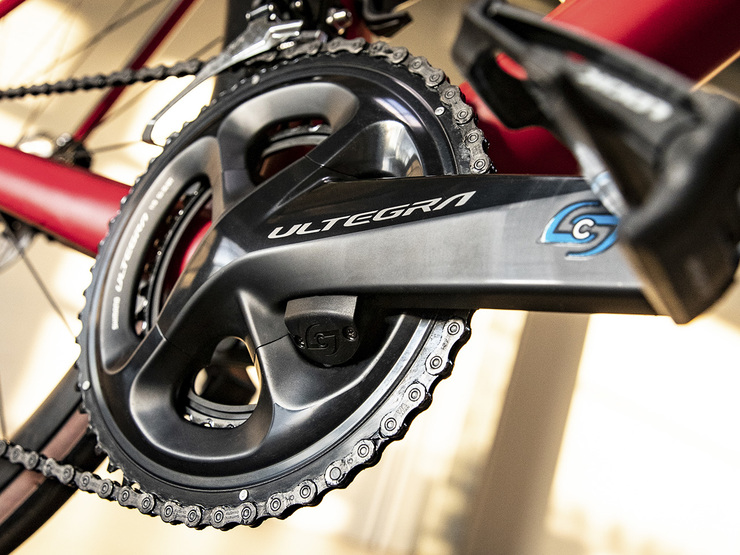 Information regarding the return of batteries and electrical equipment:
Information on the return and disposal of used batteries and electrical equipment can be found
here
.
Specifications:
Application:

Road

Type:

power meter crankset (dual-sided)

Compatibility:

Shimano 2x11-speed

Chainring Mount:

110 mm pitch circle, 4-arm asymmetrical
Technical Information:
Crank Arm Material:

Aluminium

Chainring Material:

Aluminium / carbon (CFRP), aluminium

Axle Material:

steel

Gradation:

34-50, 36-52, 39-53

Crank Arm Length:

170.0 mm, 172.5 mm, 175.0 mm

Chainline:

43.5 mm

Q-Factor:

146 mm

Axle Diameter:

24 mm (Hollowtech II)

Compatible BSA Shell Width:

68 mm

Recommended Bottom Bracket:

SM-BBR60 or SM-BB72-41B Pressfit Hollowtech II (not incl.)

Tolerance:

+/-1.5 percent

Point of Measurement:

crank arm

Power Source:

2 x button cell CR2032

Battery Life:

min. 175 hours

Data Collected:

cadence (20-220 rpm), power (0-2500 W), pedal stroke, torque

Waterproof:

IPX7

Data Transfer:

ANT+, Bluetooth
Compatibility:
compatible with all Shimano Hollowtech II 11-speed road groupsets
compatible with most frame models, see Stages Support website
compatible software: Stages Link, Training Peaks, Strava, Garmin Training Center etc.
Features:
power measurement on both sides (sensor on left crank arm + sensor on drive side)
2 independent power meters included (2 bikes could be equipped with one-sided measurement)
flat design with robust connection between battery cover and housing
battery service by user: tool-free battery change on left crank arm, battery change on drive side using Phillips head screwdriver
active temperature compensation
built-in cadence sensors, no magnet necessary
integrated LED display displays battery status and calibration result
improved acceleration sensor and additionally integrated ring laser for improved cadence resolution
wireless firmware update via Stages App
Near Field Communication (NFC) with Tap-To-Pair for easy connection to many smartphones and other devices
improved Bluetooth and ANT+ antennas increase data transmission strength by a factor of 6
additional weight left: 15 g, additional weight right: 20 g
Technology:
Stages Power Meter
No moving parts and all packed under an extremely stable ABS-PC case - the Stages power meter does not damage the structure and therefore the stability of the crank arm. It adds the ability to measure power to the crank.
Power is the measurement of the mechanical work you do on the bike and the most accurate way to measure your effort. In contrast to heart rate, which is highly dependent on physiological influences such as stress, lack of sleep, caffeine, ambient temperature, time of day, fluid balance and other factors, performance shows exactly how much work you do and how effective your training is. Performance measurement is the perfect tool to understand what progress you make during training, but also how performance levels and fatigue develop. Simply put - if you want to know how in shape you are, test your power.
The cadence and torque data acquired (see below) are multiplied to determine the power of one pedal revolution.
Torque Measurement
In order to measure the torque, strain gauges specially developed by Stages are applied precisely along the crank arm. Strain gauges, which are also used in a similar form in space travel, can detect the smallest of bends even in the stiffest crank. Each pedal revolution causes a minimal bend along the crank arm. This downwards directed force occurs at each revolution. Multiplying this force by 9.8 m/s2 and the length of the crank arm gives the force applied per pedal revolution - this is the torque.
Cadence Measurement
The Stages power meter measures cadence using an accelerometer (same technology that allows smartphones to adjust the display depending on position). The accelerometer is part of the specially designed electronic circuit board, eliminating the need for outdated magnets, external sensors and cable ties to measure cadence. This state-of-the-art technology also allows the power meter to detect the position of the crank several times per revolution. This results in faster information transfer and better performance data.
Active Temperature Compensation (ATC)
Stage power meters are equipped with active temperature compensation (ATC). Different temperatures cause strain gauges to expand or contract by a certain amount. ATC allows the power meter to compensate for temperature changes that would otherwise affect the strain gages and their ability to accurately measure forces. The most important thing is that Stages ATC works automatically and continuously while riding - so you don't have to stop pedalling.
ANT+ / Bluetooth Transmission
The Stages power meter was the first power meter on the market to use Bluetooth smart transmission in addition to ANT+.
Bluetooth:
enables bidirectional communication between the Stages power meter and a smartphone or Bluetooth enabled bike computer
sends more data per second to end devices compared to ANT+
makes every Stages power meter fit for the future, as updates are possible wirelessly
no need for cables or external ports - simply update your firmware from your smartphone
load training sessions from your smartphone easily and directly to Strava or TrainingPeaks.
ANT+:
ANT+ is the gold standard for wireless communication in the cycling and fitness industry. The system is simple, robust and allows cyclists to add performance measurement to the ANT+ enabled bike computer.
StagesPower App
Make your power meter fit for the future. The data recorded by your Stages power meter can be transferred directly to the StagesPower App. Use the app to update your firmware and have access to innovations. Check if new firmware versions are available. Perform a zero point calibration of the power meter using the app. Track power and cadence. Observe the battery level of the power meter. In addition, high-speed data recording is available, which impressively demonstrates the sensitivity of the Stages power meter and enables scientific data acquisition.
Stages Link
Stages Link offers cyclists at all levels of performance individual coaching and knowledge transfer tailored to the needs of each athlete. As a desktop application or app, Stages Link is the hub of cloud-based coaching, knowledge platform, training analysis and a tool for maintaining your training equipment, developed in close collaboration with Today's Plan analysis specialists. Stages Link customises training plans down to individual training units to optimise the performance of athletes and enable them to achieve their goals. Stages Link also helps you quickly set up your Stages Dash bike computer and check your Stages power meter, but is also compatible with devices from other manufacturers. Get access to Stages Link for two months free when you purchase a
Stages Dash
computer. Access to basic functions is always free.
Manufacturer Numbers:
170.0 mm 34-50:

UR8-C4

172.5 mm 34-50:

UR8-D4

175.0 mm 34-50:

UR8-E4

170.0 mm 36-52:

UR8-C6

172.5 mm 36-52:

UR8-D6

175.0 mm 36-52:

UR8-E6

170.0 mm 39-53:

UR8-C9

172.5 mm 39-53:

UR8-D9

175.0 mm 39-53:

UR8-E9
Contents:
Stages Power LR Shimano Ultegra R8000, consisting of:
1 x Shimano Ultegra R8000 crankset (34-50, 36-52 or 39-53) with power meter left and right
2 x CR2032 batteries