It's Sunday morning, cloudy with rain in the forecast. Like every week, I show up to my Road cycling group a few minutes to late. However, this time I have an excuse: "Sorry guys, I had to put on my veloToze." Now, everyone has something funny to say about the latex material, and the new MTB version has even more of it. I brush off the comments knowing that they'll be the ones complaining when their feet start to get wet. But let's jump back to the beginning.
veloToze shoe covers aren't new and have been keeping Road cyclists' feet dry for years, but they've always had a bad reputation when it comes to durability. For mountain bikers, they never even came into question because the bottom of their shoes and cleats were covered. So veloToze has introduced a reinforced version that is more durable and fits both MTB and Road shoes.

The veloToze shoe covers.
First impression
Picking them up, I was surprised at how light they were, compared to conventional shoe covers. They also seem to be very robust and even though they are reinforced, they are still pliable.
Pulling them on
I'll be honest, my first time putting them on was difficult. However, after a few times, they only take a few seconds longer to put on than normal shoe covers. The trick is to pull the shaft and the cleat cut-out onto the leg. After, shoes are put on and the veloToze are stretched over the shoes. Doing it this way is pretty quick and taking them off exactly the opposite works great too.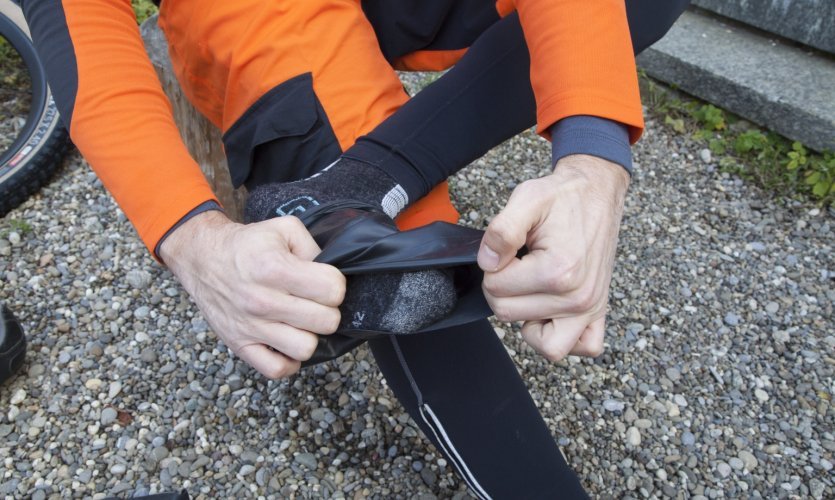 Pull the shoe covers up the leg.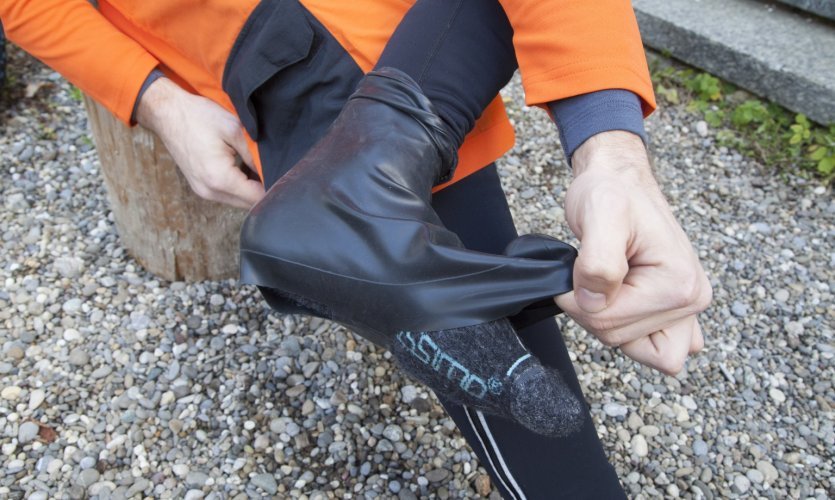 Pull on the veloToze before putting on shoes.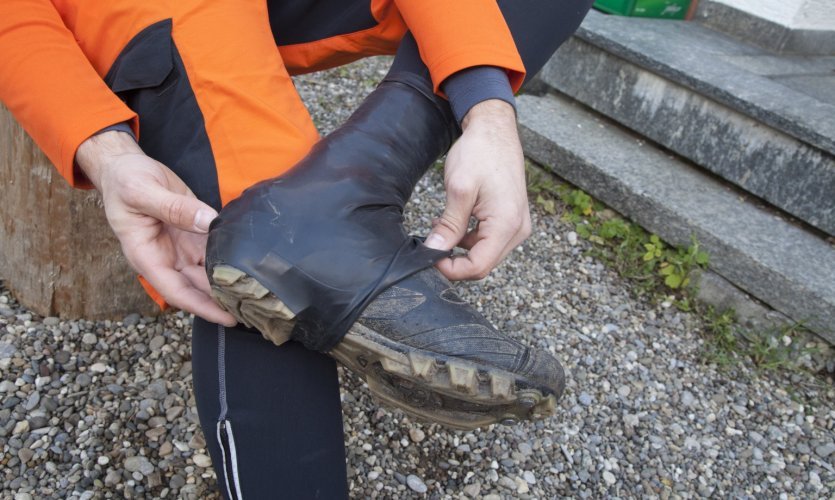 Now, put on the shoe and stretch the heel over.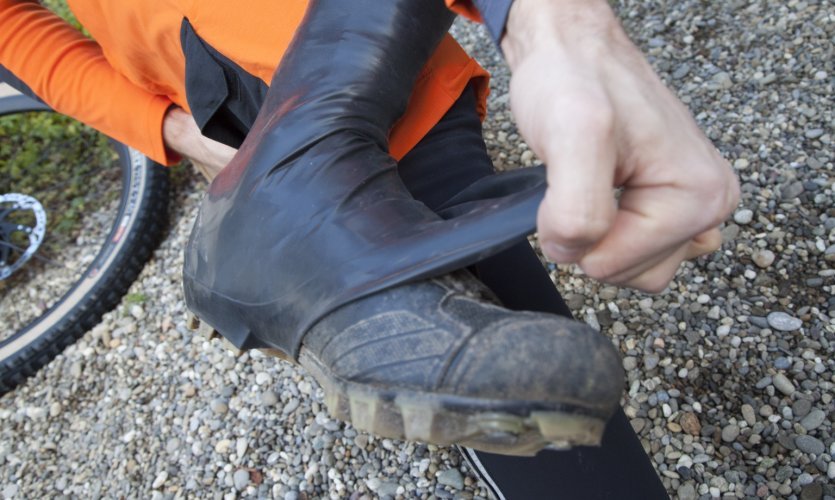 The toe can be pulled over the shoe to finish putting them on.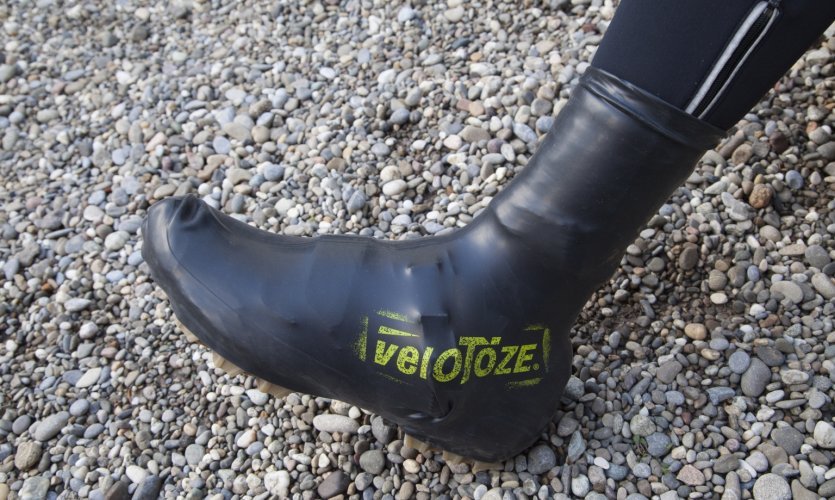 They fit like a second skin.
Conditions
I used the veloToze MTB shoe covers through December and January. Between my MTB and Road bike, I put back roughly 1250 km through all types of weather.
Snow, heavy rain, ice cold wind and road spray were an easy affair for the veloToze covers.
I also used them during the Festive 500, where I rode 500 km between Christmas and New Year, an ideal test scenario.
Waterproof
Because the shoe covers act like a second skin, they also keep water out. I never had moisture come through the heel or the toe, no matter how hard it rained. Sure, other shoe covers can do this as well, but the one thing the veloToze can do that others can't, is keep the water running down the leg from getting into shoes. After 3 hours of heavy rain, I still didn't feel a drop hit my socks.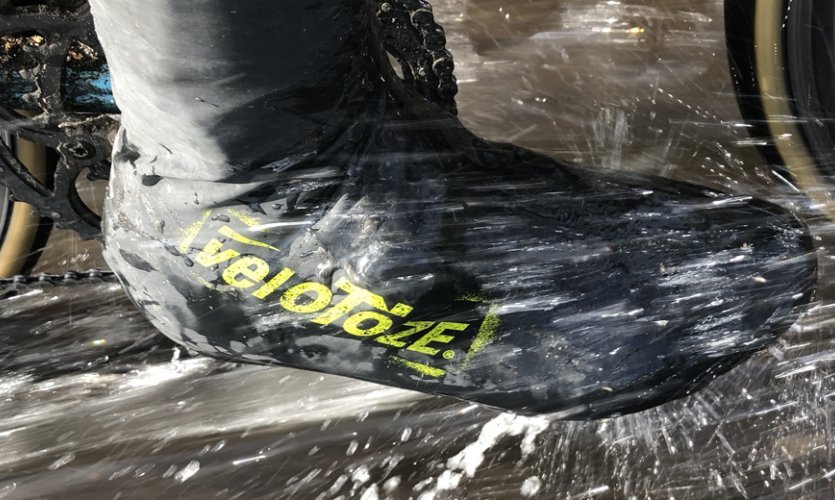 Wet roads were never a problem.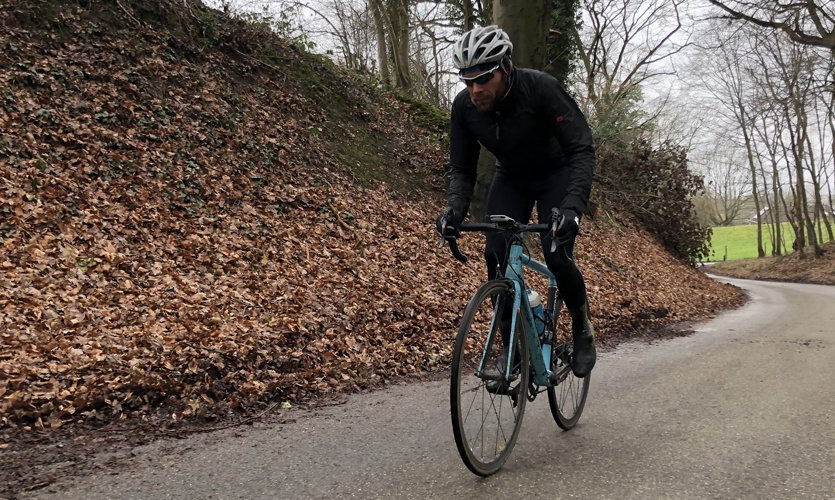 Great for fall and winter riding.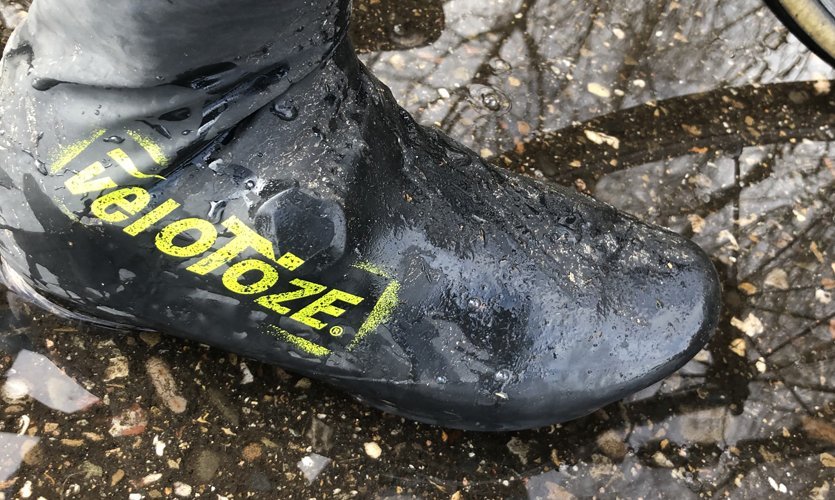 Perfect for wet weather.
Durability
On my second tour, I rode some MTB trails in Freiburg, Germany. Because of my lacking trail skills, I had to stop and walk my bike through certain parts. I was a little worried about the veloToze not making it, but no, they did just fine!
The rock gardens and thorny parts of the trail were never a problem.
The material never ripped, showing that veloToze reinforced their shoe covers in the right places. Even after over 20 tours, there is no sign of tears or holes.
Temperature range
I mostly rode the veloToze in temperatures between 5°-10° C and I found them to be very warm. Wind chill was never an issue and body warmth stays trapped in the shoes. When riding in temperatures below 5° C, I wore a thick Merino wool sock, which kept my feet from getting cold. I should mention that I am not sensitive to the cold, but they are definitely good for temperatures lower than the veloToze official temperature range of 10°-18° C.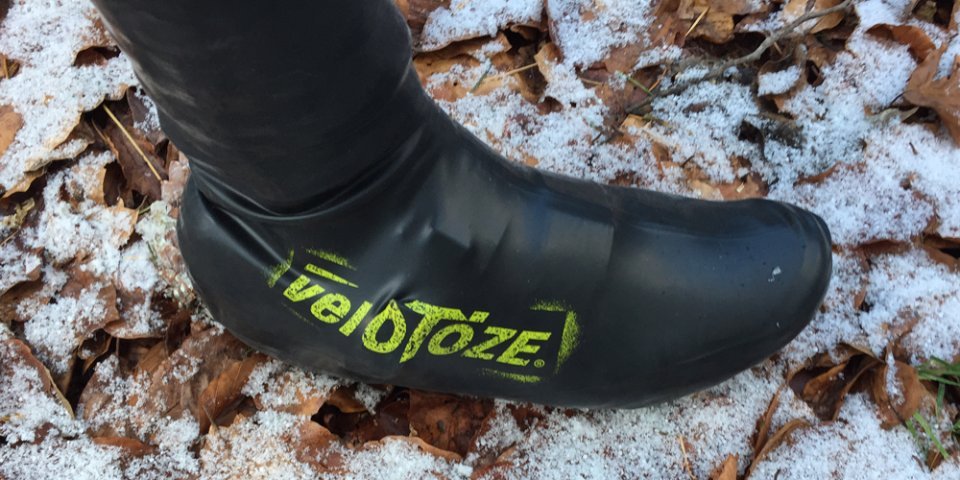 Even in snow, they work great when combined with Merino socks.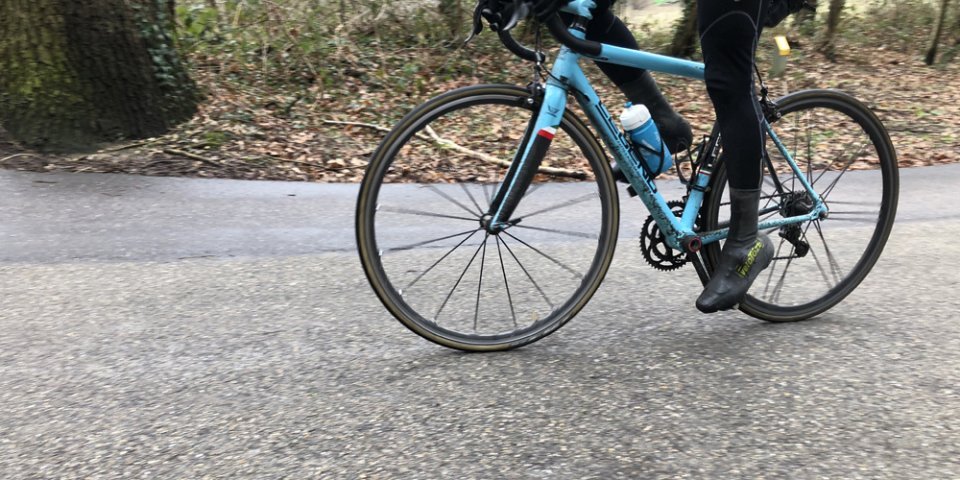 Wind chill is never a problem.
Are your feet still dry?!
Back to my Sunday Road ride. Roughly a half hour in, the rain started to pour down and my veloToze kept the water from creeping in. The jokes that I had to hear at the start of the ride were quickly forgotten as one after the other my riding buddies realized I was the only one with dry feet.
I can only recommended every cyclist to try out the veloToze shoe covers. They keep shoes dry, cold wind out and feet warm on Road and MTB rides. They have become my favourite shoe covers and thanks to the reinforced material, have lasted though some rough rides. So when the rain starts pouring, or its cold out, reach for the veloToze shoe covers no matter what type of cycling you do.