---
---
The mountain bike is the bike of choice when it comes to riding off-road. At bc you can easily buy high-end mountain bikes online. Get an overview in the shop if you already have an idea of your next MTB or take a look at our tips below on how to find your dream bike.
Your new MTB in our online shop
All mountain bikes are built for off-road cycling, but there are major differences and specialisations in regard to details. How suitable a bike is for you depends on the interplay of important characteristics. The discipline usually determines the suspension travel and geometry. However, the components installed and the weight also play an important role. In the following paragraphs we will go into more detail about what you should look out for in our hand-picked range of top brands, which includes Specialized, Santa Cruz, Scott,Commencal, Focus, Yeti Cycles and Cannondale, to find your new mountain bike.
Cross-country, enduro, downhill - Mountain bikes by application
Mountain biking is a versatile sport and the bikes for various applications are correspondingly different. Cross-country, enduro and downhill bikes differ significantly in terms of suspension travel, geometry and equipment, but the transitions are fluid. There are a few gradations between the downhill-ready enduro and cross-country (XC) with only a little suspension travel. So when talking to your friends, reading magazines or scrolling through social media, you will also encounter other terms such as all-mountain or trail bikes. These are closer to technically capable enduro MTBs, but have slightly less suspension travel and are lighter and easier to handle. Downcountry bikes, on the other hand, are closer to the light-footed efficiency of cross-country, but have more reserves for downhill fun. For our application filter, we concentrate on the currently most important classes:
Cross Country: up to 130 millimetres of suspension travel
All Mountain: up to 170 millimetres of suspension travel
Enduro: 140 to 180 millimetres of suspension travel
Downhill: 170 to 200 millimetres of suspension travel
If you are looking for a mountain bike for road and off-road, then an XC bike with fast tyres could be a good choice. Alternatively, it is also worth taking a look at gravel bikes: they are specially designed as bikes for streets and easier off-road terrain.
Full-suspension or hardtail, and how much suspension travel on the MTB?
Even before you decide how much suspension travel you want to ride with, you should consider whether your new MTB should be fully suspended (suspension fork at the front and shock at the rear) or a hardtail (front suspension only). Besides your application, the answer is often a matter of taste. There are bikers who like to ride without suspension on the rear wheel, even on technical terrain. Others don't want to do without the advantages of full suspension anywhere. On a full-suspension MTB you not only ride more comfortably, but also more safely and with more grip. A hardtail gives you more feedback from the trail. Besides the pure off-road riding experience, the suspension also plays a role in the price, maintenance effort, setup and weight. Whether only at the front or also at the rear, the amount of suspension travel determines how much reserve your bike has. Depending on the intended use, you may already have an idea whether it should be a sporty mountain bike with 120 millimetres or a machine for rough terrain with 170 millimetres or even more. Then our filters will help you to narrow down the selection. The following applies to all suspension elements: they only work as well as they are tuned. So plan some time for the setup – it's worth it!
Mountain bikes made of carbon and aluminium
The question of materials has occupied mountain bikers for decades. Again, you can look at the pros and cons, but in the end it is often a decision of personal preference. Mountain bikes with frames made of carbon have grown in importance for good reason. They are usually lighter and the material gives the developers more possibilities to specifically coordinate stiffness and comfort. MTBs with aluminium frames, on the other hand, are usually a little cheaper and often take stone chips or falls better. Beauty is in the eye of the beholder: You are the best judge of whether you like the aesthetics of aluminium or carbon bikes better. Our filters will help you narrow down your selection.
Mountain bikes for women, men and children
With MTBs, there is no longer such a strict distinction between models for men and women. If the size fits, a mountain bike can be ridden by everyone. Special women's models usually differ in ergonomic details, such as the saddle, and less often in suspension components specifically designed for lighter people. Saddles optimised for the female anatomy can be retrofitted to any bike. Mountain bikes for kids and teenagers can be found under a separate shop category.
The wheel size on the MTB
After several years of heated debate, most mountain bikes today roll on 29-inch tyres. The wheels or rims have the same diameter as those on 28-inch bikes. Because of the large tyre volume, however, the designation 29er has become established for MTBs. With big wheels you have a lot of grip, and they roll smoother on bumpy trails. Mountain bikes with 27.5-inch tyres ride with a bit more play. Shorter people benefit from this. Bikes with a 29er front wheel and 27.5er rear wheel are referred to as mullets or, more rarely, mixed-wheels. They combine the smoothness and grip of the large front wheel with the playfulness and space advantage of a small rear wheel.
Mountain bike geometry and size
The geometry is a decisive factor in how well an MTB suits you, your riding style and the intended use. Bikes with a long wheelbase, low bottom bracket and flat steering angle feel particularly comfortable at high speeds. If you have a playful riding style, then a slightly shorter bike may be a better choice. Important: Do not focus too much on individual values in geometry tables. The character of a mountain bike is made up of the interaction of all factors. You can get closer to finding the right size with the help of our filters. With help from the recommendations listed in the size tables from manufacturers, you can find the right bike. If you aren't sure what size is right for you, our service staff will be happy to use their know-how to help you.
The most important components on the MTB
When choosing a new mountain bike, you should also pay close attention to the equipment. Besides components that are primarily ergonomic in nature (handlebars, grips, saddles and dropper posts), there are others that strongly influence your bike's performance on the trail. Brakes and tyres that match the application provide safety as well as control and thus more fun on the bike. You can also upgrade your bike's tyres later if you notice that the original ones have insufficient grip or roll too slowly for your taste. Converting to tubeless is also worthwhile for most mountain bikers.
If you have very exact ideas about which parts should be fitted to your new MTB, then we can put together and build a custom bike for you. How about, for example, coloured anodised add-on parts on one of the exclusive frames from Nicolai or RAAW Mountain Bikes?
---
Advice
Tips and Tricks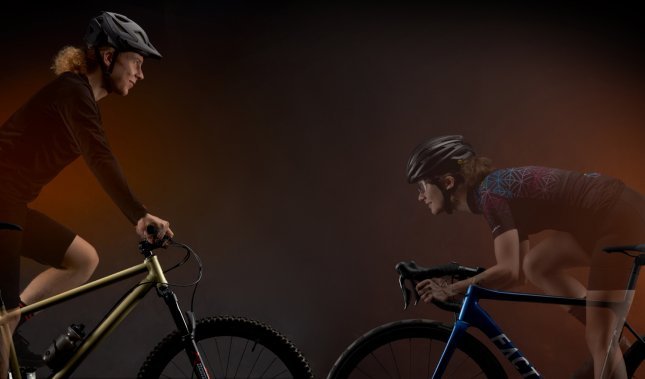 ---