Not quite sure what pads you need, or how to fit them to give you the best protection? Then check out our guide on bike protection basics. We'll show you how to find the right protectors, and what adjustments you can make to get the perfect fit. View Protector Guide
Crashes are an inevitable part of mountain biking. However, they don't always have to result in injury. Modern protectors help to prevent this from happening: they afford effective protection and are comfortable to wear at the same time. Whether it's an all-mountain tour or a downhill world cup, you have the choice between inconspicuous protectors and maximum safety from head to toe. How strong your level of protection should be also depends on how fast you ride and the difficulty of the terrain. The more severe the potential consequences of a fall, the more protection you should have. You should also ask yourself which body parts you want to protect. Do you often fall on your knees, or do you have particularly sensitive elbows? Addressing areas of most concern would be a good place to start. We'll show you here what types of protectors there are, and what you should look out for when buying.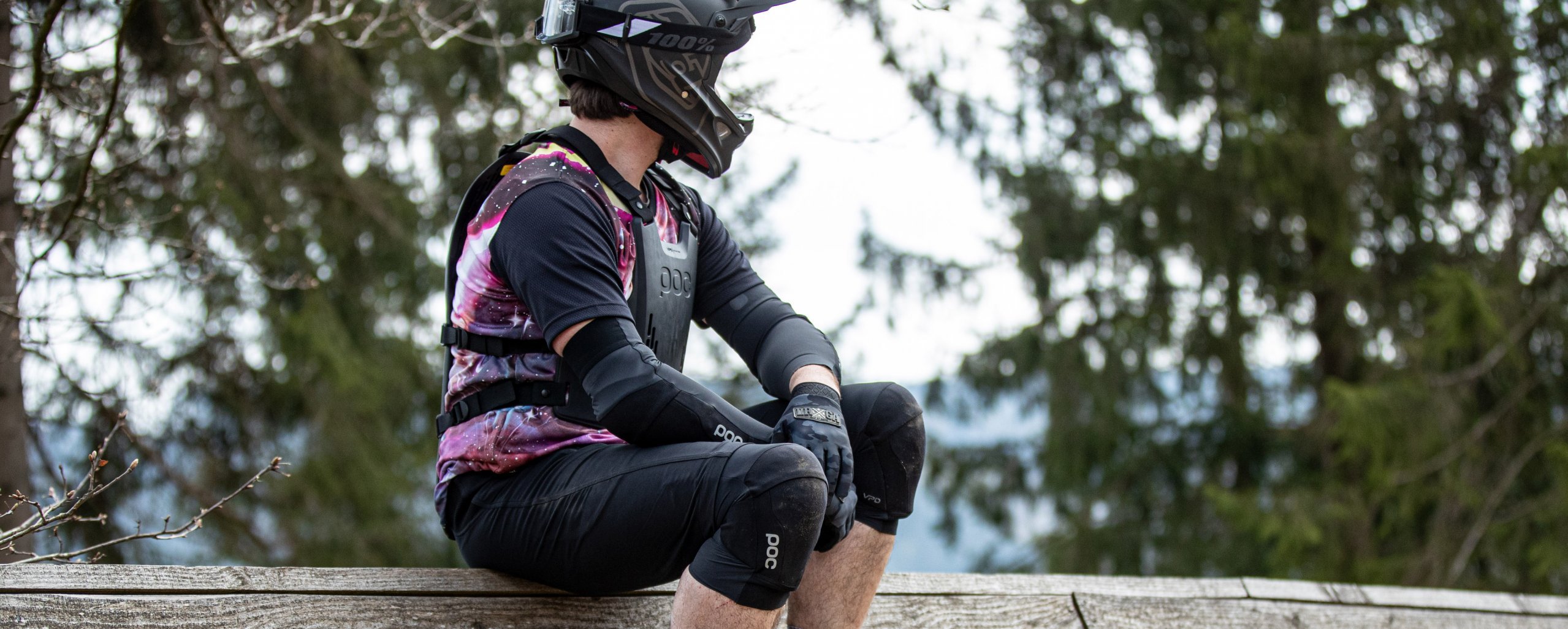 MTB Protectors – Comfort and Fit
No matter what kind of protectors you are looking for, the most important thing is that they fit you well. You will wear your protectors regularly only if nothing pinches or constricts while you're biking. If they fit well without slipping, they will protect you at critical moments. Make sure to have a look at manufacturer size charts and pay attention to the number of adjustment possibilities protectors offer. In the case of protectors for tougher applications, elastic hook & loop straps help to provide an individualised fit. On the other hand, lightweight, minimalist protectors often deliberately forego adjustability. Elastic materials are used instead, which ensure an optimal fit, and are combined with rubber around the edges to prevent the protectors from slipping. Saving on material helps to make them lighter overall. You should also not neglect their breathability factor, especially on hot summer days.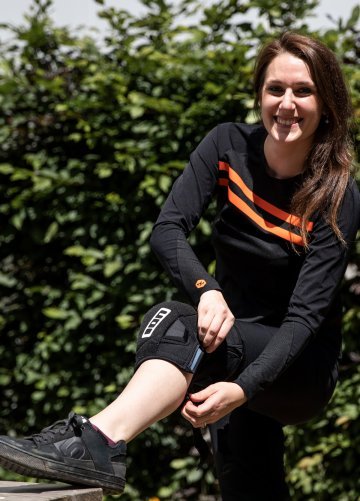 Simple Protection with Foam Pads
The simplest protectors use foam inserts to absorb impact energy. They are often lightweight and comfortable, but the level of protection cannot compete with other types of protectors. In contrast to the hard foam used in helmets, flexible pads usually do not permanently deform after a fall, and therefore their level of protection remains intact even after an impact.
The Hard Shell: Proven and Effective
At first glance, you can recognise classic hard shell protectors by the outer casing made of hard, break-resistant plastic. This shell distributes acute forces over a larger area, such as impacts with sharp stones. There is usually additional foam padding underneath the shell to absorb some of this energy. Another advantage of the hard plastic shell is that it slides better on the ground, which further reduces impact energy. Due to their stiffness, hard shells are better suited for body parts where protectors don't need to be very flexible, like the shins, or for bike park riding, where you don't pedal much.
Comfort and Protection in One: Viscoelastic Protectors
Protectors with viscoelastic inserts offer more protection than pure foam pads, and are lighter and more comfortable than hard shells. The pre-shaped inserts of such protectors hug your body and follow the movement of your joints, e.g. while pedalling. When an abrupt force is applied, such as an impact on the ground, the material hardens, absorbing part of the energy and distributing the remaining acting forces over a larger area. In physics, this is referred to as "dilatancy." The inserts themselves are in many cases designed with ventilation openings to offer better breathability. You will often find several strategically-placed inserts and pads on protectors. Manufacturers like to combine large, viscoelastic cushions with smaller, soft foam cushions. Some models have an additional hard shell on the outside to slide better on the ground.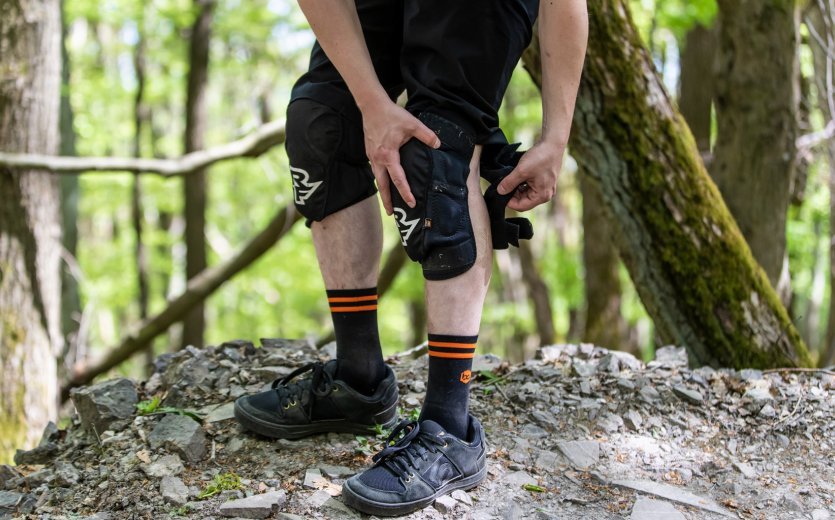 Quick to put on and take off: Some protectors come with hook & loop fastener straps to make putting them on and taking them off easier and faster.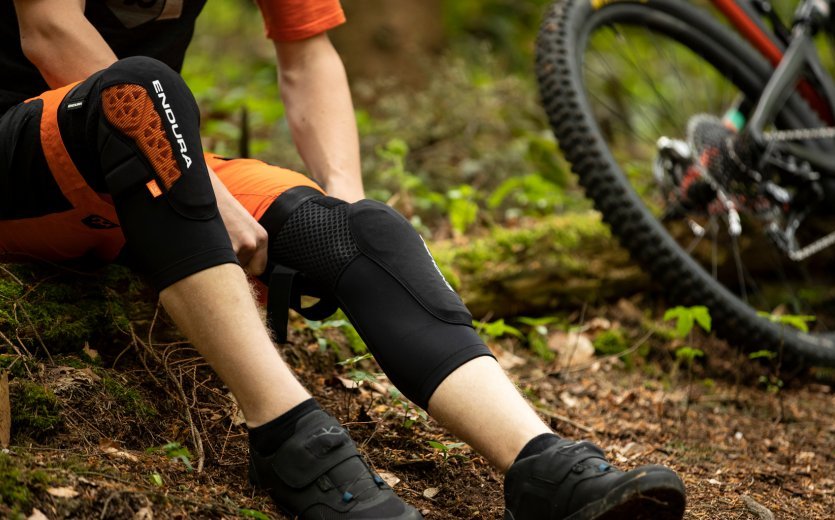 Well-protected and well-ventilated: The Endura MT500 Lite Knee Pads.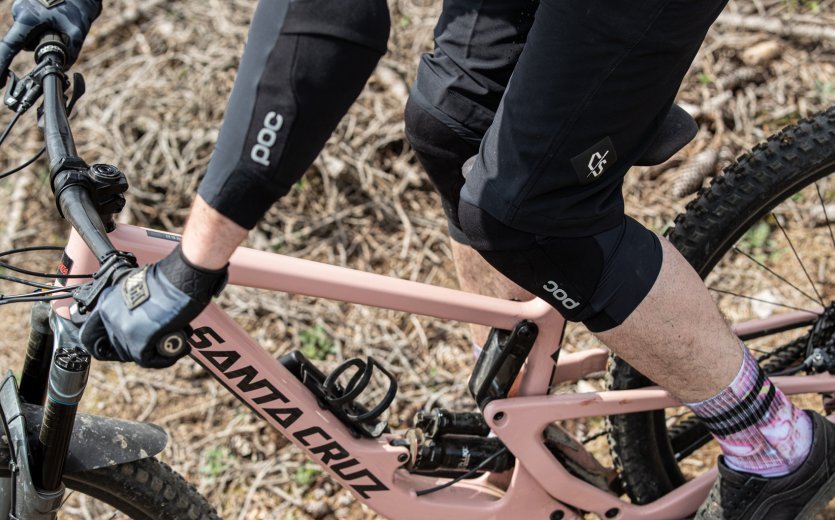 Elbow pads and knee protectors: A good fit is essential for optimum protection.
Knee Protectors and Shin Guards
Knee protectors are nowadays available for a wide range of uses. Breathable and lightweight models, which are outfitted like padded knee warmers, can be worn comfortably on extended trail tours. Other types offer more protection for heavy terrain, but are more noticeable when wearing them. The transitions are somewhat fluid. Think about how much you value protection on the sides of the knees – not all protectors offer this to the same degree. You don't even have to fall to hit the side of it. Contact with the top tube or stem can also leave bruises on your knees after hectic riding manoeuvres. If you also want to protect your shins from objects such as the pins on your flat pedals, look for protectors that extend slightly downwards. Alternatively, there are also pure shin guards or socks with protective inserts, in some cases also at the ankles. If you aren't in a hurry before and after making your descent, you can of course take off the protectors and stow them in or on your backpack. In most cases, however, you will have to take off your shoes. Some styles from Race Face, ION and iXS are put on with hook & loop straps or zippers, which would make them more practical in this case. In autumn or winter, knee pads help to keep your knees warm in addition to preventing injury.
Elbow Protectors
As with knees, there are elbow protectors that range from super light and airy to those that afford maximum protection. You can decide on how much protection you need and how much comfort you want. Elbow pads are quicker to take off and put on. You don't necessarily have to sacrifice protection on descents for comfort on the climb. At the end of the trail, protectors can be quickly stowed in your backpack if needed.
Upper Body: Chest and Back Protectors
Back injuries are no laughing matter. If you want to afford yourself real protection, you have the choice between pure back protectors and vests or jackets, which offer additional protection along the chest and partially around shoulders and arms. The question of how much you need always comes down to compromise. On a pedal-heavy enduro stage, you'll probably place more emphasis on breathability and comfort than in the bike park, where it's easier to deal with certain movement restrictions. Please note: Many bike parks require riders to wear back protectors (and also full-face helmets).
The simplest back protectors are worn like a backpack – either under or over a jersey. A wide waist belt helps prevent the protector from slipping. Accordingly, they are rather straightforward to use. Lightweight protector shirts or vests integrate large protective inserts into a breathable top that you can wear in lieu or on top of your regular base layer. Here there are models that are equipped with additional padding in the chest area or around the shoulders. Many manufacturers have removable inserts that let you adjust the protection level at any given time. Torso protectors and protector vests for tougher use combine large protective elements on the back and chest with straps and belts. You can choose to wear them over or under your jersey. Protector jackets extend the protective layers to shoulders and elbows. Here, too, there are lightweight, breathable styles and more armour-like models with maximum protection. If you want to protect your back on longer trips, be sure have a look at protector backpacks!
Protector Pants for Mountain Bikers
For safeguarding hips and thighs, protector pants are the way to go. Just pull the breathable and elastic pants under your shorts, and you're good to go. Most styles are equipped with padding and replace your normal padded pants. Some have an insert on the coccyx in addition to the protective elements across the hips and thighs.
Neck Braces
Neck braces can be worn in combination with a full-face helmet. They limit the range of movement of the head forwards and backwards, thus preventing the cervical spine from overextending. In addition, they disperse acting forces in the event of an accident, and can also partly protect your collarbone. They are mainly used for downhill races and at bike parks.
From Head to Toe: Other Protective Items
Are you looking for protection for body parts that have not yet been mentioned? You can find them under their own categories in our shop: helmets are now a matter of course with mountain bikes. Gloves not only keep hands warm, but also protect you from abrasions. Some manufacturers also integrate stronger protective elements across the back of the hand. Sports glasses and goggles provide tear-free vision and keep insects or other foreign objects out of your eyes. Mountain bike shoes are often somewhat reinforced at the toes. In addition to ankle-high models that offer appropriate protection, there are also shoes that are only raised on the inside to prevent injuries in the event of accidental contact with the crank.

Test Standards for Protectors
Under product descriptions and on the products themselves, you will often find numbers that indicate a protection class according to certain test standards. The CE EN 1621-2 standard for back protectors requires more protection and shock absorbing capacity than CE EN 1621-1, which applies to joint protectors. Both standards are further subdivided into Level 1 (basic) and Level 2 (with higher protection). In order to determine the level of protection, specially-shaped weights are dropped onto the protective elements in a controlled testing environment, where the amount of residual force that pushes through the layers is calculated.
Protector Care and Maintenance
Protectors have to take a lot in terms of wear and tear. They can get dirty on the outside, especially in case of falls, and can accumulate sweat on the inside. When salt marks start to appear, or if they start to smell or chafe, it's time for a wash. In this case, it's best to use a sportswear detergent from a designated manufacturer, such as Assos, Nikwax or Holmenkol. On some protectors, the padding can be removed and the rest can be washed in the machine. Others are best washed gently by hand. Protectors with viscoelastic padding in particular should not be exposed to extreme temperatures, as they will otherwise become brittle. Be sure to follow the manufacturer's care instructions. If cared for properly, you will be able to enjoy your protectors for a long time. A tip for stubborn odours: try a hygiene rinse!