As a rider who knocked back 25,000 km last year, commutes to work every day and has taken part in endurance races like the Paris-Brest-Paris, I need clothing that is functional, breathable and waterproof. As this year's season begins, it was time for me to look for a new jacket that would meet all the above mentioned criteria and be extremely lightweight for all the Road bike riding I do. The Gore One GT Active jacket caught my eye, and due to outstanding performance I've experience with Gore apparel, I decided to give a try.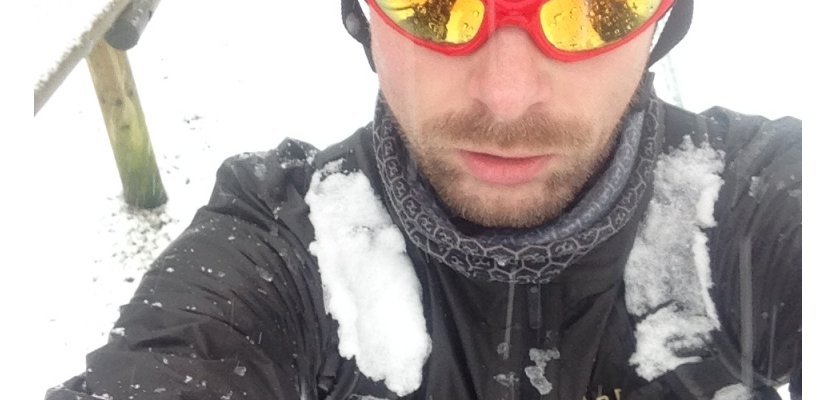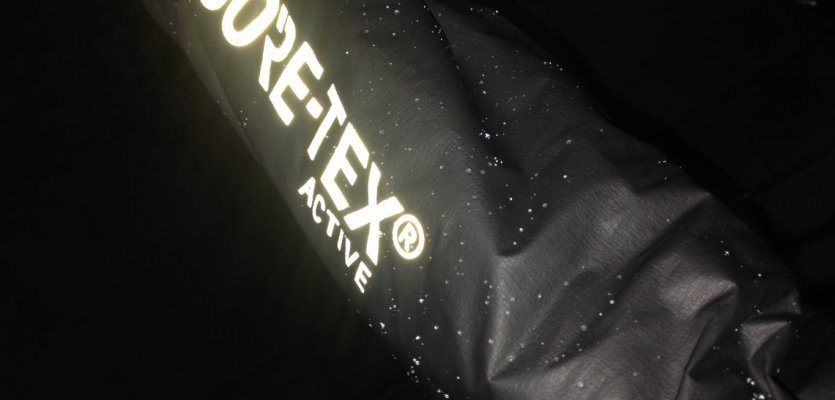 | About Christopher | |
| --- | --- |
| Rides | Road bike |
| Bike | Scott Addict Team Di2 |
| Height | 1.74 m |
| Weight | 64 kg |
| Training kilometers (2016) | 25,000+ |
| Longest non-stop ride | 1,255 km |
After unpacking, I was astounded with how lightweight it was, which is something I wasn't used to with other Gore jackets that I own. In size M, it only weights 108 g and it packs together small enough for fit in a jersey pocket.
The next thing I noticed about the Gore One jacket was the outer layer. It is not really black, but more of a brownish-grey. Overall, it has a subtle look and one notices that it is of very high quality. There are reflective elements on the arms chest and back, all of them gold. The jacket also has a zipper that runs the length of the front and a chest pocket. My smartphone fits in the chest pocket without a problem. The only thing missing is a rear pocket.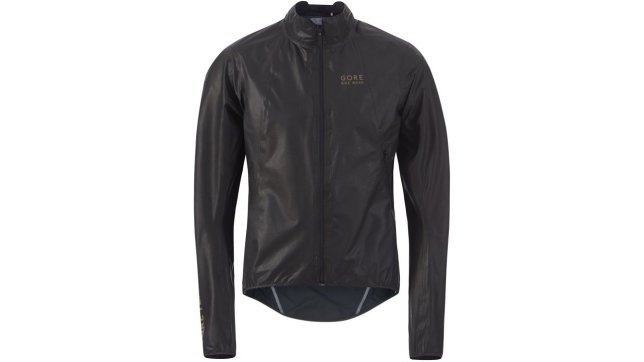 Front view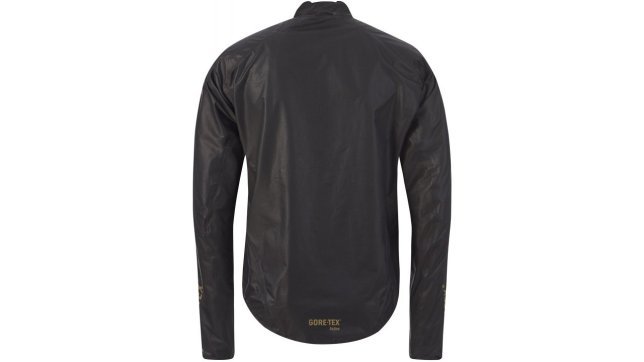 Rear view
When trying the Slim Fit cut jacket on, I was surprised at how soft the material was. It is feels great and I barely noticed that it was there. The collar has a softer material sewn in that is not only comfortable, but fits snugly without causing a bother. An inner overlap for front zipper has and the elastic cords work perfectly. When I put it on, I immediately noticed that the athletic cut was optimised for on the bike. This means a short front and a longer back. After zipping up, I decided to test it under the shower and see how waterproof the jacket really is. Water beaded off immediately and the Gore's ShakeDry technology was right on the money. A couple good shakes and it was basically dry again. For cyclists, this means that the jacket doesn't build up a water layer that cools the body down.
My first ride with the jacket was in dry conditions at 5°C. Underneath, I was wearing a base layer and a jersey and that was just enough to keep me warm. When compared to the classic 3-layer Gore Tex Power Trail or Alp-X jackets the Gore One doesn't keep you as warm. Of course this is expected, seeing as the One is much lighter and thinner than its 3-layer cousins. At one point during my ride, I picked up the speed and started to sweat. Here, the jacket showed its strength in breathability and when I got home the jacket was completely dry from inside and out. The breathability was even better than a lot of my Gore soft shells. When layering, this jacket is perfect for a wide variety of temperatures. When I got a chance to test it in sleet at 0°C and rain during the Ötztaler Cycle Marathon in Austria at 13°C, the jacket performed wonderfully.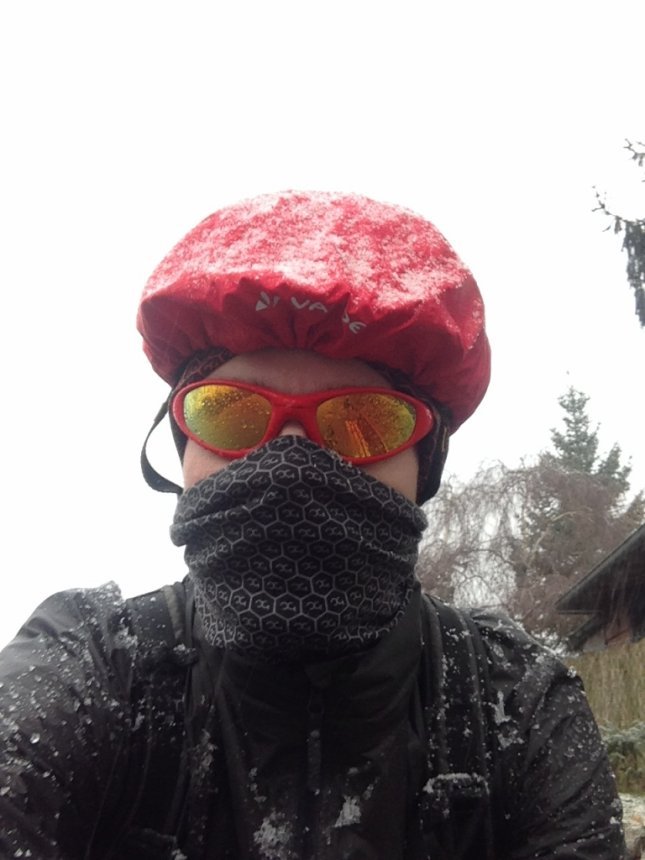 Looking wet, but staying dry
All in all, I would recommend the Gore One Active jacket to the rider that is looking for a high level of breathability, waterproofness and light weight. I found it perfect for my daily commutes as well as long endurance based events. It met all my needs and kept me looking good doing it.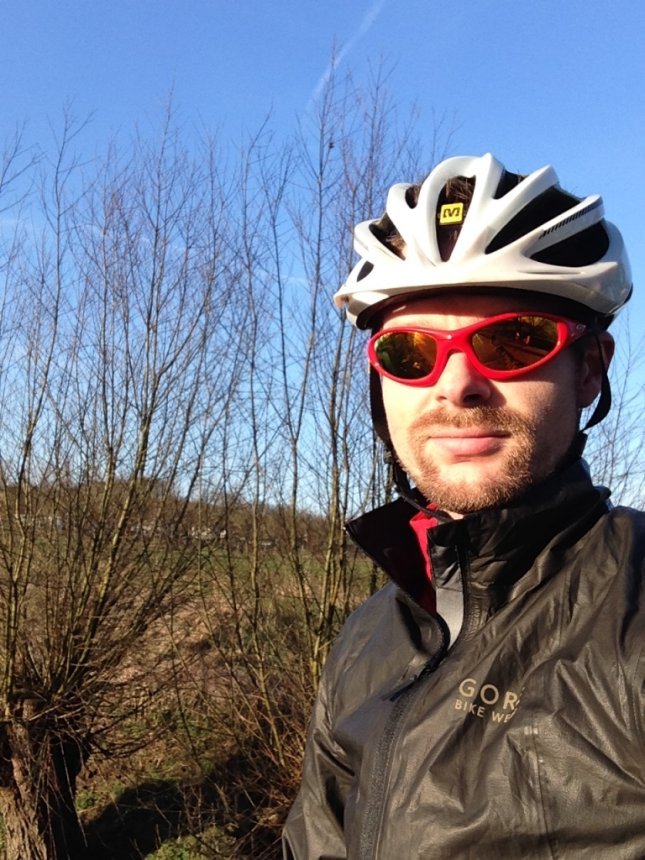 Cold and sunny, the jacket works for everything.