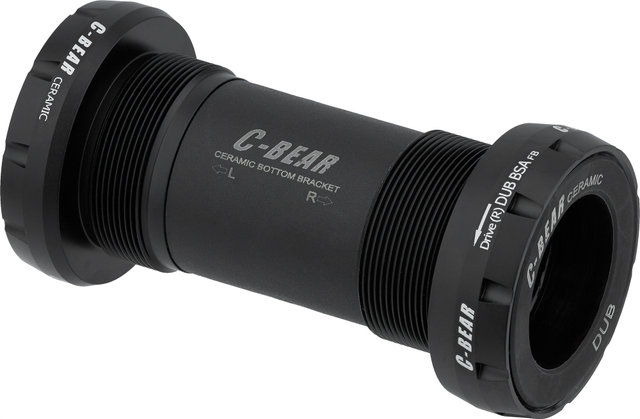 C-BEAR BSA bottom bracket for SRAM DUB cranks for road bike use - Second generation, with tool
The C-BEAR BSA SRAM DUB Gen2 bottom bracket for road bikes allows you to install a SRAM crank with 28.99 mm axle diameter in a BSA bottom bracket shell of 68 mm width. The bottom bracket comes with an installation tool and, thanks to a widening of the right-hand bearing cup, does not require spacers in the second generation. You simply use the preload ring from your SRAM crank for the adjustment. The model works very efficiently thanks to ceramic bearings, with extremely low rolling resistance. It is intended for use on the road. The enclosed composite centre tube allows cables and wires to be fed through in a protected manner.
Specifications:
Application:

Road

Type:

BSA

Shell Width:

68 mm

Axle Diameter:

28.99 mm (DUB)
Technical Information:
Bearings:

Ceramic

Bottom Bracket Cup Material:

aluminium

Bottom Bracket Centre Tube Material:

plastic (Delrin)
Compatibility:
SRAM DUB (Eagle, Eagle AXS, eTap AXS)
Features:
Race version, designed for driving on dry, clean roads
very efficient, low rolling resistance
CNC machined bearing cups
with Delrin bottom bracket centre tube to protect internal cables and wires from chafing due to fast-turning crank axle
generation 2: no spacers required
includes assembly tool
Technology:
Specific Applications
C-BEAR (
C
eramic
BEAR
ings) Inner bearings are available with 2 different types of ceramic bearings. The Race bottom bracket bearings are designed for low rolling resistance and intended for use on dry roads. They placed in the top 3 for bottom bracket efficiency in a study by the independent Friction Facts Lab (with first place going to an unsealed bottom bracket for indoor use).
High Quality Bearing Cups
C-BEAR bearing cups are made of CNC precision-machined aluminium. C-BEAR adopted an anti-plastic stance as early as 2011/2012, when plastic additives were just becoming the norm in bottom bracket manufacturing. Metal housing means higher precision, lower tolerances and avoiding flex and deformation.
Manufacturer Number:
dub-bsa-ds-g2-r
Contents:
C-BEAR BSA SRAM DUB Race Bottom Bracket, consisting of:
1 x C-BEAR bearing cup with ceramic bearings, left
1 x C-BEAR bearing cup with ceramic bearing, right
1 x Delrin bottom bracket centre tube
1 x C-BEAR bottom bracket tool