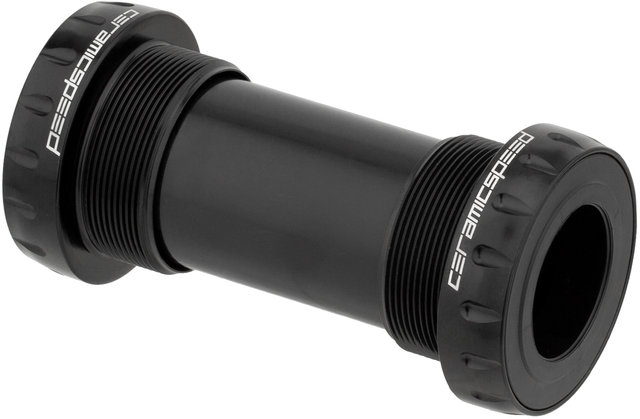 The CeramicSpeed BSA Shimano Road Coated bottom bracket for the installation of Hollowtech II cranks in a BSA frame with 68 mm bottom bracket width has smooth-running ceramic bearings and metal-coated races.
For hazard warnings, safety and application information for the included grease, please see
CeramicSpeed UFO All Round Grease
.
Specifications:
Application:

Road, Triathlon & Time Trial

Type:

BSA

Shell Width:

68 mm

Axle Diameter:

24 mm
Technical Information:
Bearings:

Ceramic
Compatibility:
Shimano Hollowtech II cranks
FSA cranks with a 24 mm axle
Rotor cranks with a 24 mm axle
Features:
high-performance bearings with special ceramic balls made of grade 3 silicon nitride (best achievable degree for ceramic bearings)
CeramicSpeed bearing balls: 15% harder, 100% smoother and 99% more resilient than commercially available ceramic balls
ball bearing retainer made of reinforced polyamide, race made of hardened steel with polished channel
additional metal-coated race for more performance and durability
reduced friction: smoother running
handmade in Denmark
Technology:
Ceramic Bearings by CeramicSpeed
CeramicSpeed ceramic balls are rounder, harder, smoother, lighter and more resilient than steel balls and ceramic balls from other manufacturers. CeramicSpeed ceramic bearings therefore last 3 to 5 times longer than other commercially available bearings. All CeramicSpeed bearings are manufactured by hand in Denmark under clean room conditions and are subject to a strict four-stage control procedure. Among other things, the size of the ceramic balls is checked down to the thousandth of a millimetre. Tests are then carried out in the laboratory or preferably by professionals in training and competition. CeramicSpeed bottom brackets guarantee you the lowest possible friction, optimised power transfer and maximum durability and also help you save watts and reach the finish line faster. It's not about seconds, it's about minutes!
Coated
CeramicSpeed coated products offer the ultimate in performance and durability. This is achieved by a unique coating that increases the hardness of the races, so that in combination with the smoothness of CeramicSpeed ball bearings, there is virtually no bearing wear. The coating is a metal layer that is 75% harder than hardened steel. It is applied very thinly (0.003 mm) and evenly over the entire surface of the race and is used both internally and externally for optimum results.
Manufacturer Numbers:
black:

101308

red:

101310
Contents:
1 x CeramicSpeed BSA right bearing cup incl. Coated ceramic bearings
1 x CeramicSpeed BSA left bearing cup incl. Coated ceramic bearings
1 x bottom bracket centre sleeve
2 x dust caps with integrated spacers
1 x CeramicSpeed All Round grease, 10 ml
1 x sticker sheet