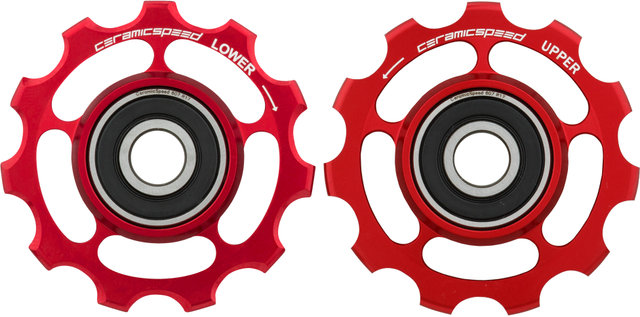 Components that make the difference: Derailleur pulleys with ceramic bearings by CeramicSpeed
The CeramicSpeed Shimano 11-speed derailleur pulleys have smooth-running characteristics, load-bearing ceramic bearings. They are known for less friction and more mileage - an efficient way to save energy. The derailleur pulleys are made from a light aluminium alloy and guarantee amazing performance. All components are of the highest quality, because only in this way can the best results be achieved.
Technical Information:
Application:

Road, Triathlon & Time Trial, Cyclocross, All Mountain, Enduro, Cross Country

Compatibility:

Shimano

Teeth:

11

Gearing:

11-speed

Material:

aluminium

Bearings:

607 ceramic
Compatibility:
all Shimano 11-speed rear derailleurs except XTR, XT
Features:
high-performance bearings with special ceramic balls made of grade 3 silicon nitride (best achievable degree for ceramic bearings)
ball bearing retainer made of reinforced polyamide, race made of hardened steel with polished channel
CeramicSpeed bearing balls: 15% harder, 100% smoother and 99% more resilient than commercially available ceramic balls
energy savings thanks to greatly reduced friction, higher top speed thanks to improved power transfer
handmade in Denmark
Technology:
Ceramic Bearings by CeramicSpeed
CeramicSpeed ceramic balls are rounder, harder, smoother, lighter and more resilient than steel balls and ceramic balls from other manufacturers. CeramicSpeed ceramic bearings therefore last 3 to 5 times longer than other commercially available bearings. All CeramicSpeed bearings are manufactured by hand in Denmark under clean room conditions and are subject to a strict four-stage control procedure. Among other things, the size of the ceramic balls is checked down to the thousandth of a millimetre. Tests are then carried out in the laboratory or preferably by professionals in training and competition. CeramicSpeed bottom brackets guarantee you the lowest possible friction, optimised power transfer and maximum durability and also help you save watts and reach the finish line faster. It's not about seconds, it's about minutes!
Manufacturer Numbers:
black:

101692

red:

101694
Contents:
1 x CeramicSpeed Shimano lower derailleur pulley
1 x CeramicSpeed Shimano upper derailleur pulley
1 x CeramicSpeed oil
1 x sticker sheet
4 x spacers