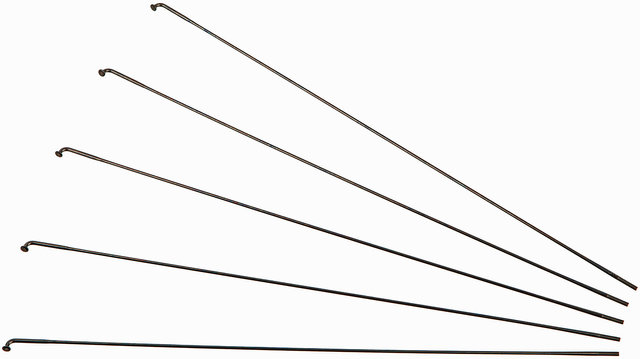 The DT Revolution® is the lightest round spoke in the DT-Swiss range! In the cold-forging process, the central part's diameter is reduced to 1.5 mm, rendering its field of application as very versatile with an ideal ratio between stability and low weight. If you are looking for a lightweight wheel with a classic look, the DT Revolution® is a reliable match.
Technical Information:
Application:

XC, Trail, Road, All-round

Design:

round, triple butted

Spoke Material:

stainless steel (18/10)

Threads:

2.0 mm

Spoke Length:

260, 262, 264, 266, 268, 270, 272, 274, 276, 278, 280, 282, 284, 286, 288, 290, 292, 294, 296, 298 mm

Spoke Head Height:

6.2 mm

Diameter D1:

2.0 mm

Diameter D2:

1.5 mm

Diameter D3:

2.0 mm
Technology:
Double Butted:
These spokes have two different diameters. The spoke is partially butted by cold forging. As a result, the diameter is smaller and thus enables a reduction in weight while at the same time improving the strain values.
Manufacturer Numbers:
260 mm:

SRE020260S0

262 mm:

SRE020262S0

264 mm:

SRE020264S0

266 mm:

SRE020266S0

268 mm:

SRE020268S0

270 mm:

SRE020270S0

272 mm:

SRE020272S0

274 mm:

SRE020274S0

276 mm:

SRE020276S0

278 mm:

SRE020278S0

280 mm:

SRE020280S0

282 mm:

SRE020282S0

284 mm:

SRE020284S0

286 mm:

SRE020286S0

288 mm:

SRE020288S0

290 mm:

SRE020290S0

292 mm:

SRE020292S0

294 mm:

SRE020294S0

296 mm:

SRE020296S0

298 mm:

SRE020298S0
Contents:
5 x DT Swiss DT Revolution® spokes, black
not incl. nipples