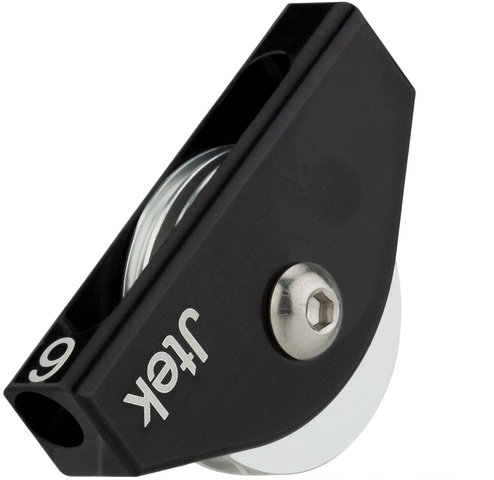 Jtek Engineering Shiftmate 6
Combining Shimano with SRAM: the Shiftmate 6 by Jtek Engineering
The Jtek Shiftmate adapts the transmission ratios of incompatible shift components to each other. The shifter cable runs through the Shiftmate, which uses a special shifting wheel to change the cable ratio and match the shift levers.
The Shiftmate 6 (Shiftmate Straight) lets you combine Shimano shifter grips with SRAM 1:1 rear derailleurs, or SRAM offroad shifter grips with Shimano rear derailleurs. It is also possible to combine Shimano 10-speed Road STIs with Shimano MTB 10-speed Dyna-Sys rear derailleurs and Shimano or SRAM cassettes.
Jtek Engineering was founded in 2003 in the USA and is now based in Great Britain. It offers high quality and well thought-out products that can be used to solve compatibility problems in an elegant way.
Combinations:
Shifter:

Shimano 9-speed

Rear Derailleur:

SRAM 1:1

Cassette/Gearing:

SRAM/Shimano 9-speed

Shiftmate Derailleur Pulley Groove:

small
Shifter:

SRAM MTB Twist/Trigger 9-speed

Rear Derailleur:

Shimano Road up to 10-speed*, Shimano MTB up to 9-speed

Cassette/Gearing:

SRAM/Shimano 9-speed

Shiftmate Derailleur Pulley Groove:

large
Shifter:

Shimano Road 10-speed*

Rear Derailleur:

SRAM 1:1

Cassette/Gearing:

SRAM/Shimano 10-speed

Shiftmate Derailleur Pulley Groove:

small
Shifter:

Shimano 8-speed

Rear Derailleur:

Shimano MTB 10-speed

Cassette/Gearing:

SRAM/Shimano 8-speed (use 9-speed chain)

Shiftmate Derailleur Pulley Groove:

small
Shifter:

Shimano 9-speed

Rear Derailleur:

Shimano MTB 10-speed

Cassette/Gearing:

SRAM/Shimano 9-speed

Shiftmate Derailleur Pulley Groove:

small
Shifter:

Shimano Road 10-speed*

Rear Derailleur:

Shimano MTB 10-speed

Cassette/Gearing:

SRAM/Shimano 10-speed

Shiftmate Derailleur Pulley Groove:

small
Shifter:

Shimano MTB 10-speed

Rear Derailleur:

Shimano Road up to 10-speed*, Shimano MTB up to 9-speed

Cassette/Gearing:

SRAM/Shimano 10-speed

Shiftmate Derailleur Pulley Groove:

large
* not for 4700 10-speed shifter and derailleur
Features:
ideal for straight cable mount or mounting with cable stops
CNC manufactured
sealed ball bearing
hard nickel-plated
Manufacturer Number:
19044
Contents:
1 x Jtek Engineering Shiftmate 6
100 day return period

Online since 1998

Trusted Shop

4.89

/ 5.00