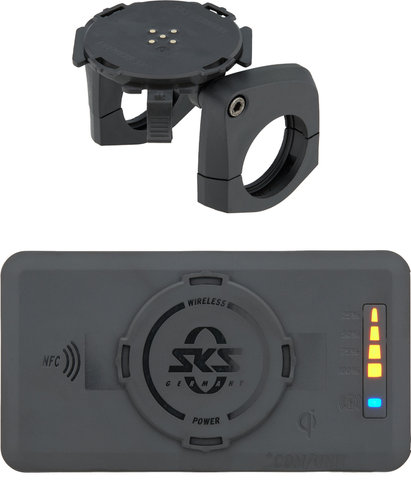 SKS Compit+/Power smartphone mount - Compit handlebar mount and charger in set
Compit+/Power by SKS is a set of Compit smartphone mount and the strong power bank +Com/Charger with a capacity of 10,000 mAh. The mount is suitable for handlebar clamp diameters from 22.2 to 35 mm. It has a bayonet mount for attaching your Compit Cover-equipped mobile phone or power bank. This charges your smartphone on the go wirelessly or, if that's not possible, via a USB-C cable. With certain e-bike models, you also have the option of installing the Compit mount via spacers so that the central display forms a unit together with the smartphone.
Information regarding the return of batteries and electrical equipment:
Information on the return and disposal of used batteries and electrical equipment can be found
here
.
Guidelines for Replacing E-bike Components:
Before you replace components on your e-bike, please read the
guidelines
for component replacement for CE-marked e-bikes, pedelecs with pedal assistance.
Specifications:
Compit:
Material:

composite
+Com/Charger:
Type:

lithium-polymer battery

Voltage:

5 - 12 V

Energy Quantity:

37 Wh

Capacity:

10000 mAh

Dimensions:

140 x 72 x 23 mm

Material:

composite

Protection Rating:

IP54
Compatibility:
Handlebar Diameter: 22.2 mm, 25.4 mm, 31.8 mm, 35 mm
Stems with max. 80 mm clamp width (use expander for 49 mm and up)
E-bike computers (central display) from Yamaha, Shimano, Bosch up to max. 80 mm width (using expander)
smartphones with Compit Cover, Cover Adapter for Hardcover or Com/Smartbag
SKS Com/Light front light adapter
SKS Com/Cam camera adapter
Features:
Compit+ System: Compit smartphone mount with 10,000 mAh power bank +Com/Charger
Compit:
horizontal or vertical attachment of the mobile phone by oversize bayonet closure
adjustable angle
compatible with various handlebar diameters via included adapters or clamp arms
special expander spacers for e-bikes with central display
suitable for all bicycles
+Com/Charger:
power bank with inductive fast-charging function (Qi)
wireless charging of the smartphone or with cable via USB A or C
is attached to the Compit System
USB A output + USB C input and output
charges up to 3 devices simultaneously
adjustable tilt
charging via USB-C cable (included) with a suitable charger
charging time approx. 4 to 12+ hours (depending on the device)
LED display for charging status
protected against dust and splashing water
Manufacturer Number:
11945
Contents:
SKS Compit+/Power smartphone mount, consisting of:
1 x SKS +Com/Charger charger
1 x USB cable for charger
1 x SKS Compit docking station
2 x side parts for docking station
2 x Compit clamp arms without adapters
4 x bolts for Compit mount with clamp arms on the bicycle handlebar M4 x 20 mm
4 x rubber adapters for handlebar diameter 22.2 mm
4 x rubber adapters for handlebar diameter 25.4 mm
4 x rubber adapters for handlebar diameter 31.8 mm
1 x Compit 35 mm clamp arm, right
1 x Compit 35 mm clamp arm, left
1 x Compit clamp arm with adapter for Bosch Intuvia on the right
1 x Compit clamp arm with adapter for Bosch Intuvia on the left
4 x PVC expanders
2 x bolts for Compit docking station expander M4 x 25 mm
2 x bolts for Compit Com/Light expander M5 x 25 mm
2 x bolts for docking station M4 x 18 mm
2 x M5 bolts
2 x square nuts M5
2 x nuts for Compit adapter, self-locking M4
2 x O-rings for docking station
1 x 3 mm hex tool
1 x T20 Torx key
100 day return period

Online since 1998

Trusted Shop

4.89

/ 5.00