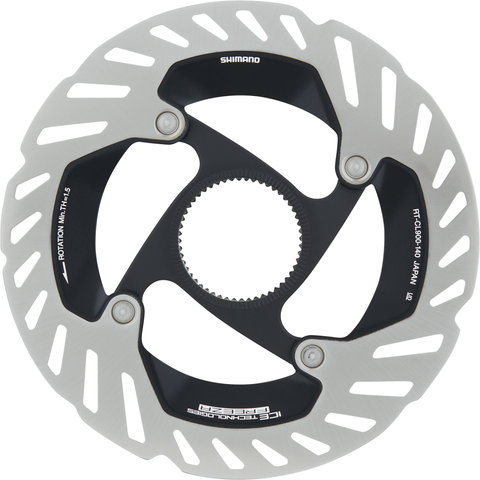 Shimano RT-CL900 Brake Rotor - Ice-Tech FREEZA for Dura-Ace and other brakes
The RT-CL900 Center Lock brake rotor was specially developed by Shimano for the Dura-Ace BR-R9270 road bike disc brake. Apart from that, it is also compatible with numerous brake calipers from the gravel or MTB sector. The brake rotor features a sandwich construction with an aluminium layer between two stainless steel layers. Thanks to Ice Technologies FREEZA and a special heat-dissipating coating, it won't overheat even on steep, long descents. In addition, the design has been optimised to keep noise and weight to a minimum. The RT-CL900 comes with a lockring with internal gear teeth, and can be used with both organic and sintered brake pads.
Guidelines for Replacing E-bike Components:
Before you replace components on your e-bike, please read through the
guidelines
for component replacement for CE-marked e-bikes/pedelecs with pedal assistance.
Technical Information:
Mount:

Center Lock

Diameter:

140 mm, 160 mm

Design:

2-piece

Rotor Material:

stainless steel outer and aluminium core sandwich construction

Spider Material:

aluminium
Approved For:
Brake Compatibility:

BR-M9100, BR-M9120, BR-M9110-R, BR-M9000, BR-M9020, BR-M8100, BR-M8120, BR-M8110-R, BR-M8000, BR-M8020, BR-M7100, BR-M7120, BR-M7110-R, BR-M7000, BR-M6100, BR-M6120, BR-M6000, BR-MT520, BR-MT420, BR-M820, BR-M640, BR-U8000, BR-U8020, BR-S7000, BR-S700, BR-R9270, BR-R9170, BR-R8170, BR-R8070, BR-R7170, BR-R7070, BR-4770, BR-RS805, BR-R785, BR-RS785, BR-RS505, BR-RS405, BR-RX820, BR-RX820-LE, BR-RX810, BR-RX400

Brake Pad Compatibility:

sintered*, organic
* with BR-S700 and BR-S7000 only organic
Compatibility:
for brake pads with narrow pad shape
lockring with internal teeth: compatible with 9/10 mm quick release and 12 mm thru-axle
for 15 mm and 20 mm thru-axles, use the SM-HB20 lockring instead
Features:
FREEZA Ice Technology and sandwich construction for even faster heat dissipation
heat-diffusing lacquer
first-class reliable braking performance on long, steep descents
specially designed for low noise and low weight
lockring made of anodised aluminium (internal toothing)
painted spider, polished rotor
Technology:
Ice Tech FREEZA
Shimano Ice Technologies provide a fast heat dissipation at your disc brake. The brake pads are equipped with aluminium cooling fins. The brake rotor is constructed using a sandwich technique in which stainless steel encloses an aluminium core. The stainless steel on both flanks ensures long durability, the aluminium allows heat dissipation. FREEZA is the further development of the brake rotor, in which additional, specially coated ribs in the aluminium of the rotor ensure even better heat compensation. This cooling technology creates consistently high performance and longer brake pad durability while reducing fading and brake noise.
Manufacturer Numbers:
140 mm:

IRTCL900SSI

160 mm:

IRTCL900SI
Contents:
1 x Shimano RT-CL900 brake rotor
1 x Shimano lockrings
Weight:
black-silver/140 mm: 96 g
black-silver/160 mm: 114 g
100 day return period

Online since 1998

Trusted Shop

4.89

/ 5.00