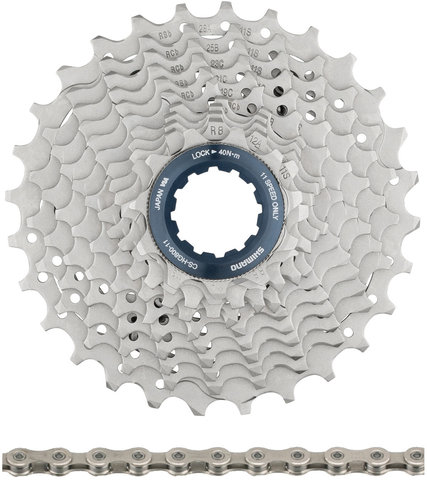 The Shimano Ultegra CS-R8000 Cassette + CN-HG701 Chain Set - Something for everyone
This Shimano Ultegra wear set is composed of the CS-R8000 11-speed cassette and the CN-HG701 11-speed chain with Quick-Link master link. It inspires with a variety of options to suit different rider types as well as the friction-reducing SIL-TEC coating.
The Shimano Ultegra CS-R8000 11-speed cassette is available in a variety of gradations and reflects Shimano's " rider tuned" ethos, which aims to offer every rider a personalised solution. From 11-25 to 14-28, everything is there. HG-EV technology enhances Hyperglide shifting for high-precision gear changes.
The Shimano CN-HG701 11-speed Quick-Link chain is held together by a master link. The SIL-TEC coating, based on fluorine particles and applied to inner and outer plates, ensures more efficiency, less wear and less noise. CN-HG701-11 chains are generally recommended for Ultegra and XT groupsets. There is a directional binding, so be careful during installation.
Specifications:
Application:

Road

Gearing:

11-speed

Freehub Compatibility:

Shimano Road
Technical Information - Cassette:
Series:

Ultegra R8000

Sprocket Material:

steel

Spider:

2 (1 x carbon, 1 x aluminium)
Technical Information - Chain:
Number of Links:

116

Closure Type:

master link (Quick-Link)

Pin Type:

chromium-plated, solid

Directional:

yes

Material:

steel
Compatibility:
Road 2x11-speed:
Dura-Ace R9100 / 9000
Ultegra R8000 / 6800
105 R7000 / 5800
Metrea U5000
GRX RX810 / RX600
Road 1x11-speed:
Rear Derailleur Overview:
11-25 /12-25: RD-R9100-SS, RD-R8000-SS, RD-9000, RD-6800-SS, RD-5800-SS, RD-R7000-SS, RD-R9150-SS, RD-R8050-SS, RD-9070-SS, RD-6870-SS
11-28: RD-R9100-SS, RD-R8000-SS, RD-R8000-GS, RD-RX800, RD-9000, RD-6800-SS, RD-5800-SS, RD-R7000-SS, RD-R7000-GS, RD-6800-GS, RD-5800-GS, RD-U5000-SS, RD-R9150-SS, RD-R8050-SS, RD-9070-SS, RD-6870-SS, RD-R8050-GS, RD-RX805, RD-6870-GS
11-30: RD-R9100-SS, RD-R8000-SS, RD-R8000-GS, RD-RX800, RD-R7000-SS, RD-R7000-GS, RD-6800-GS, RD-5800-GS, RD-U5000-SS, RD-RX810, RD-R9150-SS, RD-R8050-SS, RD-R8050-GS, RD-RX805, RD-6870-GS, RD-RX815
11-32: RD-R8000-GS, RD-RX800, RD-R7000-GS, RD-6800-GS, RD-5800-GS, RD-U5000-SS, RD-RX810, RD-R8050-GS, RD-RX805, RD-6870-GS, RD-RX815
14-28: RD-R9100-SS, RD-R8000-SS, RD-9000, RD-6800-SS, RD-5800-SS, RD-R7000-SS, RD-R9150-SS, RD-R8050-SS, RD-6870-SS, RD-9070-SS
Features:
Cassette:
HG-EV cassette
nickel-plated sprocket, anodised lockring
Chain:
super narrow, directional HG-X11 chain for 1x11, 2x11, 3x11
smooth and reliable shifting performance
more efficient, quieter, less maintenance thanks to SIL-TEC surface coating on outer and inner plates
newly dimensioned plates
performance indicator: advanced (level 2 out of 3)
Models:
11-25:
Gradation:

11-12-13-14-15-16-17-19-21-23-25 T

Manufacturer Number:

I-CSR800011125 (cassette) + I-CNHG70111116Q (chain)
11-28:
Gradation:

11-12-13-14-15-17-19-21-23-25-28 T

Manufacturer Number:

I-CSR800011128 (cassette) + I-CNHG70111116Q (chain)
11-30:
Gradation:

11-12-13-14-15-17-19-21-24-27-30 T

Manufacturer Number:

I-CSR800011130 (cassette) + I-CNHG70111116Q (chain)
11-32:
Gradation:

11-12-13-14-16-18-20-22-25-28-32 T

Manufacturer Number:

I-CSR800011132 (cassette) + I-CNHG70111116Q (chain)
12-25:
Gradation:

12-13-14-15-16-17-18-19-21-23-25 T

Manufacturer Number:

I-CSR800011225 (cassette) + I-CNHG70111116Q (chain)
14-28:
Gradation:

14-15-16-17-18-19-20-21-23-25-28 T

Manufacturer Number:

I-CSR800011428 (cassette) + I-CNHG70111116Q (chain)
Contents:
1 x Shimano Ultegra CS-R8000 cassette
1 x Shimano Ultegra / XT CN-HG701-11 chain
1 x Shimano SM-CN900-11 Quick-Link master link
1 x Shimano aluminium lockring
Weight:
silver/11-25: 489 g (Kette m. 114 Gl.+Kassette)
silver/11-28: 508 g (Kette m. 114 Gl.+Kassette)
silver/11-30: 526 g (Kette m. 114 Gl.+Kassette)
silver/11-32: 549 g (Kette m. 114 Gl.+Kassette)
silver/12-25: 500 g (Kette m. 114 Gl.+Kassette)
silver/14-28: 557 g (Kette m. 114 Gl.+Kassette)