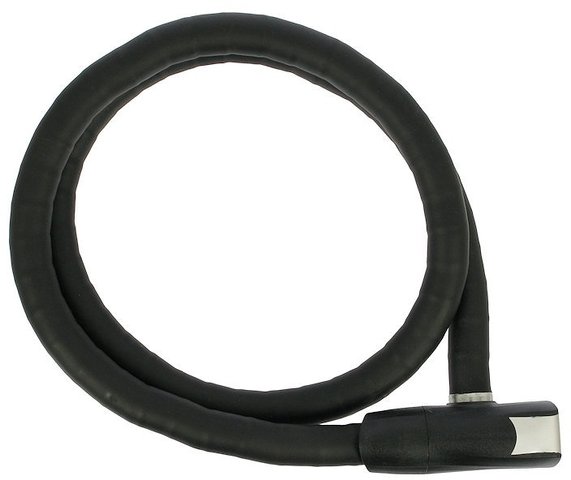 The Centuro 860 armoured cable lock by ABUS - the duo for twice the security
The Centuro 860 armoured cable lock from ABUS makes it particularly difficult for bicycle thieves. It consists of 20 mm thick overlapping steel sleeves made of special hardened steel, which encase the internal steel cable, thus providing double security. Cutting the cable is therefore much more difficult than with a simple cable lock. The Centuro 860 is particularly suitable for securing good bicycles and as protection in areas with a medium risk of theft.
Specifications:
Design:

cable lock

Application:

Good protection for a medium risk of theft

Dimensions (Length x Cable Thickness):

85 x 2 cm / 110 x 2 cm

Closure Type:

key

Security Rating:

7 (of 15), " Extra"
Technical Information:
Length:

85 cm / 110 cm

Cable Thickness:

2 cm

Test Certifications:

Ice Spray Tested

Cable Material:

steel
Features:
overlapping steel sleeves with a thickness of 20 mm to protect the internal steel cable
PVC coating to protect against damage to the paint of the frame
steel body and structural parts of the locking mechanism are made of specially-hardened steel
ABUS automatic cylinder with drilling protection
user-friendly reversible key
QS and QS RBU versions with an additional bracket
Technology:
Security Level Extra:
The extra protection (level 5-9) offers you good protection for areas with medium to low risk of theft, e.g. for entry-level bikes or as a secondary lock for your high-quality bike.
Models:
85 cm:
Length:

85 cm

Manufacturer Number:

31495

Bracket:

none
85 cm / QS:
Length:

85 cm

Manufacturer Number:

31528

Bracket:

QuickSnap for mounting on saddle clamp bolts, variably adjustable in 15° increments, one-button operation
85 cm / QS RBU:
Length:

85 cm

Manufacturer Number:

31493

Bracket:

QuickSnap RBU with flexible steel band for various tube shapes with diameters from 20 to 42 mm, variably adjustable in 15° increments, one-button operation
110 cm:
Length:

110 cm

Manufacturer Number:

31496

Bracket:

none
110 cm /QS RBU:
Length:

110 cm

Manufacturer Number:

31494

Bracket:

QuickSnap RBU with flexible steel band for various tube shapes with diameters from 20 to 42 mm, variably adjustable in 15° increments, one-button operation
Contents:
1 x ABUS Centuro 860 armoured cable lock
2 x keys
1 x ABUS QuickSnap bracket (only for QS or QS RBU versions)
Weight:
black/85 cm: 780 g
black/110 cm: 950 g
black/110 cm /QS RBU: 980 g
black/85 cm / QS RBU: 825 g
black/85 cm / QS: 840 g