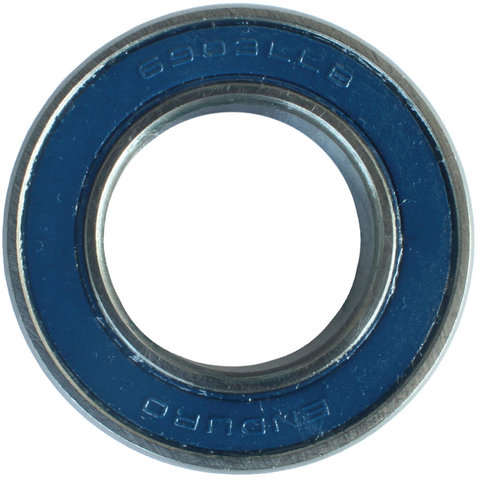 Carefully manufactured, highly precise: the 6903 bearings by Enduro Bearings
You can choose between ABEC 3 steel bearings (type 1), MAX bearings (type 2) and stainless steel bearings (type 3).
ABEC 3 bearings from Enduro Bearings feature 10th-degree chrome steel balls that are twice as round as the industry standard, and manufactured to the highest standard. The treads are made of a 52100 carbon chrome steel alloy that is vacuum-generated and then hardened for extra strength and durability. A high-gloss polish ensures precision and low noise.
MAX bearings are characterised by a 35 to 40 % higher load capacity than standard radial bearings. For 20 years Enduro Bearings has been manufacturing them specifically for use on mountain bike shocks. As its name indicates, MAX bearings are fitted with the maximum possible number of balls. The grooves in the races are deeper to accommodate the multiple lateral turning forces at the MTB rear pivot.
The stainless steel bearings from Enduro Bearings are based on bearing balls and running surfaces made of 440C stainless steel. This material ensures maximum corrosion resistance in critical applications and environments. Stainless steel has 20% less load capacity than the 52100 chrome steel alloy used in most other Enduro Bearings, but it is far superior in terms of rust resistance. Seals and CRC marine grease provide additional water resistance. If you live in a rainy area and/or you don't leave your bike in the rain, 440C stainless steel bearings are for you. They can also be useful for headsets, as drops of sweat may be a problem there.
Specifications:
Dimensions (Inner x Outer x Width):

17 mm x 30 mm x 7 mm

Designation:

6903
Models:
Type 1:
Design:

deep groove ball bearings

Tolerance:

ABEC 3

Recommended Use:

hubs, bottom brackets, headsets

Inner Race Material:

steel (52100)

Outer Race Material:

steel (52100)

Ball Material:

steel

Seals:

LLB

Basic static load rating:

2.1 kN (477 lbs)

Manufacturer Number:

6903LLB
Type 2:
Design:

deep groove ball bearings

Tolerance:

ABEC 3 / ABEC 1

Recommended Use:

Suspension pivots, shocks

Inner Race Material:

steel (52100)

Outer Race Material:

steel (52100)

Ball Material:

steel

Seals:

LLU

Basic static load rating:

3.4 kN (763 lbs)

Manufacturer Number:

6903LLUMAX
Type 3:
Design:

deep groove ball bearings

Tolerance:

ABEC 3

Recommended Use:

hubs, bottom brackets, headsets

Inner Race Material:

stainless steel (440C)

Outer Race Material:

stainless steel (440C)

Ball Material:

stainless steel (440C)

Seals:

LLB

Basic static load rating:

1.7 kN (381 lbs)

Manufacturer Number:

S6903LLB
Features:
Type 1:
ABEC 3 bearings with riveted steel ball cage for more durability
chrome steel balls 10th degree = circularity is 10/1,000,000"
race grooves made of carbon-chrome steel alloy, heat and cold treated (down to -190° C), minimum hardness Rockwell HRC 62, polished
LLB: widely used seal type made of nitrile rubber with steel insert, in a groove in the inner race (labyrinth bearing), two super thin sealing lips; the outer one keeps out water and contaminants, the inner one retains grease
Level 3 in the rating of the Annular Bearing Engineer's Committee (ABEC) in terms of manufacturing tolerances and noise development
Type 2:
MAX bearing (MAX = maximum number of balls, without cage or partitions) with 35 % higher load capacity than standard bearings and reduced ease of movement
chrome steel balls 10th degree = circularity is 10/1,000,000"
race grooves made of carbon-chrome steel alloy, heat and cold treated (down to -190° C), minimum hardness Rockwell HRC 62, polished
LLU: Seal type with double lip, in a groove in the inner race; particularly resistant to dirt and dust due to increased pressure, 90% grease filling rate (Almagard Extra High Pressure Grease)
Level 1 rating from the Annular Bearing Engineer's Committee (ABEC) in terms of noise, manufacturing tolerances correspond to level 3
Type 3:
stainless steel bearings with superior corrosion resistance but lower load capacity for use in wet conditions
stainless steel balls 10th degree = roundness is 10/1,000,000"
LLB: widely used seal type made of nitrile rubber with steel insert, in a groove in the inner race (labyrinth bearing), two super thin sealing lips; the outer one keeps out water and contaminants, the inner one retains grease
Level 3 in the rating of the Annular Bearing Engineer's Committee (ABEC) in terms of manufacturing tolerances and noise development
Contents:
1 x Enduro Bearings 6903 17 mm x 30 mm x 7 mm ball bearing
Weight:
universal/type 1: 17,1 g
universal/type 2: 17,6 g
universal/type 3: 17,1 g