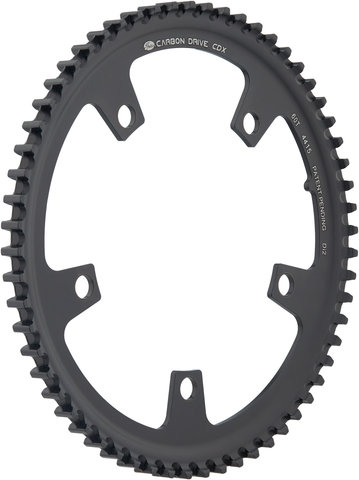 This Gates CDX sprocket is designed for use on tandem bikes and features a 5-arm bolt circle diameter of 130 mm. It is made of 6061 aluminium.
Specifications:
Application:

City & Touring

Mount:

130 mm bolt circle diameter, 5-arm

Teeth:

66 t, 69 t, 74 t
Technical Information:
Width of the teeth:

11 mm

Tooth division:

8 mm

Mounting web thickness:

3.1 mm

Offset:

3.1 mm (assembly surface), 1.55 mm (centre line)

Arm width:

21 mm

Inner Diameter:

114.5 mm

Material:

Aluminium
Compatibility:
only compatible with Gates CDX Tandem belt (due to 8 mm instead of 11 mm tooth pitch)
Features:
CDX level: high-end version for high loads and best performance
suitable for mud, sand, snow and ice as well as all roads
middle guide groove (CenterTrack)
high mileage
perfectly suited for tandems: quieter and smoother ride than with conventional chain tandem stoker drives
Technology:
Gates Carbon Drive System
The main advantages of the Gates Carbon Drive system are cleanliness, smoothness and robustness. Urban commuters as well as mountain bikers, E-bike users or leisure riders benefit from the high mileage. Oil-stained or rusty chains are a thing of the past.
Clean:
No lubricant means no accumulation of grease and dirt.
Smooth and silent operation:
no metal-to-metal contact of the chains.
Light:
The whole system weighs less than a standard bicycle chain.
No elongation:
Belt does not need to be re-tensioned or replaced.
Self-cleaning:
CenterTrack and MudPort profiles are specially designed to repel mud, dirt, snow or other contaminants.
Consistent efficiency:
The drive boasts a long service life compared to that of a conventional chain, where efficiency is significantly reduced by wear or dirt.
Installing a Gates Carbon Drive Belt Drive requires a specially-made frame, therefore we strongly advise against using one to modify a conventional framework.
Models:
66 tooth:
Outer Diameter:

166.3 mm

Manufacturer Number:

CT08665AA
69 tooth:
Outer Diameter:

174.2 mm

Manufacturer Number:

CT08695AA
74 tooth:
Outer Diameter:

186.8 mm

Manufacturer Number:

CT08745AA
Contents:
1 x Gates CDX tandem front belt drive sprocket
1 x spacer kit