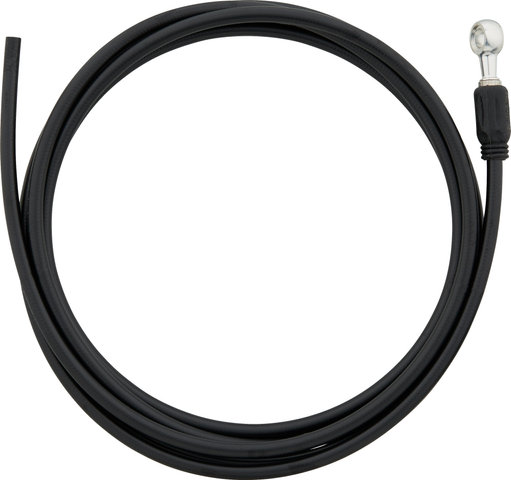 This Sport Hydraulic brake hose from Jagwire is only suitable for mineral oil-based disc brake systems. It comes with brake lever and caliper connectors that make it compatible with various brakes from Shimano and Magura, depending on the version.
Specifications:
Application:

MTB, Road, Gravel, Triathlon & Time Trial, City & Touring

Length:

2000 mm

Brake Fluid:

mineral oil
Features:
reliable quality and performance at a reasonable price
durable, flexible outer layer with reinforcement
low-friction inner layer
including connection adapter for encoder and receiver side
Technology:
Level 2 - Sport
The Sport Level is the second of Jagwire's four performance levels and is therefore above the base level. It stands for OEM-level components that offer a combination of long durability and good performance.
Models:
M9120 / M8120 / M8100:
Compatibility:

Shimano XTR M9120, M9020, M988, M985 / Saint M820 / XT M8120, M8100, M8020, M8000, M785, T785 / SLX M7120, M7100, M7000, M675, M666 / ZEE M640 / Alfine S700

Hose Connection:

straight-banjo

Manufacturer Number:

HBKB301
M9100 / M6120 / M6100:
Compatibility:

Shimano XTR M9110, M9100 / XT M8110 / SLX M7110 / Deore M6120, M6100, M6000, M596, M615 / LX T675 / MT520, MT420

Hose Connection:

straight-straight

Manufacturer Number:

HBKB302
M975 / MT500 / U5000:
Compatibility:

Shimano XTR M975 / XT M775 / SLX M665 / LX T665, M585 / Hone M601 / Deore T615, M595, M535, M525 / Alfine S7000, S500, S501 / Metrea U5000 / Alivio M4050 / Acera M3050 / T605, MT500, MT400, MT200, M575, M486, M485, M447, M446, M445, M395, M365, M355, M315, UR300

Hose Connection:

straight-straight

Manufacturer Number:

HBKB303
R9120 / R8020:
Compatibility:

Shimano Dura Ace R9120, R9170, R9180 / Ultegra R8020, R8070 / 105 R7070 / Tiagra 4770 / GRX RX810, RX400

Hose Connection:

straight-straight

Manufacturer Number:

HBKB304
MT:
Compatibility:

Magura MT Trail SL, MT Trail Sport, MT8 SL, MT8 Pro, MT8, MT8 SL Flat Mount, MT7 Pro, MT7, MT6, MT5, MT5e, MT4, MT4 Flat Mount, MT4e

Hose Connection:

straight-banjo

Manufacturer Number:

HBKB401
Contents:
1 x Jagwire Sport Hydraulic Brake Hose for Mineral Oil
Versions with banjo:
1 x compression hose nut
1 x olives
1 x inserts
2 x O-rings
Versions with straight cable connection:
2 x compression hose nut
2 x olives
2 x inserts
1 x connecting bolt with flange (only for R9120 / R8020)