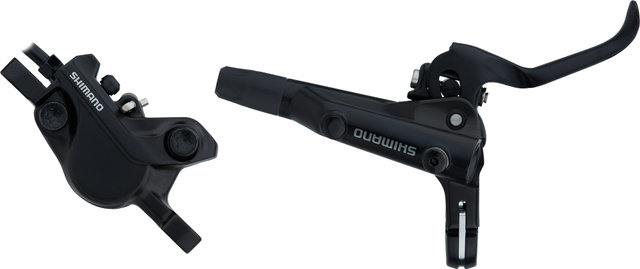 Shimano BR-MT500 + BL-MT501 Disc Brake J-Kit
The Shimano BR-MT500 Disc Brake with BL-MT501 Brake Lever - Versatile and reliable
This Shimano disc brake on Deore level consists of the BR-MT500 brake caliper and the BL-MT501 brake lever with 2-finger lever. It is suitable for cross-country, touring, all-mountain and moderate enduro use. The two resin pistons of the receiver unit ensure reliable and stable braking performance. In addition, the brake caliper can be easily bled thanks to One-Way Bleeding. The transmitter units are equipped with servo-wave technology, which means that you make optimal use of the brake lever's travel and can easily adjust the braking force. Another plus point is the I-Spec II design, which allows for the space-saving integration of a compatible shifter. The BL-MT501 is slim enough not to be noticed on the handlebars, but tough enough for trail use. As a J-Kit this brake is delivered in a way that you can easily mount it, even if internal brake hose routing is possible. Organic brake pads are included.
Specifications:
Application:

All Mountain, Cross Country, Enduro, City & Touring

Type:

hydraulic, 2 pistons

Actuation:

mineral oil

Hose:

SM-BH59-JK-SS

Hose Length (Front/Rear):

1000 mm / 1700 mm
Technical Information - Caliper:
Mount:

post mount

Pads:

resin

Design:

2-piece

Calliper Material:

aluminium

Piston Material:

resin

Hose Connection:

straight
Technical Information - Lever:
Lever Length:

2-finger

Adjustment Options:

reach adjust (with tools)

Mount:

clamp (split), I-Spec II

Design:

right (side-specific), left (side-specific)

Brake Lever Material:

aluminium

Brake Lever Housing Material:

aluminium

Hose Connection:

straight
Compatibility:
Mounting Position:
front brake caliper: brake lever left
rear brake caliper: brake lever right
Pads:

organic; with wide pad shape; standard (no Ice-Tech)

Brake Rotor:
Features:
Brake Caliper:
reliable performance and stable brake design
ideal for all riding styles from cross country to trail
insulated pad and piston
2 pistons made of synthetic resin
painted
steel bolts (5 mm)
Shimano logo
Brake Lever:
main cylinder with smooth and robust design
slim and stable
powerful, Servo Wave
ideal for all riding styles from cross country to trail
I-Spec II compatible
funnel venting with M5 funnel
anodised lever, painted body
stainless steel clamp bolts
Shimano logo
Technology:
One-Way Bleeding
One Way Bleeding is a technique used on Shimano calipers that facilitates brake bleeding. The hose routing has been optimised so that no air bubbles remain in the brake calliper. In combination with the funnel, the brake can be bled cleanly and easily.
Servo Wave
Shimano Servo Wave technology optimises the travel of your brake levers. During the braking process, the brake pads are guided quickly to the brake rotor with very short lever travel. The greater part of the lever travel is reserved for the actual braking force. In this way, you can apply your braking power in a more targeted manner and use it more effectively.
I-Spec II
I-Spec II describes a variant of the connection between the brake lever and the shift lever on MTB or, more precisely, flatbar gears from Shimano. This type of mount makes for a tidy cockpit as it reduces the number of clamps needed. On some models it is also possible to adjust the shift lever both horizontally and vertically in relation to the brake lever. Then there is 12 mm of adjustment travel in the longitudinal direction and/or up to 15° of rotation - for optimum ergonomic adaptation to your riding style, seat position and anatomy.
J-Kit
J-Kit is a simple line connection system for hydraulic brakes from Shimano, so that you can install your brakes quickly and easily. The brake hose does not come connected to the brake to facilitate routing of the hose in the frame. The brake hose is already filled with oil in the J-Kit and sealed with a thin membrane. There is a small pin in the J-Kit brake lever that pierces this diaphragm during assembly to allow oil to flow.
Manufacturer Numbers:
Front:

E-MT5012JLFPRA100

Rear:

E-MT5012JRRXRA170
Contents:
1 x Shimano BR-MT500 + BL-MT501 disc brake, front or rear
1 x Shimano SM-BH59-JK-SS brake hose, 1000 mm (front) or 1700 mm (rear)
1 x pair Shimano brake pads
1 x insert
1 x olive
2 x calliper bolts
1 x snap ring
ready for installation, filled, bleeding is recommended after installation
Order Together:
100 day return period

Online since 1998

Trusted Shop

4.89

/ 5.00