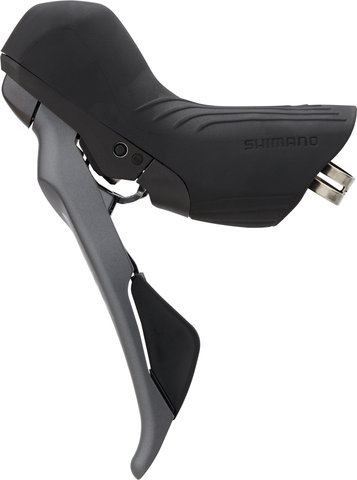 Shimano GRX STI ST-RX820 2-/12-speed Shift/Brake Lever
Shimano GRX ST-RX820 STI - for perfect shifting and braking on off-road adventures and in gravel races
The mechanical-hydraulic ST-RX820 shift/brake lever from the GRX RX820 gravel series by Shimano allows you to shift smoothly and crisply in the 2x12 or 1x12-speed system. At the same time, it impresses with more braking control on mixed surfaces, whether for off-road adventures or gravel racing. The lever and lever body ergonomics have been specially adapted for the intended application and for flared handlebars. The design takes pressure off the palm for increased comfort. The aluminium lever has a texture to prevent slipping. The reach of the lever can be adjusted with the help of a hex key. The pad engagement point is also adjustable. You also benefit from Shimano Servo Wave technology for a more targeted application and a more efficient use of braking power. ST-RX820 is supplied with a shift cable with friction-reducing polymer coating.
Specifications:
Series:

GRX RX820

Application:

Gravel

Gearing:

2x, 12-speed

Shifting System:

mechanical

Brake Type:

hydraulic
Technical Information:
Brake Lever Material:

aluminium

Lever Body Material:

composite

Hose:

SM-BH90-JK-SSR (not included)

Actuation:

mineral oil

Mount:

clamp (closed)

Reach Adjust:

bolt

Adjustment Options:

reach adjust, contact point
Compatibility:
Clamp Diameter:

23.8 - 24.2 mm

Front Derailleur:

FD-RX820, FD-R7100

Crank:

FC-RX820-2, FC-RX610-2, FC-R9200, FC-R9200-P, FC-R8100, FC-R8100-P, FC-R7100, FC-RS52

Rear Derailleur:

RD-RX820, RD-RX822*, RD-R7100

Cassette:

CS-R8101-12, CS-R7101-12, CS-HG710-12, CS-M9101-12*, CS-M9100-12*, CS-M8100-12*, CS-M7100-12*, CS-M6100-12*

Chain:

CN-M8100, CN-M9100, CN-M7100, CN-M6100

Brake Caliper:

BR-RX820 (recommended), BR-R9270, BR-R8170, BR-R7170, BR-RX820-LE, BR-RX400

Additional Brake Lever:

BL-RX812
* only 12-speed (right) with 1x12-speed
Features:
mechanical-hydraulic shift/brake lever (2x or 12-speed) for gravel use
smooth and defined shifting
great brake control on mixed terrain
gravel-specific lever and lever body ergonomics
design reduces pressure on the palm for more comfort
reach adjustment (10.9 mm) with 2 mm hex tool
faster brake contact thanks to Servo Wave
anti-slip brake lever
bracket optimised for flared handlebars
shift cable with polymer coating for low friction
funnel venting with M7 funnel (TL-BR002)
lacquered brake lever
Technology:
STI Dual Control
Shimano Total Integration (STI) means the combination of braking and shifting functions in one lever, which increases safety when riding. By refining the technology, it became possible to make shifting so smooth at the front and rear that they can be triggered with just one finger. Shimano calls such levers Dual Control Levers (DCL).
Servo Wave
Shimano Servo Wave technology optimises the travel of your brake levers. During the braking process, the brake pads are guided quickly to the brake rotor with very short lever travel. The greater part of the lever travel is reserved for the actual braking force. In this way, you can apply your braking power in a more targeted manner and use it more effectively.
Models:
2-speed
Mount:

left

Manufacturer Number:

ISTRX820LI
12-speed
Mount:

right

Manufacturer Number:

ISTRX820RBI
Contents:
1 x Shimano GRX ST-RX820 shift/brake lever
1 x Shimano shift cable
Order Together:
Weight:
black-grey/2-speed: 283 g
black-grey/12-speed: 289 g
100 day return period

Online since 1998

Trusted Shop

4.89

/ 5.00