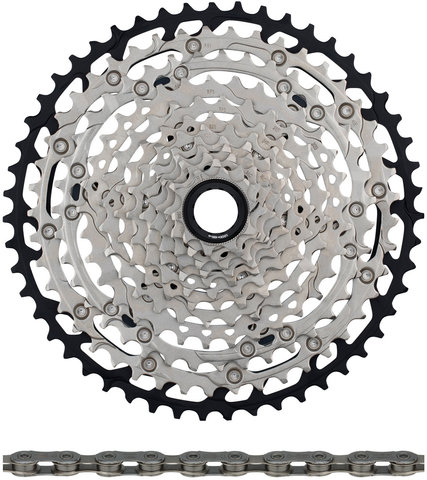 Shimano SLX CS-M7100-12 Cassette + CN-M7100 12-speed Chain Wear & Tear Set
The Shimano SLX CS-M7100 Cassette + CN-M7100 Chain Set - For precise gear changes
This Shimano SLX wear set consists of CS-M7100-12 cassette and CN-M7100 chain. This guarantees high precision, smoothness and speed when shifting gears.
The Shimano SLX CS-M7100 12-speed cassette is characterised by its Hyperglide+ technology, which ensures high precision and smoothness as well as shifting speed when shifting up or down. In addition, Hyperglide+ minimises noise. CS-M7100 cassettes feature an aluminium spider and sprocket (the largest sprocket), which saves weight and contributes to durability. If the lowest possible gear jumps are important to you, then go for the 10-45 version. If you want to cover as wide a range as possible, the 10-51 gradation is the right one for you.
The Shimano SLX CN-M7100 12-speed chain has been fundamentally revised to form a central component of the SLX M7100 groupset. High-precision moulded contact surfaces to chainring and cassette teeth ensure fast, but also precise and smooth shifting up and down. Shifting with the CN-M7100 chain works perfectly even under load.
Guidelines for Replacing E-bike Components:
Before you replace components on your e-bike, please read through the
guidelines
for component replacement for CE-marked e-bikes/pedelecs with pedal assistance.
Specifications:
Application:

All Mountain, Enduro, Cross Country

Gearing:

12-speed

Freehub Compatibility:

Shimano Micro Spline
Technical Information - Cassette:
Series:

SLX M7100

Sprocket Material:

steel, aluminium

Spider:

1 (aluminium)
Technical Information - Chain:
Number of Links:

126

Closure Type:

master link (Quick-Link)

Pin Type:

solid

Directional:

yes

Material:

steel
Compatibility:
1x12-speed / 2x12-speed Micro Spline:
Shifter:

SL-M9100, SL-M8100, SL-M7100, SL-M6100, SW-M8150, ST-RX820, ST-RX610

Front Derailleur:

FD-M9100, FD-M8100, FD-M7100

Crank:

FC-M9100, FC-M8100, FC-M7100, FC-MT610, FC-M9120, FC-M8120, FC-M7120, FC-M9120, FC-M6100, FC-MT900, FC-MT510, FC-MT511, FC-M9125, FC-M6120, FC-MT512, FC-M9130, FC-M8130, FC-M7130, FC-M6130
Rear Derailleur:
1x12-speed with 10-51 t: RD-M9100-SGS, RD-M8100-SGS, RD-M7100-SGS, RD-M6100-SGS, RD-M8150-12, RD-RX822-SGS
1x12-speed with 10-45 t: RD-M9100-GS, RD-M9120-SGS, RD-M8100-GS, RD-M8120-SGS, RD-M7120-SGS, RD-RX822-GS
2x12-speed with 10-45 T: RD-M9120-SGS, RD-M8120-SGS, RD-M7120-SGS
E-bike Drivetrain:

STEPS E7000
Features:
Cassette:
12-speed Hyperglide+ cassette
10-51: Wide range version, 10-45: Rhythm step version
advanced shifting performance for more confidence and more fun on any trail
pedal during the shifting process
lighter and stiffer construction reduces inertia and improves acceleration (Beam Spider)
lighter drivetrain with 10t smallest sprocket and new freehub design
sprockets 1 to 11 made of steel (plated), 12 made of aluminium (anodised)
sprocket carrier made of painted aluminium, anodised lock ring
Chain:
HG chain for 1x12, 2x12
runs smoothly over stones, roots etc.
enlarged inner plate for improved chain retention
shorter shift times, improved shift behaviour
SIL-TEC surface coating on inner plate
with master link for easy installation
Models:
10-45:
Gradation:

10-12-14-16-18-21-24-28-32-36-40-45 t

Manufacturer Number:

I-CSM7100045 (cassette) + I-CNM7100126Q (chain)
10-51:
Gradation:

10-12-14-16-18-21-24-28-33-39-45-51 t

Manufacturer Number:

I-CSM7100051 (cassette) + I-CNM7100126Q (chain)
Contents:
1 x Shimano SLX CS-M7100-12 cassette
1 x Shimano SLX CN-M7100 chain
1 x Shimano aluminium lockring
1 x Shimano SM-CN910-12 Quick-Link master link
Weight:
silver/10-45: 765 g (Kette m. 114 Gl.+Kassette)
silver/10-51: 786 g (Kette m. 114 Gl.+Kassette)
100 day return period

Online since 1998

Trusted Shop

4.89

/ 5.00