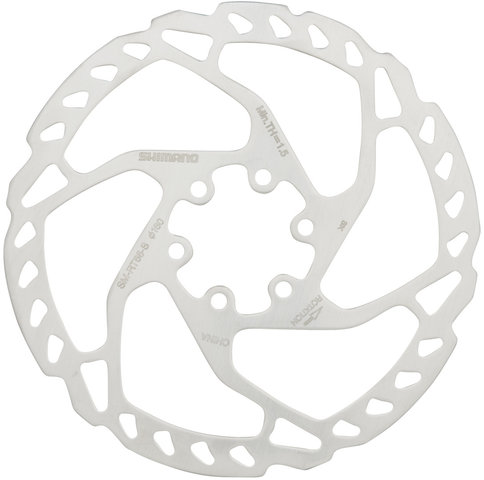 The SM-RT66 Brake Rotor by Shimano - One-piece 6-bolt model
The SM-RT66 is an affordable Shimano 6-bolt brake rotor available in diameters from 160 to 220 mm. It is made of stainless steel, has a one-piece design and is compatible with organic as well as sintered pads. The brake rotor is recommended for ZEE, Deore and Alfine, but can also be used with other brakes. The mounting material is included in the scope of delivery.
Guidelines for Replacing E-bike Components:
Before you replace components on your e-bike, please read through the
guidelines
for component replacement for CE-marked e-bikes/pedelecs with pedal assistance.
Technical Information:
Mount:

6-bolt

Diameter:

160 mm, 180 mm, 203 mm, 220 mm

Design:

1-piece

Rotor Material:

stainless steel
Approved For:
Brake Compatibility:

BR-M9100*, BR-M9120, BR-M9110-R**, BR-M9000, BR-M9020, BR-M8100, BR-M8120, BR-M8110-R*, BR-M8000, BR-M8020, BR-M7100, BR-M7120, BR-M7110-R*, BR-M7000, BR-M6100, BR-M6120, BR-M6000, BR-MT520, BR-MT420, BR-M820, BR-M640, BR-U8000, BR-U8020, BR-S7000, BR-S700, BR-R9270**, BR-R9170*, BR-R8170*, BR-R8070*, BR-R7170*, BR-R7070*, BR-4700*, BR-RS805*, BR-R785*, BR-RS785*, BR-RS505*, BR-RS405*, BR-RX820*, BR-RX820-LE*, BR-RX810*, BR-RX400*, BR-CX77**, BR-R517**, BR-R317*, BR-RS305**, BR-U5000**

Brake Pad Compatibility:

sintered***, organic
* not compatible with 203 and 220 mm (BR-R9170-R also not compatible with 180 mm)
** only 160 mm
*** with BR-S700 and BR-S7000 only organic
Compatibility:
for brake pads with narrow pad shape
Features:
performance indicator: Select (level 1 out of 3)
polished
with self-locking plates
Manufacturer Numbers:
160 mm:

E-SMRT66S

180 mm:

E-SMRT66M

203 mm:

E-SMRT66L

220 mm:

E-SMRT66LL
Contents:
1 x Shimano SM-RT66 brake rotor
6 x Shimano fixing screws
3 x Shimano lock washers