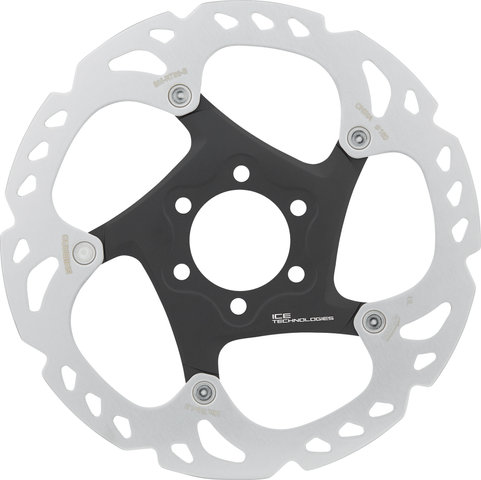 Shimano SM-RT86 6-bolt brake rotor for XT and other brakes - With Ice Technology
The Shimano SM-RT86 is a two-piece brake rotor for 6-bolt hubs that ensures very high performance thanks to Ice Tech. It combines stainless steel flanks with an aluminium core, which ensures long durability and superior heat dissipation at the same time. Their high heat resistance benefits the entire brake caliper, reduces fading and noise and also increases the service life of the pads. In addition, SM-RT86 impresses with a dirt-repellent design and low weight. It is compatible with sintered and organic brake pads. Use this brake rotor with XT, Saint, SLX, Deore and many other disc brakes.
Technical Information:
Mount:

6-bolt

Diameter:

160 mm, 180 mm, 203 mm

Design:

2-piece

Rotor Material:

stainless steel outer and aluminium core sandwich construction

Spider Material:

aluminium
Approved For:
Brake Compatibility:

BR-M9100*, BR-M9120, BR-M9110-R**, BR-M9000, BR-M9020, BR-M8100, BR-M8120, BR-M8110-R*, BR-M8000, BR-M8020, BR-M7100, BR-M7120, BR-M7110-R*, BR-M7000, BR-M6100, BR-M6120, BR-M6000, BR-MT520, BR-MT420, BR-M820, BR-M640, BR-U8000, BR-U8020, BR-S7000, BR-S700, BR-R9270**, BR-R9170*, BR-R8170*, BR-R8070*, BR-R7170*, BR-R7070*, BR-4770*, BR-RS805*, BR-R785*, BR-RS785*, BR-RS505*, BR-RS405*, BR-RX820*, BR-RX820-LE*, BR-RX810*, BR-RX400*, BR-CX77**, BR-R517**, BR-R317**, BR-RS305**, BR-U5000**

Brake Pad Compatibility:

sintered***, organic
* not compatible with 203 mm (BR-R9170-R also not compatible with 180 mm)
** only 160 mm
*** with BR-S700 and BR-S7000 only organic
Compatibility:
for brake pads with narrow pad shape
Features:
Ice-Tech brake rotor with cooling technology (3-layer composite) for consistent performance
heat-resistant, thus less fading, less noise and longer pad life
self-cleaning design
lightweight
performance indicator: Advanced (level 2 out of 3)
painted spider, polished rotor
with self-locking plates
Technology:
Ice-Tech
Shimano Ice Technologies provide a fast heat dissipation at your disc brake. The brake pads are equipped with aluminium cooling fins. The brake rotor is constructed using a sandwich technique in which stainless steel encloses an aluminium core. The stainless steel on both flanks ensures long durability, the aluminium allows heat dissipation.
Manufacturer Numbers:
160 mm:

ESMRT86S2

180 mm:

ESMRT86M2

203 mm:

ESMRT86L2
Contents:
1 x Shimano SM-RT86 brake rotor
6 x Shimano fixing screws
3 x Shimano lock washers
Weight:
black-silver/160 mm: 135 g
black-silver/180 mm: 154 g
black-silver/203 mm: 187 g