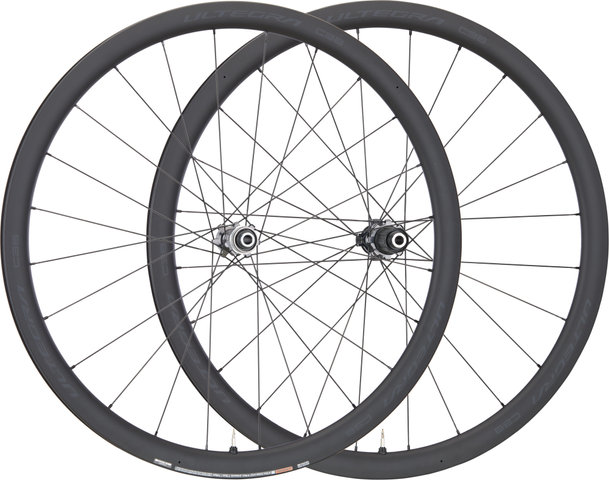 The Ultegra WH-R8170-C36-TL wheelset from Shimano - Powerful all-rounder
The Shimano WH-R8170 wheelset has 36 mm high carbon rims and is the perfect complement for your Ultegra R8100 road bike groupset with Center Lock disc brake. Unlike Dura-Ace R9200 wheelsets, its steel pawl freehub is compatible not only with 12-speed but also with 11-speed cassettes. It is a high-performance all-round model that scores points especially on the mountain with tubeless compatibility, stiffness and low weight. The rims have a jaw width of 21 mm for tyres up to 32 mm wide, and feature the wind tunnel-tested D2 Aero design. They were each fitted with 24 double butted stainless steel spokes, with a specific lacing pattern used on the rear wheel to balance the spoke tension. At the centre of the wheels rotate 12 mm thru-axle hubs with E-Thru technology for more torsion resistance. Cup & cone bearings ensure durability and ease of maintenance.
Specifications:
Application:

Road

Wheel Size:

28"

Tyre Type:

clincher tyre

Number of Spokes:

24

Brake Type:

Center Lock Disc

Tubeless System:

TL/UST
Technical Information - Rim:
Type:

D2

Rim Flange:

with hook

Dimensions (ETRTO):

21-622

Inner Width:

21 mm

Outer Width:

28 mm

Depth:

36 mm

Valve Hole Diameter:

SV/Presta (6.5 mm)

Rim Material:

carbon (CFRP)
Technical Information - Front Hub:
Over Locknut Dimension:

12 x 100 mm thru-axle

Bearings:

cup & cone

Body Material:

aluminium
Technical Information - Rear Hub:
Over Locknut Dimension:

12 x 142 mm thru-axle

Bearings:

cup & cone

Body Material:

aluminium

Freehub Body Material:

steel

Freehub Body:

pawls
Technical Information - Lacing:
Front Lacing Pattern:

2-cross

Rear Lacing Pattern:

OPTBAL (2:1)

Spoke Type:

straight pull / double butted (2.0-1.6-2.0)

Spoke Material:

stainless steel

Nipple Material:

aluminium
Approved For:
Recommended Tyre Width:

25-622 to 32-622
Features:
powerful, especially on the mountain
flat aerodynamic D2 profile, tested in the wind tunnel
speed and efficiency thanks to tubeless compatibility
rear wheel with 2:1 lacing to compensate for tensions
full compatibility with 12- and 11-speed cassettes
hubs with internal grease coat
polished bearings, CBN-finished, contact seals
aluminium axles
lacquered rims, anodised hub body
Technology:
D2 Rim
The shape of the Shimano D2 rims has been optimised with regard to both frontal winds and crosswinds. Extensive studies in the wind tunnel and on the road have shown that a wide rim profile with a deep rim well and flow angles of 0 to 15 degrees reduce drag the most. At the same time, this rim shape increases the lateral stiffness of the wheel and improves its vertical compliance, which provides more control, comfort and durability.
Cup and Cone Bearings
Angular contact ball bearings of the cup & cone type are superior to sealed cartridge bearings in terms of load carrying capacity, as they distribute lateral and vertical forces better, and thus run particularly smoothly and last a long time. They are also easier to adjust, maintain and replace.
E-Thru
E-Thru is a tool-free thru-axle system from Shimano that optimises the stiffness-to-weight ratio and ensures easy handling via its reliable internal cam mechanism. It is characterised by a high torsion resistance and thus also supports cornering at high speed. E-Thru thru-axle hubs and thru-axles are available in the corresponding over locknut dimensions for front and rear.
OPTBAL
Shimano OPTBAL is an asymmetric rear wheel lacing pattern that uses more spokes on the drive side than on the non-drive side. Symmetrical 1:1 lacing in combination with modern, wider-dimensioned cassettes can lead to uneven spoke tension, which puts excessive stress on the right-hand spokes. Spokes are more likely to break or nipples to come loose. OPTBAL counteracts this, balances the spoke tension and thus increases the stiffness, stability and durability of the wheel.
Colour Info:
black:
Rims: black (carbon)
Hub: black
Spokes: black
Nipples: black
Models:
28" set (front 12x100 + rear 12x142) Shimano:
Freehub:

Shimano Road

Gearing:

8-/9-/10-/11-/12-speed

Note:

The assembly of 8-/9-/10-speed cassettes on a Shimano Road Rotor requires a 1.85 mm spacer.

Manufacturer Number:

E-WHR8170C36LFERED
Contents:
1 x Shimano Ultegra WH-R8170-C36-TL Wheelset (front & rear)
2 x tubeless rim tape (applied)
Weight:
black/28" set (front 12x100 + rear 12x142) Shimano: 1488 g (Satz)