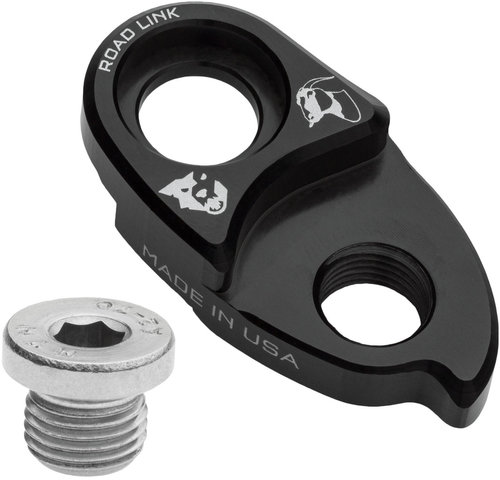 Adding a few gears: the RoadLink rear derailleur adapter by Wolf Tooth Components
Wolf Tooth's RoadLink™ rear derailleur adapter is a unique device that shifts the position of your Road derailleur so that you can ride a wide range MTB cassette with it. The ideal solution for riders who want to equip their Road, Gravel, Cyclocross or commuter bike with an uncomplicated, light 1x drivetrain, but who do not want to do without the wide gear selection of a 2x drivetrain. Also for riders with 2x drivetrains who need even lower gears for ultra steep climbs. The RoadLink does not interfere with the shifting of the smaller sprockets of the cassette, but allows the rear derailleur to work with a cassette up to 40 teeth. The RoadLink is also very easy to install; experienced home mechanics only need 5 minutes.
Technical Information:
Application:

Road, Cyclocross, Gravel, City & Touring

Material:

aluminium (6061), stainless steel bolt
Compatibility:
Rear Derailleur / Frame:
10-speed and 11-speed Shimano Road rear derailleurs (except Dura-Ace R9100/R9150, Ultegra R8000/R8050, RX800/805, 105 R7000: use RoadLink DM)
standard derailleur hangers
not compatible with Direct Mount frames
also works with 9-speed road gears, traditional SRAM rear derailleurs (not X-Horizon) and with Campagnolo rear derailleurs (here best with cassettes up to 11-36)
Cassette:
11-34 10-speed cassettes
11-36 10-speed cassettes
11-40 10-speed cassettes
11-34 11-speed cassettes
11-36 11-speed cassettes
11-40 11-speed cassettes
not compatible with 11-42 10-speed, 11-42 11-speed, 10-42 11-speed cassettes
not required for 11-32 10-speed and 11-speed cassettes
Drive:
1-speed and 2-speed shifting (2-speed only with GS cage, note rear derailleur capacity!)
not compatible with 3-speed shifters & derailleurs
Features:
design patent pending
enables the use of Road derailleurs with MTB cassettes up to 40 T
8 - 10 Nm tightening torque
Made in the USA
Note from the manufacturer:

Rear derailleur handers whose " tang" does not correspond to the Shimano standard dimension of 7.9 mm must first be filed.
Manufacturer Number:
RLINK
Contents:
1 x Wolf Tooth Components RoadLink rear derailleur adapter
1 x screws