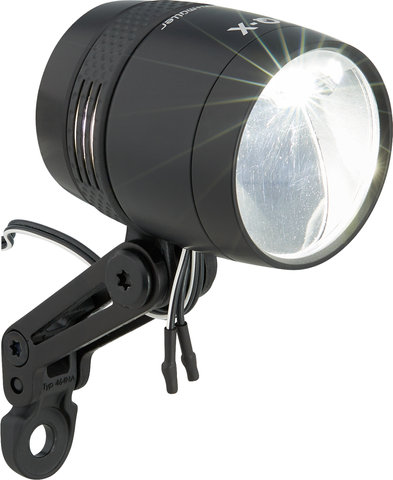 The most beautiful 100 lux ever: the IQ-X front light by busch+müller
The lighting technology makes it possible to break the 100 lux benchmark using a dynamo front light - and this is combined with a very wide and homogenous area of illumination on the road. In addition to this high-quality technology, the IQ-X also has design: the housing, which also serves as a cooling system, is made of high-quality aluminium, available in silver or black. Slits in the mounting ring radiate brightly to the side, providing accents which also improve visibility, while the ergonomic operating button is embedded in a blue illuminated ring.
This safety equipment is equipped as standard: a sensor-controlled daytime running light, standing light and a flexible multi-joint front light mount with an integrated cable duct, which also allows overhead installation.
Information regarding the return of batteries and electrical equipment:
Information on the return and disposal of used batteries and electrical equipment can be found
here
.
Specifications:
Type:

front light (white)

Mount:

special multi-joint mount

Light Source:

1 x LED

Brightness:

100 lux

Power Source:

dynamo hub
Technical Information:
Material:

aluminium

Standing Light:

yes (can be turned off)

Switch:

on / off
Approved For:
Street Use in Germany:

yes, for bicycles (according to §67 StVZO)

Check Number:

K~~1192
Features:
a flexible multi-joint headlamp holder with an integrated cable duct
LED dynamo front lights
ergonomic control buttons
high-quality aluminium housing
with a switch for a hub dynamo
Technology:
IQ Technology
The revolutionary light from busch+müller: a special reflector with an optimised cooling system uses a high-performance LED as an indirect light source. The LED is not visible any longer in the middle of the reflector. This creates a light field that is extremely evenly illuminated and can be twice as wide as conventional technology. Light effects can be positioned more precisely - for example, the near field in front of the front wheel can be additionally brightened.
By the way: The standing light of the Lumotec headlights can run for many minutes. This is why the standing lights on Lumotec IQ models can also be switched off manually - so that no thief is tempted when the bicycle is parked.
Automatic Sensor
If a Lumotec front light has the addition of " sensor" in its name, it can switch on automatically at dusk or in the dark, and switches off automatically when driving in the light. For this to happen, a permanent power supply by a hub dynamo is required. To prevent the sensor from reacting " incorrectly" to short-term light signals like a car headlight, it is equipped with a delay. In the case of front lights with daytime running light function, the light sensor takes over the task of automatically switching between day and night modes.
Manufacturer Numbers:
black:

164RTSNDI-01

silver:

164RTSNDI
Contents:
1 x busch+müller Lumotec IQ-X T Senso Plus front light
incl. front reflectors, attachable
incl. cable