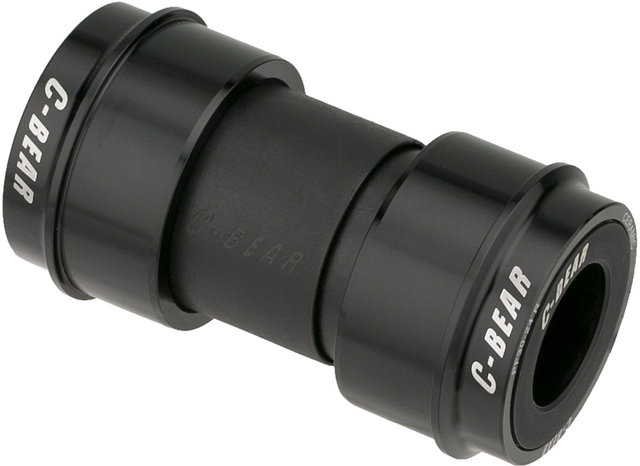 C-BEAR PF30 Shimano Race bottom bracket - more power thanks to ceramics
The C-BEAR PF30 Shimano Race bottom bracket stands for quiet, highly efficient drivetrain power - Silent Speed Performance. This is made possible by the ceramic bearings, which have been designed for low-friction and smooth running. Use this PF30 bottom bracket, in combination with a 24 mm crank, best on-road only.
Specifications:
Application:

Road

Type:

PressFit PF30

Shell Diameter:

46 mm

Shell Width:

68 mm

Axle Diameter:

24 mm
Technical Information:
Bearings:

Ceramic

Bottom Bracket Cup Material:

aluminium
Compatibility:
Shimano Hollowtech II
Rotor 3D, Agilis, REX 3
Race Face X-Type
FSA MegaExo
Features:
Race version, designed for driving on dry, clean roads
very efficient, low rolling resistance
CNC machined bearing cups
Technology:
Specific Applications
C-BEAR (
C
eramic
BEAR
ings) Inner bearings are available with 2 different types of ceramic bearings. The Race bottom bracket bearings are designed for low rolling resistance and intended for use on dry roads. They placed in the top 3 for bottom bracket efficiency in a study by the independent Friction Facts Lab (with first place going to an unsealed bottom bracket for indoor use).
High Quality Bearing Cups
C-BEAR bearing cups are made of CNC precision-machined aluminium. C-BEAR adopted an anti-plastic stance as early as 2011/2012, when plastic additives were just becoming the norm in bottom bracket manufacturing. Metal housings mean higher accuracy, lower tolerances and avoiding flex and deformation.
Manufacturer Number:
bb-pf30-24-r
Contents:
1 x C-BEAR PF30 left bearing cup incl. ceramic bearings
1 x C-BEAR PF30 right bearing cup incl. ceramic bearings