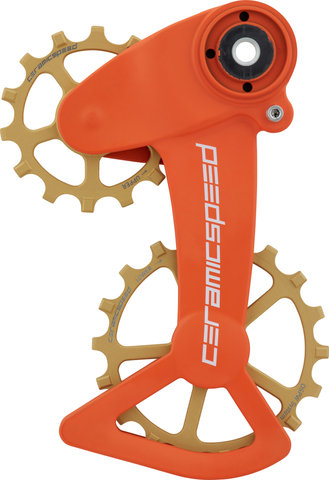 CeramicSpeed OSPW X Coated System for SRAM Eagle AXS with extra hard Cerakote coating - Limited Edition
The CeramicSpeed OSPW X Coated derailleur pulley system for SRAM's electronic 12-speed rear derailleurs XX1 Eagle, X01 Eagle and GX Eagle AXS has been coated with a unique coating from the specialist Cerakote for this Limited Edition. This ceramic film is incredibly hard, durable, scratch-resistant and robust. Like other OSPW X Coated systems, the model features oversized pulleys with extra-durable ceramic bearings, whose races have been metal-coated for added durability. It consists of a 14-tooth upper pulley, a 18-tooth lower pulley and a polyamide cage. Due to the low friction of the bearings, which were specially designed for off-road use, you increase the efficiency and service life of your drivetrain and save valuable energy.
For hazard warnings, safety and application information, please see
CeramicSpeed Oil for Derailleur Pulleys
.
Specifications:
Application:

Cross Country, Enduro, All Mountain, Gravel, Cyclocross

Gearing:

12-speed

Cassette Teeth (max.):

52-tooth

Compatibility:

SRAM XX1 Eagle AXS, X01 Eagle AXS, GX Eagle AXS
Technical Information:
Derailleur Pulleys:

14 tooth (upper derailleur pulley), 18 tooth (lower derailleur pulley)

Outer Cage Material:

Polyamide, Ceramic

Inner Cage Material:

Polyamide, Ceramic

Other Materials:

aluminium, ceramic

Bearings:

Ceramic
Features:
oversize derailleur pulley system with ceramic bearings, offering unique durability and performance
special off-road version for wet, dirt and mud
cage and derailleur pulleys with extra-hard Cerakote ceramic coating for exceptional surface durability
reduced friction and increased energy savings for a highly efficient drivetrain
high-performance bearings with very hard, above-average supple and resilient ceramic balls made of grade-3 silicon nitride (best achievable grade for ceramic bearings)
ball bearing races additionally metal-coated for more performance and durability
three spring tension options
handmade in Denmark
Technology:
Ceramic Bearings by CeramicSpeed
CeramicSpeed ceramic balls are rounder, harder, smoother, lighter and more resilient than steel balls and ceramic balls from other manufacturers. CeramicSpeed ceramic bearings therefore last 3 to 5 times longer than other commercially available bearings. All CeramicSpeed bearings are handmade in Denmark under clean room conditions and subjected to a strict four-stage inspection process. Among other things, the size of the ceramic balls is checked down to the thousandth of a millimetre. Tests are then carried out in the laboratory or preferably by professionals in training and competition. CeramicSpeed bottom brackets guarantee the lowest possible friction, optimised power transfer and maximum durability and also help you save watts and reach the finish line faster. It's not about seconds, it's about minutes!
OSPW
The Oversized Pulley Wheel System (OSPW system) is a breakthrough innovation from CeramicSpeed, developed in collaboration with world-class triathletes. This unique system is known for 40 - 60% less friction compared to standard derailleur pulleys and allows power savings of at least 1.6 and up to 2.4 watts. The OSPW system features the unique CeramicSpeed bearings, aluminium derailleur pulleys and a polyamide-carbon cage, making it 3 to 5 times more durable than standard systems on the market.
X Offroad
Dirt, rain, mud and gravel are the most important components of a true off-road adventure. But these conditions put a lot of strain on your components and force you to change the bottom bracket, hub bearings and derailleur pulleys frequently. CeramicSpeed off-road bearings extend the life of the bike's most stressed parts and reduce friction. Designed to withstand the harshest conditions, they allow you to go longer, harder and faster. With their stainless steel races, they are corrosion resistant and offer exceptional performance.
Coated
Coated products from CeramicSpeed offer the ultimate gains in terms of performance and durability. This is due to a unique coating that increases the hardness of the races so that, in combination with the smoothness of CeramicSpeed ball bearings, virtually no wear on the bearings can be detected. The coating is a metal layer that is 75% harder than hardened steel. It is applied very thinly (0.003 mm) and evenly over the entire surface of the race and is used both internally and externally for optimum results.
Cerakote
The cage and derailleur pulleys have been coated with a special Cerakote surface coating. This is a thin ceramic layer that adapts very flexibly to the surface, making it exceptionally durable, hard and resistant to physical and chemical influences. Cerakote is a subsidiary of NIC Industries Inc. and is based in Oregon, USA.
Note from the manufacturer:
Before transporting the bicycle in a travel bag, the rear derailleur should be completely disassembled, otherwise the OSPW system could be damaged.
Manufacturer Numbers:
orange-bronze:

112192

turquoise-silver:

112194
Contents:
1 x CeramicSpeed OSPW X Cerakote Coated derailleur pulley system for SRAM Eagle AXS
1 x CeramicSpeed oil, 15 ml dropper bottle