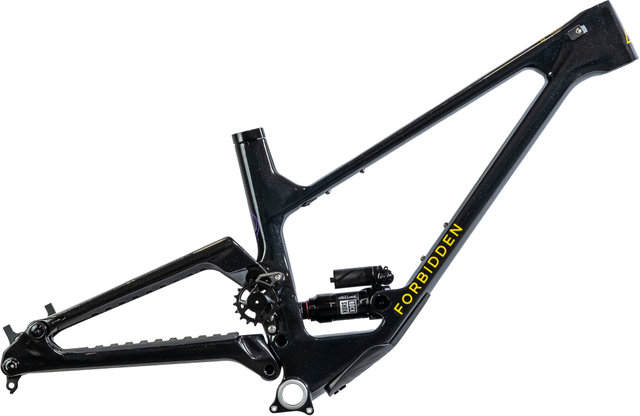 FORBIDDEN Druid V2 Carbon 29" Frame Kit
The FORBIDDEN Druid V2 29" carbon frame kit in high pivot design for all-mountain use
The Druid V2 carbon frame kit from FORBIDDEN in the 29-inch version offers 130 mm travel together with an Ultimate-level RockShox rear shock and conquers the all-mountain trails with you. The pulley on the seat tube is an eye-catcher and is characteristic of the sophisticated Trifecta chassis design, which is based on a high pivot and allows you to ride at high speed with full control, both downhill and uphill. Also worth mentioning is the one-ride concept in the development of the geometry: to ensure the same riding pleasure for everyone, the geometry is perfectly balanced for each frame size, especially with regard to weight distribution. The cable routing is internal and runs (apart from the seatpost) through the top tube and rear triangle. You are free to choose the side, which, if you wish, allows you to install a rear wheel brake with left-hand operation. The carbon used is high-quality high-modulus full carbon. So that you can enjoy your Druid for a long time, it is designed for durability. For example, the forged bell crank with oversized bearings is designed to be maintenance-friendly. By the way, there is room for a 750 ml drinks bottle in every frame size. At the bottom of the top tube there is another screw mount, for example for an accessory bag, but you should not attach a drink bottle there.
Specifications:
Application:

All Mountain

Wheel Size:

29"

Travel:

130 mm

Size:

S1, S2, S3, S4

Front Triangle Material:

Carbon

Rear Triangle Material:

Carbon

Linkage Design:

Trifecta High Pivot

Rear Shock:

RockShox Super Deluxe Ultimate
Technical Information:
Wheel Standard:

12 x 148 mm (Boost)

Axle Type:

12 mm thru-axle

Seatpost (Ø):

31.6 mm

Seatpost Clamp(Ø):

34.9 mm

Headset:

ZS44/28.6 - ZS56/50 (top to bottom)

Steerer tube rec.:

1 1/8" - 1.5" tapered

Recommended Fork Axle to Crown:

561 mm

Recommended Fork Travel:

150 mm

Bottom Bracket Standard:

BSA

Shell Width:

73 mm

Chainline:

52 mm, 55 mm

Chainstay Guide:

ISCG 05, Lower Tabs only

Brake Mount:

disc PM7 (direct mount 180 mm)

Front Derailleur Mount:

not possible

Rear Shock Eye-to-Eye Measurement:

185 mm

Rear Shock Stroke:

50 mm

Rear Shock Bushing Width:

30 x 8 mm

Rear Shock Mounts:

Trunnion Mount

Bottle Cage Mounts:

1
Approved For
Rotor Size (max.):

200 mm

Tyre Size (max.):

29 x 2.5"

Chainrings:

1x

Chainring Size (max.):

for 55 mm chainline: 32 t (S1), 34 t (S2), 36 t (S3), 38 t (S4); for 52 mm chainline: 30 t (S1), 32 t (S2), 34 t (S3), 36 t (S4)

Fork Axle to Crown Size (max.):

571 mm
Features:
frame kit for a high-pivot trail bike with RockShox Super Deluxe Ultimate rear shock
durable design
lighter frame than the previous model, size S2 weighs only 3.3 kg (without rear shock)
forged, easy-to-maintain bell crank with oversized bearings for durability
internal cable routing through frame and rear triangle with free side selection (left-hand rear brake possible)
18-tooth steel idler pulley with chain guide
space for a 750 ml bottle in the frame triangle for all frame sizes
additional screw mount at the bottom of the top tube for accessory bags etc. (not suitable for drink bottles)
down tube protector and rattle guard on chainstay and seatstay
suitable for 52 or 55 mm chainline
with SRAM UDH universal derailleur hanger, thus broad drivetrain compatibility
with Burgtec thru-axle, 180 x 1.0 mm
Technology:
Trifecta Suspension
The background to the eye-catching Trifecta Suspension design is the use of a high pivot, i.e. a main pivot point that is not located near the bottom bracket but higher up on the seat tube. This has the advantage that the rear wheel does not move forwards when you compress the suspension, but backwards and thus does not brake your movement, but goes along with it. This also makes the rear triangle a little longer, which increases stability under heavy compression. It allows you to ride faster and more controlled on rough terrain. The finely tuned anti-rise forms a counterpart to the sagging of the fork under heavy braking and ensures consistent chassis stability. The idler pulley with chain guide counteracts pedal kickback and is optimally positioned for efficient pedalling with ideal anti-squat. As far as the transmission ratio is concerned, the Rate Control Linkage bell crank enables separate tuning of the different spring travel ranges by means of relatively small links, i.e. without relying exclusively on strong progression. This way you get adequate support in the middle travel and still don't have to fear hard hits.
One-Ride Geometry
With the aim of offering the same riding experience to everyone regardless of body size or figure, forbidden have developed the One-Ride geometry. This system is characterised by the fact that the weight distribution is adapted to each frame size, which manifests itself in different chainstay lengths for each size, for example. The real seat angles become steeper with frame sizes, which improves the riding position on larger frames, when compared to comparable frames. The head tube length also increases more than usual with each size in order to better cover more unusual body sizes.
Geometry:
(based on a fork axle to crown length of 561 mm)
S1:
Recommended Height:

160 - 170 cm

Stack:

610 mm

Reach:

440 mm

Seat Tube Length:

400 mm

Effective Top Tube Length:

581 mm

Head Tube Length:

90 mm

Chainstay Length:

423 mm

Wheelbase:

1177 mm

Bottom Bracket Height:

337 mm

BB Drop:

35 mm

Seat Tube Angle (effective):

77°

Seat Angle (real):

73.8°

Head Tube Angle:

65.0°

Standover Height:

720 mm
S2:
Recommended Height:

170 - 180 cm

Stack:

624 mm

Reach:

460 mm

Seat Tube Length:

420 mm

Effective Top Tube Length:

604 mm

Head Tube Length:

105 mm

Chainstay Length:

437 mm

Wheelbase:

1218 mm

Bottom Bracket Height:

337 mm

BB Drop:

35 mm

Seat Tube Angle (effective):

77°

Seat Angle (real):

76.6°

Head Tube Angle:

65.0°

Standover Height:

725 mm
S3:
Recommended Height:

180 - 190 cm

Stack:

637 mm

Reach:

480 mm

Seat Tube Length:

440 mm

Effective Top Tube Length:

627 mm

Head Tube Length:

120 mm

Chainstay Length:

452 mm

Wheelbase:

1259 mm

Bottom Bracket Height:

337 mm

BB Drop:

35 mm

Seat Tube Angle (effective):

77°

Seat Angle (real):

77.0°

Head Tube Angle:

65.0°

Standover Height:

728 mm
S4:
Recommended Height:

190 - 200 cm

Stack:

651 mm

Reach:

500 mm

Seat Tube Length:

470 mm

Effective Top Tube Length:

650 mm

Head Tube Length:

135 mm

Chainstay Length:

466 mm

Wheelbase:

1299 mm

Bottom Bracket Height:

337 mm

BB Drop:

35 mm

Seat Tube Angle (effective):

77°

Seat Angle (real):

77.0°

Head Tube Angle:

65.0°

Standover Height:

730 mm
Contents:
1 x FORBIDDEN Druid V2 Carbon 29" frame
1 x RockShox Super Deluxe Ultimate rear shock
1 x Burgtec thru-axle
100 day return period

Online since 1998

Trusted Shop

4.89

/ 5.00