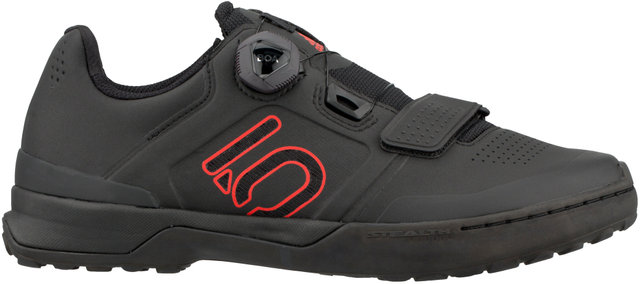 Optimal power transmission: the Kestrel Pro BOA shoes by Five Ten
The Five Ten Kestrel Pro BOA shoe is solely designed to transfer power to the pedal as efficiently as possible, effectively converting human power into horsepower. Its outsole is made of a dual compound rubber, a blend of C4™ and Mi6™. The extra-hard C4 is located at the shoe-pedal contact area, which ensures optimal power transfer, and the Mi6 at the heel, which increases traction when running. It's the best of both worlds. Otherwise, the Kestrel Pro has a low profile and a BOA closure for enhanced aerodynamics. These shoes were designed by Five Ten not just for one discipline - whether you just love mountain biking or compete in enduro races, you'll ride with it just right.
Specifications:
Application:

All Mountain, Enduro

Pedal System:

2-bolt (SPD)

Closure System:

twist closure, hook & loop fastener
To find the correct ergonomic position of the feet on the pedals, we recommend using the
Cleat Tool
by Ergon. With this tool the length, the Q-Factor and foot angle can be perfectly adjusted.
Features:
revised BOA closure system, additional Velcro closure
Stealth® outsole with dual rubber compound of C4 and Mi6
SPD-compatible, cleat can be mounted further back than its predecessor
Materials:
Upper:

other, textile

Lining & Cover Sole:

textile

Outersole:

other
Size Guide:
40:

EU 40 / UK 6.5 / US 7

40 2/3:

EU 40 2/3 / UK 7 / US 7.5

41 1/3:

EU 41 1/3 / UK 7.5 / US 8

42:

EU 42 / UK 8 / US 8.5

42 2/3:

EU 42 2/3 / UK 8.5 / US 9

43 1/3:

EU 43 1/3 / UK 9 / US 9.5

44:

EU 44 / UK 9.5 / US 10

44 2/3:

EU 44 2/3 / UK 10 / US 10.5

45 1/3:

EU 45 1/3 / UK 10.5 / US 11

46:

EU 46 / UK 11 / US 11.5

46 2/3:

EU 46 2/3 / UK 11.5 / US 12

47 1/3:

EU 47 1/3 / UK 12 / US 12.5

48:

EU 48 / UK 12.5 / US 13
Manufacturer Numbers:
core black-red-grey six:

BC0635

active orange-core black-core black:

BC0636
Contents:
1 pair of Five Ten Kestrel Pro BOA MTB SPD shoes