OneUp Components Aluminium Platform Pedals - low profile and service friendly
The OneUp Components Aluminium platform pedals convince with durability, weight and size. Their design has been thought through down to the smallest detail. They have a huge platform (115 x 105 mm), but are only 12 mm thick - on the edges only 8 mm. This makes it less likely that you will get stuck on obstacles. 10 steel pins on each side keep your foot on the pedal even the roughest trails. Maintenance is particularly easy with the OneUp Alu pedals: you only have to loosen a seal on the axle, then you can remove it with the help of a cassette tool.
Specifications:
Application:

All Mountain, Enduro, Downhill

Type:

platform pedals
Technical Information:
Body Material:

aluminium (6061-T6)

Axle Material:

steel (CrMo)

Bearings:

industrial bearings, plain bearings

Height:

8.3 - 12 mm

Dimensions (Length x Width):

115 mm x 105 mm*

Number of Pins per Pedal:

20
*Note to the Dimensions:
Pedal manufacturers use different procedures when measuring their pedals. To make comparing easier, bc has measured this pedal for you and noted the dimensions in a product photo.
Manufacturer's Compatibility Note:
These pedals are not compatible with carbon cranks from SRAM, due to the deep counterbore in the crank arms.
These pedals cannot be used with crank boots due to the large pedal bearings (unless you enlarge the hole in the middle of the boots). It is recommended to remove the protectors before installation.
More information from the manufacturer:
When not installed, the pedals have minimal axial play, but this disappears upon completed installation on the crank.
The end O-ring is only there to hold the flange washer in the box and the seal to the pedal. Otherwise it has no function and can be removed.
New pedals show resistance when turning freely. This can be adjusted by adding or removing grease.
The use of pedal washers is recommended.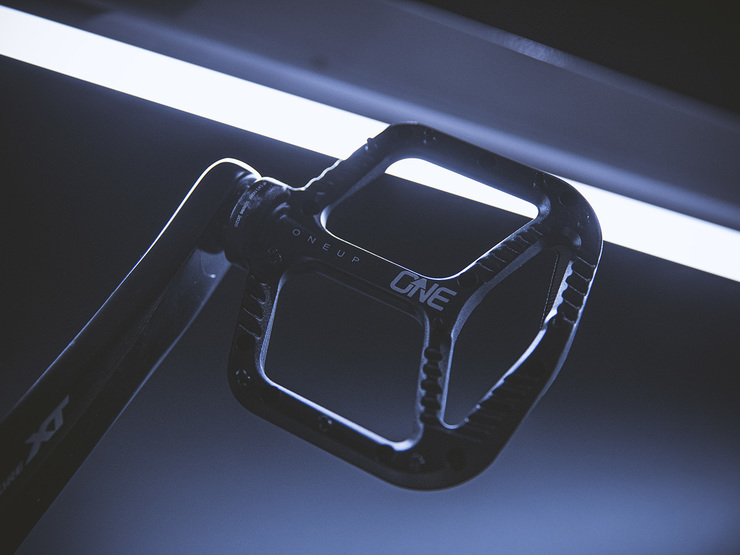 Features:
large platform for increased stability
concave shape for more grip
thin chamfered edges prevent pedal strikes
easy to maintain thanks to the integrated bearing extractor
a total of 40 hexagonal steel pins (exchangeable)
pin to axle distance (PTA): 112 mm
Manufacturer Numbers:
black:

1C0380BLK

grey:

1C0380GRY

green:

1C0380GRN

red:

1C0380RED

orange:

1C0380ORA

blue:

1C0380BLU

purple:

1C0380PUR

oil slick:

1C0380OIL
Contents:
1 pair of OneUp Components aluminium platform pedals