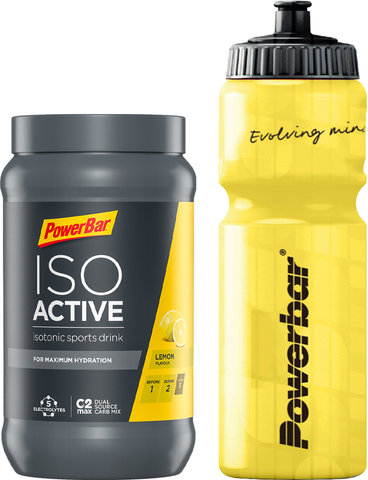 Powerbar ISOACTIVE Isotonic Sports Drink - On-Pack
PowerBar ISOACTIVE isotonic sports drink - On-pack - liquid, electrolytes and carbohydrates during training
The practical on-pack by PowerBar contains the isotonic ISOACTIVE sports drink and a bottle. So you can immediately mix a drink for your training.
Features:
recommended from basic endurance training to intensive training sessions
with the " 5 electrolytes" ISOACTIVE supplies the body with the 5 main electrolytes (sodium, chloride, potassium, magnesium and calcium) in the same ratio as they are lost through sweat
C2MAX Dual Source Carb Mix carbohydrate mix contains a 2:1 ratio of glucose and fructose sources
with natural flavours - without preservatives* (*according to law)
carbohydrate-electrolyte solution improves the absorption of water during physical activity
Manufacturer Suggested Usage:
General fluid intake recommendation for activities >60 minutes:
Drink as required before exercise.
Drink approximately 150 - 200 ml every 15 minutes during exercise
Drink when thirsty.
Mixing Instruction (1 Portion): Mix 33 g of powder ( approx. 1 ½ measuring spoons) in 500 ml water.
As part of a varied and balanced diet and a healthy lifestyle.
CH: max. 1 portion/day.
Storage Information:
Store in cool and dry conditions.
Importer:
Active Nutrition International GmbH, Zielstattstraße 42, D-81379 München
CH: Made in the Netherlands.
Ingredients and Nutritional Values of Varieties:
lemon:
Isotonic electrolyte drink mix for athletes with 5 minerals and carbohydrates - Lemon flavour
Ingredients:
Dextrose, maltodextrin, fructose, minerals (sodium citrate, sodium chloride, calcium lactate, potassium chloride, magnesium carbonate), acidity regulator (citric acid), natural lemon flavour, fruit and plant concentrates (safflower, lemon).
May contain:soy, milk.
Nutritional Information:
per 100 g / per portion (33 g)*
Energy:

1551 kJ (365 kcal) / 512 kJ (120 kcal)

Fat:

0 g / 0 g

Saturated Fat:

0 g / 0 g

Carbohydrates:

89 g / 29 g

Sugars:

63 g / 29 g

Protein:

0 g / 0 g

Salt:

2.7 g / 0.88 g
Vitamins & Minerals:
per 100 g / per portion (33 g)*
Potassium:

456 mg / 151 mg

Chloride:

1424 mg / 470 mg

Calcium:

183 mg / 60.3 mg

Magnesium:

88 mg / 29 mg
* per 33 g serving when mixed with 500 ml water
Contents:
1 x container of Powerbar ISOACTIVE isotonic sports drink, net quantity 600 g
1 x PowerBar 750 ml bottle
100 day return period

Online since 1998

Trusted Shop

4.89

/ 5.00