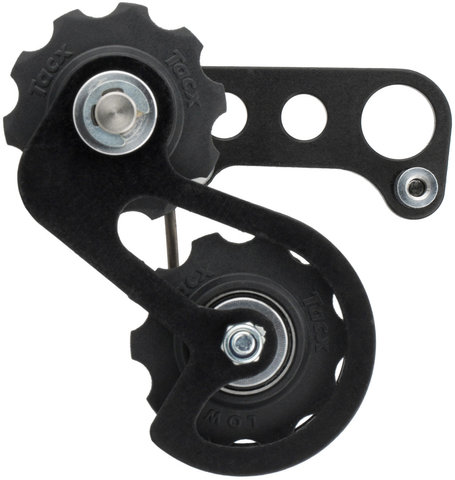 Rohloff Chain Tensioner - 10 for XXL Hubs
For fatbikes and singlespeed: the Chain Tensioner-10 by Rohloff
In addition to the Rohloff
standard chain tensioner
for Speedhub 54 mm chainline, there is also the chain tensioner-10. This is required for the Rohloff Speedhub 148 mm Boost hub and the XXL hubs with 190 and 197 mm.
The chain tensioner-10 is also suitable for use with other hub gears and/or for use on singlespeed bikes. Depending on the derailleur hanger thickness (max. 8 mm) and axial offset (aV), a chainline of 42-50 mm (aV=0) and 50-58 mm (aV=7.5) can be achieved.
The Rohloff chain tensioner-10 has a tensioning capacity of 10 links and a chain line that is offset 10 mm inwards. It is screwed into the derailleur hanger of the frame with a fastening bolt. The lateral position is adjusted via spacers.
Note:

If the dropout thickness is less than 7 mm and the screw sprocket with 13 teeth is used, as well as all plug-in sprockets (chainline 57 mm), a longer fastening bolt is necessary (included). You can find chainline specifications at Rohloff.
Technical Information:
Material:

Aluminium

Capacity:

10 chain links

Chainline:

75.5 - 79.5 mm (190/197 mm over locknut dimension), 51 - 55 mm (148 mm Boost), 44 - 50 mm (135 mm Singlespeed etc.)

Mount:

derailleur hanger
Features:
chain tensioner with 10 mm inwardly offset chain line
for fatbikes with Rohloff Boost or XXL hubs as well as for other hub gears and singlespeeds
additional mount for Shimano Direct Mount
Manufacturer Number:
8250-10
Contents:
1 x Rohloff chain tensioner
1 x short frame bolt
1 x long frame bolt
4 x spacers, 1 mm
2 x spacers, 3 mm
100 day return period

Online since 1998

Trusted Shop

4.89

/ 5.00