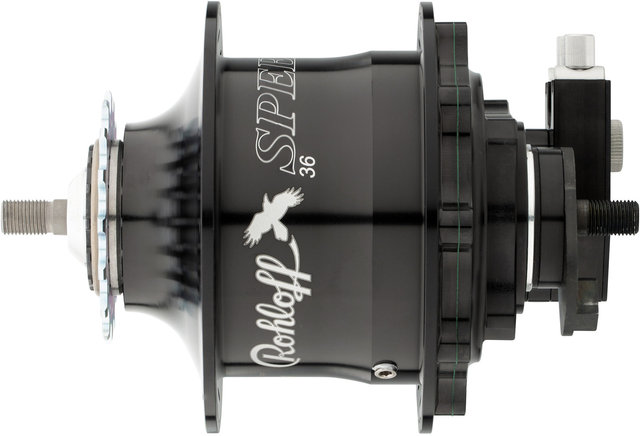 Rohloff Speedhub 500/14 TS Threaded Spindle 135 mm Internally Geared Hub
Experience the world - The Speedhub 500/14 gear hub by Rohloff
You love cycling. You love to escape from the stress and hectic goings-on of daily life. It's good that the Rohloff gears on your bike support you in this. This is because the Speedhub gearbox makes cycling very easy. Don't worry about whether the right gear is engaged, just turn the gear lever - even when stationary. With a twist, you can shift into any of the 14 gears.
In addition, the Speedhub is extremely low-maintenance. Experience gears that requires minimal maintenance. One quick oil change a year, that's all it takes. After that, it's just a matter of keeping an eye on the chain, chainring and rear sprocket. No comparison to conventional multiple derailleurs and their sensitive rear derailleurs. Rohloff wants you to ride, not wait.
The legendary Rohloff quality also includes the price-performance ratio of the gearbox. It is amazingly durable and also incurs minimal costs for its functionality. Enjoy an investment that pays off; because with every kilometre ridden, the cost balance improves compared to all other current derailleurs.
The Speedhub is so robust that it has even been certified to run more than 300,000 kilometres. One of the most important reasons why the best touring cyclists in the world swear by the Speedhub. There is hardly a spot on earth, no matter how exotic, where the Rohloff gear hub has not been seen.
Thanks to the Rohloff modular system, many different hub variants are created. For selecting the desired version, the
Online Configurator
is very helpful.
Specifications:
Series:

Speedhub 500/14

Application:

City & Touring

Gears:

14

Brake Type:

rim or disc

Axle Type:

10 mm threaded spindle (TS = Touring threaded spindle)

Over Locknut Dimension:

135 mm

Spoke Hole Count:

32 hole, 36 hole
Technical Information:
Range:

526%

Material:

aluminium, steel

Axle Length:

171 mm

Spoke Size:

2.7 mm

Pitch Circle Diameter:

100 mm

Flange Width:

3.2 mm

Flange Distance:

58 mm (29 mm/29 mm)

Offset:

0 mm
Features:
extremely low maintenance and robust
perfect workmanship (99% Made in Germany)
smooth shifting (13.6%) with rotary shift lever, even when stationary
95 - 99% efficiency, 14 effective gears, no overlaps
compatible with 1/2" x 3/32" bicycle derailleur chains
57 mm chainline
compatible with Gates Carbon Drive belt drive
25 ml maximum oil filling
maximum input torque 130 Nm
including 16-tooth plug-in sprocket (13-19 t and 21 t optionally available, screw-in sprocket only as remaining stock)
smallest permissible transmission factor for solo riders up to 100 kg = 1.9 (40/21, 36/19, 34/18, 32/17, 30/16, 28/15, 28/14, 26/13)
lowest permissible gear ratio for riders over 100 kg = 2.5 (53/21, 48/19, 45/18, 42/17, 40/16, 38/15, 36/14, 34/13)
Models:
Type 1: TS
Compatible Brake Type:
rim
Compatible Frames:
angled dropouts, vertical dropouts (w/ chain tensioner), horizontal dropouts (must be approved)
Axle Plate:
standard TS
Torque Support:
long torque arm on chainstay w/ clamp
Gear Mech:
internal
Small Parts Bag Contents:
2 x M10x1 hex nuts, 2 x washers for TS axle, 8 x ferrules, 1 x 6.5x10x5.5 spacer for cable stop, 1 x 13° cable stop w/ cable adjuster, 1 x clamp for torque arm, 5 x spacers for chainrings, 2 x bayonet connectors, 2 x M8x0.75 bolts, 2 x M8x0.75 nuts, 2 x washers, 1 x oil tube
Manufacturer Numbers:
black-anodised, 32-hole: 8042
silver anodised, 32-hole: 8040
red-anodised, 32-hole: 8041
black-anodised, 36-hole: 68042
silver anodised, 36-hole: 68040
red-anodised, 36-hole: 68041
Type 2: TS EX
Compatible Brake Type:
rim
Compatible Frames:
semi-horizontal dropouts, vertical dropouts (w/ chain tensioner), horizontal dropouts (must be approved)
Axle Plate:
standard TS
Torque Support:
long torque arm on chainstay w/ clamp
Gear Mech:
external
Special Features:
for very short (e.g. 20" ) or non-typical rear triangles and frequent riders (10,000 km/year) or Touring cyclists
Small Parts Bag Contents:
2 x M10x1 hex nuts, 2 x washers for TS axles, 8 x ferrules, 1 x clamp for torque arm, 5 x spacers for chainrings, 2 x M8x0.75 bolts, 2 x M8x0.75 nuts, 2 x washers, 1 x oil tube, 1 x EX cable box
Manufacturer Numbers:
black-anodised, 32-hole: 8052
silver anodised, 32-hole: 8050
red-anodised, 32-hole: 8051
black-anodised, 36-hole: 68052
silver anodised, 36-hole: 68050
red-anodised, 36-hole: 68051
Type 3: TS DB
Compatible Brake Type:
disc IS
Compatible Frames:
w/ rear disc brakes
Axle Plate:
standard TS
Torque Support:
long torque arm on chainstay w/ clamp
Gear Mech:
external
Special Features:
housing cover has mount for Rohloff brake rotors, e.g. for downhill frames with disc brake mount, when threaded spindle is preferred
Small Parts Bag Contents:
2 x M10x1 hex nuts, 2 x washers for TS axles, 8 x ferrules, 1 x clamp for torque arm, 5 x spacers for chainrings, 6 x M8x0.75 bolts, 2 x M8x0.75 nuts, 2 x washers, 1 x oil tube, 1 x EX cable box
Manufacturer Numbers:
black-anodised, 32-hole: 8062
silver anodised, 32-hole: 8060
red-anodised, 32-hole: 8061
black-anodised, 36-hole: 68062
silver anodised, 36-hole: 68060
red-anodised, 36-hole: 68061
Type 4: TS OEM
Compatible Brake Type:
rim
Compatible Frames:
Rohloff extended and reinforced vertical dropouts
Axle Plate:
TS OEM
Torque Support:
in dropouts
Gear Mech:
internal
Small Parts Bag Contents:
2 x M10x1 hex nuts, 2 x washers for TS axle, 8 x ferrules, 1 x 6.5x10x5.5 spacer for cable stop, 1 x 13° cable stop w/ cable adjuster, 5 x spacers for chainrings, 2 x bayonet connectors, 1 x oil tube
Manufacturer Numbers:
black-anodised, 32-hole: 8047
silver anodised, 32-hole: 8045
red-anodised, 32-hole: 8046
black-anodised, 36-hole: 68047
silver anodised, 36-hole: 68045
red-anodised, 36-hole: 68046
Type 5: TS EX OEM
Compatible Brake Type:
rim
Compatible Frames:
Rohloff extended and reinforced vertical dropouts
Axle Plate:
TS OEM
Torque Support:
in dropouts
Gear Mech:
external
Small Parts Bag Contents:
2 x M10x1 hex nuts, 2 x washers for TS axles, 8 x ferrules, 5 x spacers for chainrings, 1 x oil tube, 1 x EX cable box
Manufacturer Numbers:
black-anodised, 32-hole: 8057
silver anodised, 32-hole: 8055
red-anodised, 32-hole: 8056
black-anodised, 36-hole: 68057
silver anodised, 36-hole: 68055
red-anodised, 36-hole: 68056
Type 6: TS DB OEM
Compatible Brake Type:
disc IS
Compatible Frames:
Rohloff extended and reinforced vertical dropouts
Axle Plate:
TS OEM
Torque Support:
in dropouts
Gear Mech:
external
Special Features:
housing cover has mount for Rohloff brake rotors
Small Parts Bag Contents:
2 x M10x1 hex nuts, 2 x washers for TS axles, 8 x ferrules, 5 x spacers for chainrings, 4 x M8x0.75 bolts, 1 x oil tube, 1 x EX cable box
Manufacturer Numbers:
black-anodised, 32-hole: 8067
silver anodised, 32-hole: 8065
red-anodised, 32-hole: 8066
black-anodised, 36-hole: 68067
silver anodised, 36-hole: 68065
red-anodised, 36-hole: 68066
Type 7: TS DB OEM2
Compatible Brake Type:
disc IS or post mount
Compatible Frames:
with IS2000 disc brake mount on seatstay
Axle Plate:
TS OEM2
Torque Support:
Speedbone
(IS) or
Monkey Bone
(PM)
Gear Mech:
external
Special Features:
housing cover has mount for Rohloff brake rotors
Small Parts Bag Contents:
2 x M10x1 hex nuts, 2 x washers for TS axles, 8 x ferrules, 5 x spacers for chainrings, 4 x M8x0.75 bolts, 1 x oil tube, 1 x EX cable box, 1 x OEM2 M6x16 bolt, M6 nut, 6.4 washer
Manufacturer Numbers:
black-anodised, 32-hole: 8067Z
silver anodised, 32-hole: 8065Z
red-anodised, 32-hole: 8066Z
black-anodised, 36-hole: 68067Z
silver anodised, 36-hole: 68065Z
red-anodised, 36-hole: 68066Z
Contents:
1 x Rohloff Speedhub 500/14 internally geared hub
1 x Rohloff Speedhub 500/14 splined sprocket, 16 tooth, incl. Splined Carrier
1 x Rohloff Speedhub complete twist shifter
1 x Rohloff Speedhub Oil bottle
1 x small parts bag
2 x Rohloff shifter cables, incl. cable housings
1 x axle plate
1 x torque arm (only with Type 1, 2 & 3)
2 x flange support rings
not incl. brake rotor
100 day return period

Online since 1998

Trusted Shop

4.89

/ 5.00