100 day return period

Online since 1998

Trusted Shop

4.91

/ 5.00
The Shimano GRX ST-RX810 shift/brake lever - with Servo Wave
The Shimano GRX ST-RX810 shift/brake lever features Servo Wave technology - a novelty in the Road bike sector. This ensures more bike control on changing surfaces. Its lever and grip ergonomics were developed in collaboration with Gravel specialists from all over the world; a texturing of the brake lever helps to increase grip. The smooth-running function of the shifter is well-known from the Shimano top-level groupsets.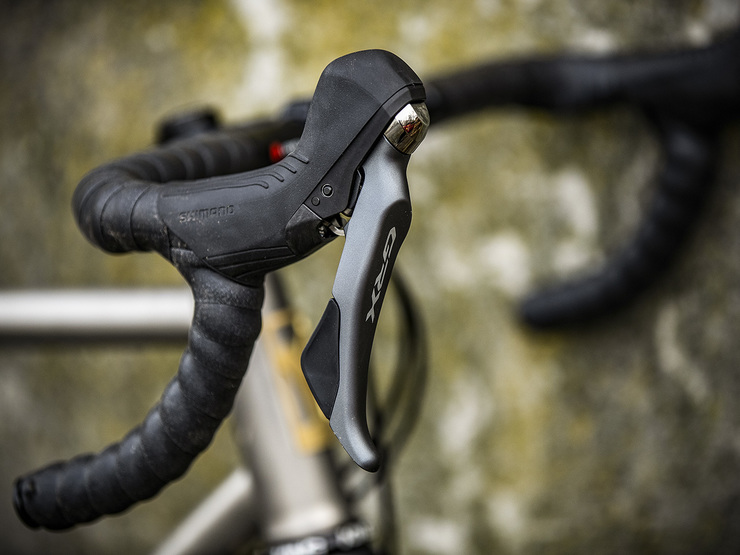 Are you interested in the GRX series? Then come have a look at our
Shimano gravel site
. You will find many more products there.
Specifications:
Series:
GRX RX810
Application:
Gravel, Cyclocross, City & Touring
Gearing:
2x, 11-speed
Shifting System:
mechanical
Type:
hydraulic, 2 pistons
Technical Information:
Brake Lever Material:
Aluminium
Lever Body Material:
composite material
Clamp Material:
steel
Hose:
SM-BH90-JK-SSR (not included)
Actuation:
mineral oil
Mount:
clamp (closed)
Reach Adjust:
bolt
Adjustment Options:
reach adjust, contact point
Features:
- lever and grip ergonomics designed for Gravel
- multi-function lever reduces stress and distraction
- anti-slip brake lever
- proven light shifts of the Shimano top groupsets
- faster brake contact thanks to Servo Wave
- max. number of gears per shift: 2 (main lever, rear)
- compatible with 11-speed Road rear derailleurs
- polymer-coated shifter cable
- OT-SP41 cable housing, OT-RS900 to rear derailleur (not included)
- funnel bleeding
- shift lever made of resin/steel, brake lever painted
- for 23.8 - 24.2 mm handlebar diameter
- recommended brake caliper:
BR-RX810
Technology:
STI Dual Control (DCL)
DCL stands for Dual Control Lever. It has braking and shift functions and allows easy operation. The improved ergonomics is probably even more important for the high standard than more range. The shift levers bring the stability of Shimano MTB technology and work so precisely and smoothly that it is possible to shift gears both front and rear with just one finger. This is a highlight of Shimano's " Total Integration" (STI). You have to experience it for yourself to believe it.
Servo Wave
The Servo Wave brake lever takes up a lot of braking distance at the beginning of its movement so that the pads can be guided to the brake rotor with short lever travel. After the brake pads have been applied, the power transmission factor increases rapidly. The greater part of the lever travel is thus still available to increase the braking force and to modulated it more precisely.
Models:
2x:
- mount: left
- gearing: 2-speed
- Manufacturer Number: I-STRX810LI
11-speed:
- Mount: right
- Gearing: 11-speed
- Manufacturer Number: I-STRX810RBI
Contents:
- 1 x Shimano GRX ST-RX810 shift/brake lever
- 1 x Shimano 1800 mm shifter cable
or
2200 mm
Order Together:
-
Adapter for Funnel Bleeding
Y-0C698050
Gewicht:
black-grey/2-speed: 284 g
black-grey/11-speed: 286 g