100 day return period

Online since 1998

Trusted Shop

4.91

/ 5.00
With the GRX RD-RX812 rear derailleur by Shimano you can shift reliably off-road
With the Shimano GRX RD-RX812 rear derailleur you can shift smoothly and quietly on rough terrain. An adjustable chain stabilizer and the Shimano Shadow RD+ technology counteract chain slapping and dropping. Use this rear derailleur when riding an 11-40 or 11-42 cassette.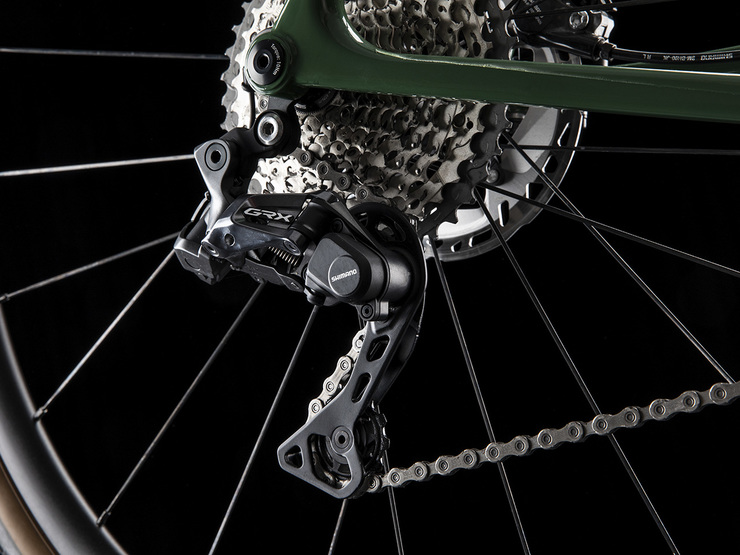 Are you interested in the GRX series? Then have a look at our
Shimano gravel site
. You will find many more products there.
Specifications:
Series:
GRX RX810
Application:
Gravel, Cyclocross, City & Touring
Gearing:
11-speed
Mount:
standard (Direct Mount compatible)
Capacity:
31-tooth
Compatibility:
Shimano Road 11-speed
Compatibility - Chains:
HG-EV 11-speed, HG-X11
Technical Information:
Derailleur Pulleys:
11-tooth
Outer Cage Material:
Aluminium
Inner Cage Material:
Aluminium
Other Materials:
aluminium, composite (GFRP), steel, stainless steel
Compatibility:
1x11-speed:
Shift/Brake Lever:
ST-RX810, ST-RX600
Cassette:
CS-M8000-11, CS-M7000-11, CS-M5100-11
Chain:
CN-9000, CN-6800, CN-HG901-11, CN-HG701-11, CN-HG601-11, CN-LG500
Features:
- adjustable chain stabilisation prevents chain drops
- stabilizer with on/off switch to adapt to the terrain
- tension adapted to gravel
- silent and continuous rear derailleur on uneven terrain
- smooth and reliable shifting on mixed terrain
- painted cage plates
- derailleur pulley bearings
- 4 pivot bushings, fluorine-coated
Technology:
Shadow RD+
Shadow Plus rear derailleurs are just as low-profile as Shimano's Shadow rear derailleurs. In addition, a stabilizer with on/off switch is used to reduce chain slap and thus counteract chain drop. At the same time, this results in a quieter drive. Weight is also saved compared to other chain restraint devices.
Models:
long:
Max. Largest Sprocket Teeth:
42-tooth
Min. Largest Sprocket Teeth:
40-tooth
Max. Smallest Sprocket Teeth:
11-tooth
Min. Smallest Sprocket Teeth:
11-tooth
Max. Chainring Difference:
0-tooth
Total Capacity:
31-tooth
Manufacturer Number:
I-RDRX812
Contents:
- 1 x Shimano GRX RD-RX812 rear derailleur
- 1 x Shimano OT-RS900 240 mm cable housing
- 1 x long nose end cap