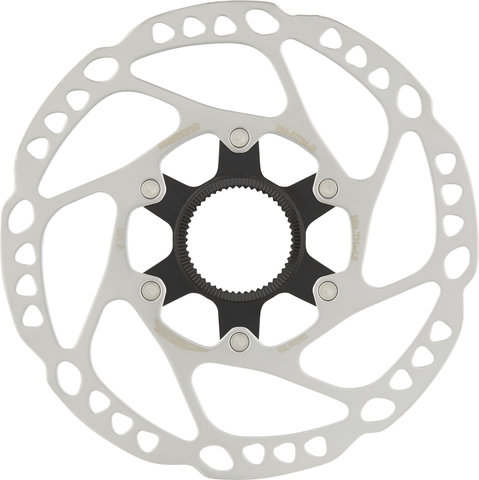 The Shimano Deore SM-RT64 Brake Rotor with magnet for e-bike speed sensors
The SM-RT64 is a center lock brake rotor for Deore, GRX and other disc brakes, which comes with an internally-toothed magnetic lockring for the Shimano EW-SS302 speed sensor. Thus, it is suitable for MTB and gravel e-bikes equipped with DU-EP800, EP801 or EP600 motor and is intended for rear wheel use only. The two-piece brake rotor is made of stainless steel with an aluminium spider, and can be used in combination with both organic and sintered brake pads, as long as they have a narrow pad shape.
Guidelines for Replacing E-bike Components:
Before you replace components on your e-bike, please read through the
guidelines
for component replacement for CE-marked e-bikes/pedelecs with pedal assistance.
Technical Information:
Mount:

Center Lock

Diameter:

160 mm, 180 mm, 203 mm

Design:

2-piece

Rotor Material:

stainless steel

Spider Material:

aluminium
Approved For:
Brake Compatibility:

BR-M9100*, BR-M9120, BR-M9110-R**, BR-M9000, BR-M9020, BR-M8100, BR-M8120, BR-M8110-R*, BR-M8000, BR-M8020, BR-M7100, BR-M7120, BR-M7110-R*, BR-M7000, BR-M6100, BR-M6120, BR-M6000, BR-MT520, BR-MT420, BR-M820, BR-M640, BR-U8000, BR-U8020, BR-S7000, BR-S700, BR-R9270**, BR-R9170-R**, BR-R8170*, BR-R8070*, BR-R7170*, BR-R7070*, BR-4770*, BR-RS805*, BR-R785*, BR-RS785*, BR-RS505*, BR-RS405*, BR-RX820*, BR-RX820-LE*, BR-RX810*, BR-RX400*, BR-CX77**, BR-R517**, BR-R317**, BR-RS305**, BR-U5000**

Brake Pad Compatibility:

sintered***, organic
* not compatible with 203 mm
** only 160 mm
*** with BR-S700 and BR-S7000 only organic
Compatibility:
EW-SS302 speed sensor
DU-EP800 / DU-EP800-CRG motor
DU-EP801 / DU-EP801-CRG motor
DU-EP600 / DU-EP600-CRG motor
for brake pads with narrow pad shape
only for use on the rear wheel (in combination with e.g. SM-RT64 standard version on the front wheel)
lockring with internal teeth: compatible with 10 mm quick releases and 12 mm thru-axles
Features:
including magnetic lockring (internal toothing) for Shimano speed sensor EW-SS302 for disc brake
performance indicator: Select (level 1 out of 3)
quick and easy mounting thanks to Center Lock
powerful and consistent braking performance
painted spider, polished rotor
lockring made of steel, plated
Manufacturer Numbers:
160 mm:

E-SMRT64SJC

180 mm:

E-SMRT64MJC

203 mm:

E-SMRT64LJC
Contents:
1 x Shimano SM-RT64 brake rotor
1 x Shimano magnetic lockring for EW-SS302