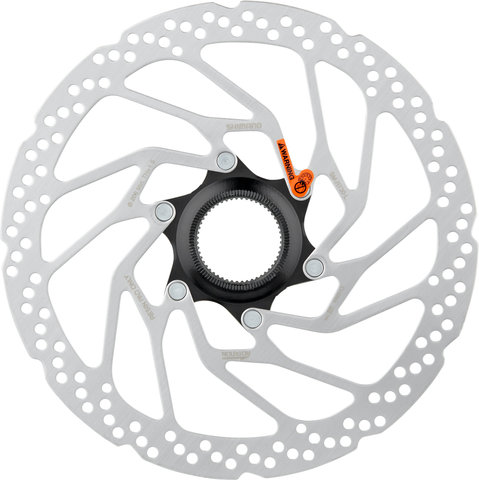 Shimano SM-RT30 Center Lock Brake Rotor
Shimano SM-RT30 Center Lock brake rotor - 2-piece stainless steel construction
The Shimano SM-RT30 offers a brake rotor compatible with city & touring disc brakes at a friendly price. It can only be used in combination with organic brake pads. The SM-RT30 brake rotor consists of a 2-piece stainless steel construction with a steel spider.
Guidelines for Replacing E-bike Components:
Before you replace components on your e-bike, please read through the
guidelines
for component replacement for CE-marked e-bikes/pedelecs with pedal assistance.
Technical Information:
Mount:

Center Lock

Diameter:

160 mm, 180 mm, 203 mm

Design:

2-piece

Rotor Material:

stainless steel

Spider Material:

stainless steel
Approved For:
Brake Compatibility:

BR-M9100*, BR-M9120, BR-M9110-R**, BR-M9000, BR-M9020, BR-M8100, BR-M8120, BR-M8110-R*, BR-M8000, BR-M8020, BR-M7100, BR-M7120, BR-M7110-R*, BR-M7000, BR-M6100, BR-M6120, BR-M6000, BR-MT520, BR-MT420, BR-M820, BR-M640, BR-U8000, BR-U8020, BR-S7000, BR-S700, BR-T675*, BR-T615*, BR-M4050*, BR-MT500*, BR-M446*, BR-MT410, BR-MT400*, BR-M3050*, BR-M395*, BR-M375*, BR-MT200*, BR-M365*, BR-M315*, BR-TX805*, BR-UR300*, BR-R9270**, BR-R9170***, BR-R8170*, BR-R8070*, BR-R7170*, BR-R7070*, BR-4770*, BR-RS805*, BR-R785*, BR-RS785*, BR-RS505*, BR-RS405*, BR-RX820*, BR-RX820-LE*, BR-RX810*, BR-RX400*

Brake Pad Compatibility:

organic
* not compatible with 203 mm
** only 160 mm
*** rear wheel not compatible with 180 mm
Compatibility:
for brake pads with wide and narrow pad shape
Features:
performance indicator: Select (level 1 out of 3)
painted spider, polished rotor
lockring made of steel, lacquered (internal and external gear teeth)
Manufacturer Numbers:
160 mm:

E-SMRT30S2

180 mm:

E-SMRT30M2

203 mm:

E-SMRT30L2
Contents:
1 x Shimano SM-RT30 brake rotor
1 x lockring
100 day return period

Online since 1998

Trusted Shop

4.89

/ 5.00