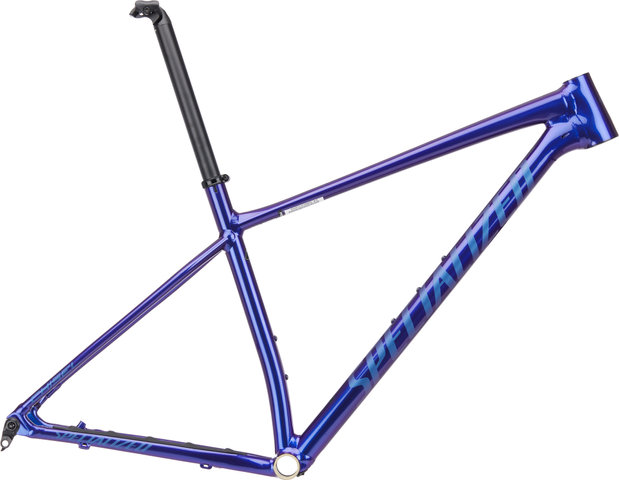 The Chisel LTD 29" frame by Specialized - For XC newcomers and advanced riders alike
The Specialized Chisel aluminium frame in a limited edition serves as the basis for an affordable entry-level hardtail as well as a first-class equipped cross-country racer. It scores with an optimal stiffness-to-weight ratio, reliable performance, a modern geometry and is available at a fair price. The Chisel was made using D'Aluisio Smartweld technology and hydroforming, which provides plenty of stability without ratcheting up weight. With its Boost installation dimensions, 68° steering angle, long reach and internal cable routing, this frame is completely up-to-date. A Specialized aluminium seatpost is also included.
Specifications:
Application:

Cross Country

Wheel Size:

29"

Size:

S, M, L, XL

Material:

aluminium (M5)
Technical Information:
Wheel Standard:

12 x 148 mm (Boost)

Axle Type:

12 mm thru-axle

Seatpost (Ø):

30.9 mm

Seatpost Clamp(Ø):

34.9 mm

Headset:

1 1/8" - 1.5" tapered

Steerer tube rec.:

1 1/8" - 1.5" tapered

Recommended Fork Axle to Crown:

506 mm

Recommended Fork Travel:

100 mm

Bottom Bracket Standard:

BSA

Shell Width:

73 mm

Brake Mount:

disc PM6 (direct mount 160 mm)

Front Derailleur Mount:

not possible

Bottle Cage Mounts:

2
Approved For:
Weight Limit:

136 kg (rider + gear)

Rotor Size (max.):

180 mm

Tyre Size (max.):

29 x 2.4"

Chainrings:

1x

Chainring Size (max.):

1x 36-tooth
Features:
frame for a cross-country hardtail
hydroformed, specially welded pipes
progressive XC geometry
one of the lightest aluminium hardtail frames on the market
stiffness matched to the frame size
internal cable routing
three bottle cage screws on the down tube
including standard seatpost with single-bolt clamp, 400 mm long
also compatible with adjustable seatposts (30.9 mm)
minimum chainring size 28 teeth
recommended stem length 60 - 70 mm
Technology:
D'Aluisio Smartweld Technology (DSW)
D'Aluisio Smartweld welding technology, named after its inventor Chris D'Aluisio, is based on so-called hydroforming. Hydroforming is a process that uses hydraulic pressure to shape aluminium. A flange with seam preparation is then formed, which is then welded. This improves accessibility during welding, produces cleaner welds due to more even heat distribution and distributes the jump in stiffness over a larger area. This not only ensures smoother stiffness transitions and lower load peaks, but also contributes to material and weight savings because thinner wall thicknesses can be used. This technology makes it possible to get the best out of aluminium, and to produce frames that are nearly comparable to carbon models in terms of precision and strength, but are naturally much more affordable.
Geometry:
(based on a fork axle to crown length of 506 mm)
S:
Recommended Height:

158 - 165 cm

Stack:

605 mm

Reach:

405 mm

Seat Tube Length:

400 mm

Effective Top Tube Length:

578 mm

Head Tube Length:

95 mm

Chainstay Length:

432 mm

Wheelbase:

1099 mm

Bottom Bracket Height:

309 mm

BB Drop:

63 mm

Seat Tube Angle:

74°

Head Tube Angle:

68°

Standover Height:

762 mm
M:
Recommended Height:

165 - 178 cm

Stack:

605 mm

Reach:

430 mm

Seat Tube Length:

430 mm

Effective Top Tube Length:

603 mm

Head Tube Length:

95 mm

Chainstay Length:

432 mm

Wheelbase:

1124 mm

Bottom Bracket Height:

309 mm

BB Drop:

63 mm

Seat Tube Angle:

74°

Head Tube Angle:

68°

Standover Height:

792 mm
L:
Recommended Height:

178 - 185 cm

Stack:

619 mm

Reach:

455 mm

Seat Tube Length:

470 mm

Effective Top Tube Length:

632 mm

Head Tube Length:

110 mm

Chainstay Length:

432 mm

Wheelbase:

1154 mm

Bottom Bracket Height:

309 mm

BB Drop:

63 mm

Seat Tube Angle:

74°

Head Tube Angle:

68°

Standover Height:

816 mm
XL:
Recommended Height:

185 - 193 cm

Stack:

633 mm

Reach:

480 mm

Seat Tube Length:

520 mm

Effective Top Tube Length:

661 mm

Head Tube Length:

125 mm

Chainstay Length:

432 mm

Wheelbase:

1185 mm

Bottom Bracket Height:

309 mm

BB Drop:

63 mm

Seat Tube Angle:

74°

Head Tube Angle:

68°

Standover Height:

847 mm
Manufacturer Number:
gloss purple tint over chameleon-satin chameleon:

71722-73
Contents:
1 x Specialized Chisel frame
1 x Specialized aluminium seatpost
1 x Specialized aluminium seat clamp
1 x Specialized headset
1 x Specialized thru-axle
100 day return period

Online since 1998

Trusted Shop

4.89

/ 5.00