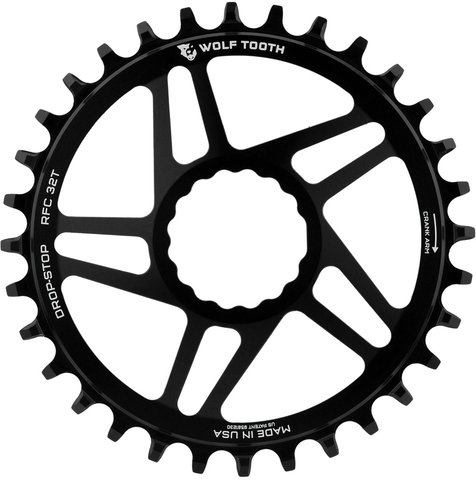 Wolf Tooth Components Direct Mount Chainring for Race Face Cinch
With the advantages of Drop-Stop: the Race Face chainrings by Wolf Tooth Components
These chainrings are compatible with Race Face Cinch cranks such as Turbine, Next SL, Sixc and Aeffect. They come with the unique Drop-Stop® design, which stands for durability, safe chain guidance and dirt-repellent properties.
Specifications:
Application:

Cross Country, All Mountain

Attachment:

Cinch Direct Mount

Teeth:

26 T, 28 T, 30 T, 32 T, 34 T, 36 T

Gearing:

1x9-speed, 1x10-speed, 1x11-speed, 1x12-speed
Technical Information:
Offset:

6 mm

Chainline:

49 mm (26 - 34 t), 51 mm (36 t)

Material:

aluminium (7075-T6)
Compatibility:
all Race Face Cinch cranks
all 9-, 10- and 11-speed chains
SRAM Eagle, KMC, Connex and Wippermann 12-speed chains
10-speed chain recommended for 9-speed drivetrains
Features:
Wolf Tooth Wide-Narrow design
Standard offset for 142 mm installation width, 36 t with additional chainstay clearance
Made in the USA
Note from the manufacturer:

Use of a damped rear derailleur recommended. For very muddy conditions a chain guide in combination with clutch rear derailleur is recommended.
Technology:
Drop-Stop® A
Wolf Tooth has invested countless hours in the design, prototyping and testing of their Wide-Narrow chainrings and has developed a highly innovative tooth profile. Test riders around the world have confirmed that this design brings unparalleled performance.
The right side of the chainring tooth has a different shape than the left side. The right side transmits the power to the chain and the left side opens a free space for cleaning mud and dirt. Since the two sides have completely different functions, it makes sense to design them differently, true to the motto: extra reinforcement where you need it, less material where you don't.
The right side of the Drop-Stop tooth is as wide as possible to distribute the load over a larger area, which also minimises wear. The left side of the Drop-Stop tooth helps to guide the chain, but it does not transmit any load. Therefore the left side is narrower than the chain roller. Wear is not an issue on this side, so Wolf Tooth was able to save material and create a better mud clearance channel. More free space means less friction and less change of the chain being dropped due to mud.
In the A version, the original version of Drop-Stop, the profile is optimized for use on mountain bikes. The wide teeth are slightly wider than Drop-Stop B. The outer sides of the narrow and wide teeth guide the chain.
Manufacturer Numbers:
26 tooth:

RFC26

28 tooth:

RFC28

30 tooth:

RFC30

32 tooth:

RFC32

34 tooth:

RFC34

36 tooth:

RFC36
Contents:
1 x Wolf Tooth Components Direct Mount Race Face Cinch chainring
Weight:
black/26 tooth: 48 g
black/28 tooth: 54 g
black/30 tooth: 58 g
black/32 tooth: 63 g
black/34 tooth: 69 g
black/36 tooth: 75 g
100 day return period

Online since 1998

Trusted Shop

4.89

/ 5.00