100 day return period

Online since 1998

Trusted Shop

4.89

/ 5.00
The CORE Body Temperature Sensor by greenTEG improves your temperature management
With the CORE body temperature sensor by greenTEG you add an often overlooked component to your performance data - your body temperature. The chest sensor is so light that you won't feel it while it sends you information that helps you manage your fluid intake perfectly. This is particularly interesting for indoor training, as you overheat more quickly due to the lack of airflow. So regulate your training intensity, active cooling and hydration to stay extra powerful. Simply attach the temperature sensor to the chest strap of your heart rate monitor or use the included patches to position the CORE correctly.
The Heat-Stress-Test allows you to determine your optimal performance temperature. On average, performance drops rapidly at a core body temperature of 38.5 °C. This is why even professionals now widely rely on temperature measurements during training and competition. 19 out of 23 professional teams at the 2021 Tour de France tracked their body temperature using the CORE sensor. What's more, the CORE also contributed to victories in road cycling at the Tokyo Olympics.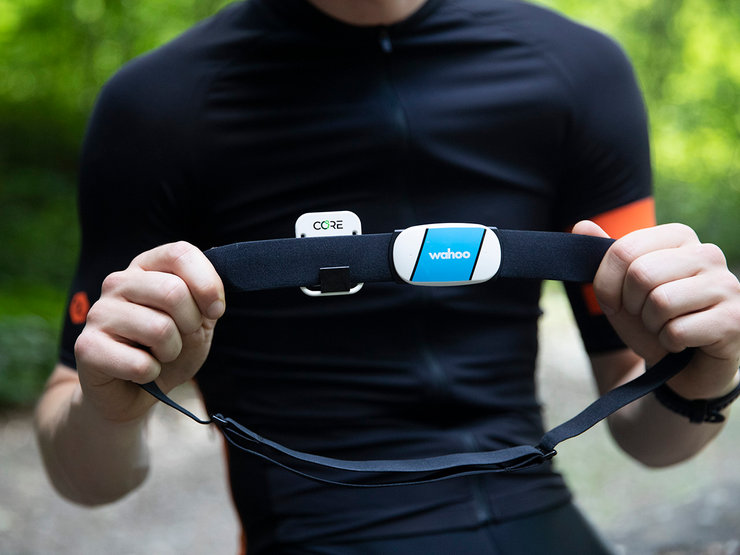 Information regarding the return of batteries and electrical equipment:
Information on the return and disposal of used batteries and electrical equipment can be found
here
.
Technical Information:
Dimensions (LxWxH):

8.35 mm x 40 mm x 50 mm

Water Permeability:

IPX7 (waterproof up to 1.5 m)

Power Supply:

lithium-ion battery

Battery Life:

6 days (with continuous data measurement), 6 weeks (in standby mode)

Sensor Connectivity:

Bluetooth, ANT+
Compatibility:
Apps / Software:
iOS
WatchOS
Android
Wear OS
Garmin ConnectIQ
Hardware:
Garmin bicycle computers
Garmin sports watches
Wahoo bicycle computers
Note from the manufacturer:
CORE is also compatible with select third-party software, and integration with other devices and software is updated regularly.
Features:
temperature sensor for measuring core body temperature during exercise
assists with active cooling and control of fluid intake
measures via chest sensor
measuring accuracy +/- 0.21 °C
12 g total weight
used by 19 of the 23 Tour de France teams in 2021
2 hours charging time
84 hours data memory
Note: The CORE Body Temperature Sensor is not a medical device and is therefore not intended for use in diagnosing or monitoring a medical condition.
Manufacturer Number:
A-166251
Contents:
1 x greenTEG CORE temperature sensor
1 x greenTEG USB charging cable
6 x greenTEG CORE patches