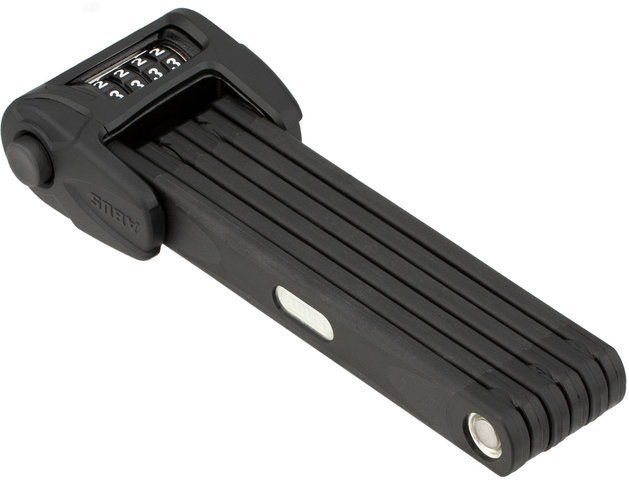 ABUS Bordo Combo 6100 Folding Lock w/ Bag
The folding lock Bordo Combo 6100 ST by ABUS - compact theft protection
The ABUS Bordo 6100 was developed on the basis of the well-proven Bordo 6000 folding lock, which distinguishes itself through its space-saving transport format in combination with the highest level of security. Due to 5 mm thick bars made of special hardened steel, which retain their mobility through special rivets, the Bordo 6100 from ABUS is the perfect lock for high-quality bicycles parked in areas with a medium risk of theft. Unlike the Bordo 6000, the Bordo Combo 6100 is not locked with a key but with a combination lock.
Specifications:
Design:

folding lock

Application:

medium risk of theft; to secure good bicycles

Dimensions (Length x Bar Thickness):

75 x 0.5 cm / 90 x 0.5 cm

Closure Type:

number combination

Security Rating:

9 (of 15), " Extra"
Technical Information:
Length:

75 cm / 90 cm

Bar Thickness:

0.5 cm

Folded Size (Length x Height x Width):

20 x 3 x 6.5 cm

Test Certifications:

Ice Spray Tested

Bar Material:

steel
Features:
5 mm thick bars, with extra soft 2-component coating to protect against damage to the paint of the frame
colour-coordinated plastic coating for the lock body
a joint construction allowing compact folding
bars and housing made of special hardened steel
bars are connected by special rivets
2-component number rollers ensure permanent legibility of the numbers
numerical code individually adjustable
ST carrying bag with rattle protection
ST carrying bag can be flexibly mounted with rubberised non-slip hook-and-loop straps
carrying bag can be attached onto the bottle cage mount
Technology:
Maximum security level:
Locks with maximum protection (levels 10-15), are the right choice for high quality bicycles and use in large cities or regions with a high risk of theft.
Contents:
1 x ABUS Bordo Combo 6100 folding lock
1 x ABUS ST carrying bag with hook-and-loop fastening straps
100 day return period

Online since 1998

Trusted Shop

4.89

/ 5.00