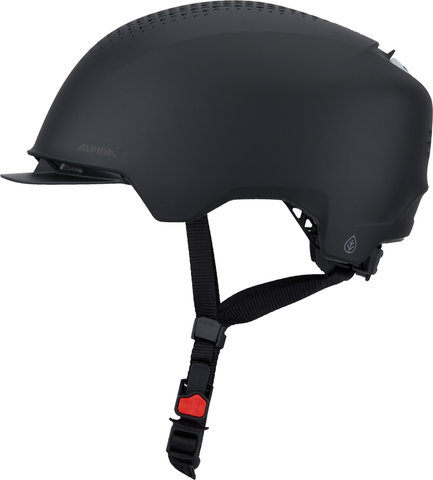 Information regarding the return of batteries and electrical equipment:
Information on the return and disposal of used batteries and electrical equipment can be found
here
.
Specifications:
Application:

City

Construction:

Hard shell, Ceramic Shell, Hi-EPS

Closure System:

ratchet
Features:
excellently ventilated helmet for environmentally-conscious bikers on urban tours
reduction of CO2 emissions
energy-saving production
waste prevention and respect for human rights among all partners in the supply chain
made from biologically-based and recycled materials
with flash light rear light already fitted
Technology:
Ceramic Shell
All Alpina In-Mold helmets are fitted with this break-resistant and scratch-resistant polycarbonate shell. The blank is stretched under strong heat onto the shape of the later helmet and pressed with high pressure onto its Hi-EPS body. The material is characterised by several qualities at the same time: It is break-resistant, scratch-resistant, UV-stable and antistatic.
hard shell
Hardshell helmets have an impact-resistant outer shell made of ABS or polycarbonate on the EPS inner shell. This combination ensures maximum safety.
Hi-EPS
The inner shell of every Alpina helmet is made of Hi-EPS (" High Expanded Polystyrene" ). It consists of microscopically small air chambers which optimally absorb the forces acting in the event of an impact. Hi-EPS ensures extra-thin wall thicknesses and narrow helmet shapes in spite of optimum protection.
Flash Light
LED light for easy installation in the rear of the helmet with three settings: continuous light, permanent light and flashing light
Ergomatic
Proven hundreds of thousands of times and used on all Alpina helmets: the belt buckle with the red push button and multi-stage automatic snap-in mechanism. Ergomatic can be operated with one hand - uphill the strap can be loosened, downhill it can be tightened - and in the event of a fall it is not possible for the locking mechanism to open automatically.
Y-Clip
A helmet can only protect well as long as it remains in the optimal position during an impact. The fixation of the two straps under the ear plays a decisive role. Alpina's Y-Clip system guarantees a millimetre-precise fit in seconds.
Custom-Fit System
Different head shapes require a flexible adjustment system. In combination with the Run System, Custom Fit ensures a non-slip fit. The neckband at the back of the head can be tilted in several stages and gently embraces the headband without creating pressure.
Shield Protect
The removable shield protects the face both from dirt and direct sunlight.
Airflow Vents
One factor that strongly influences the wearing comfort is the ventilation of the helmet. The strategically sensible arrangement of the ventilation openings is decisive for optimum ventilation of the interior. The air is directed into the interior, directed along the head and can then flow out again at the rear. The head is thus always pleasantly ventilated.
Manufacturer Numbers:
52 - 56 cm:

A97761

55 - 59 cm:

A97763
Using Helmet Lights
Helmet lights and head lamps are ideal for outdoor sports. Whether it's in traffic, on closed or private grounds or at sporting events, a helmet light is essential for the well-equipped rider.
However, helmet lights are not bicycle lights, in that they do not have StVZO approval and may not be mounted on the bicycle for lighting purposes. Its use as helmet light is not permitted on roads in Germany either.
You should therefore always use a
StVZO-approved bike light
, which is indicated by the number [K~~].
For use in other countries, please refer to local public safety authorities.
Contents:
1 x Alpina Idol Helmet
1 x Alpina Plug-In-Light II helmet light
100 day return period

Online since 1998

Trusted Shop

4.89

/ 5.00