100 day return period

Online since 1998

Trusted Shop

4.89

/ 5.00
Super Record EPS 12s rear derailleur by Campagnolo - durable, precise, reliable
The Super Record EPS 12s rear derailleur from Campagnolo takes advantage of the many developments made for its mechanical 12-speed predecessors. The winding of the chain has been electronically improved and is specific to each individual sprocket. The positioning of the rear derailleur improves, among other things, the power transmission and the wear of the entire drivetrain. The structure of the cage is stronger and slimmer, allowing more space between the rear derailleur and spokes, making it easier to adjust the rear derailleur. A higher degree of precision in the shifting process is required due to the presence of 12 sprockets, which is achieved efficiently and quickly using the most powerful engines available on the market. The composition of materials such as aluminium, technopolymer and long carbon fibre also meets Campagnolo's usual standards of durability, precision and reliability, all at a weight of just 234 g!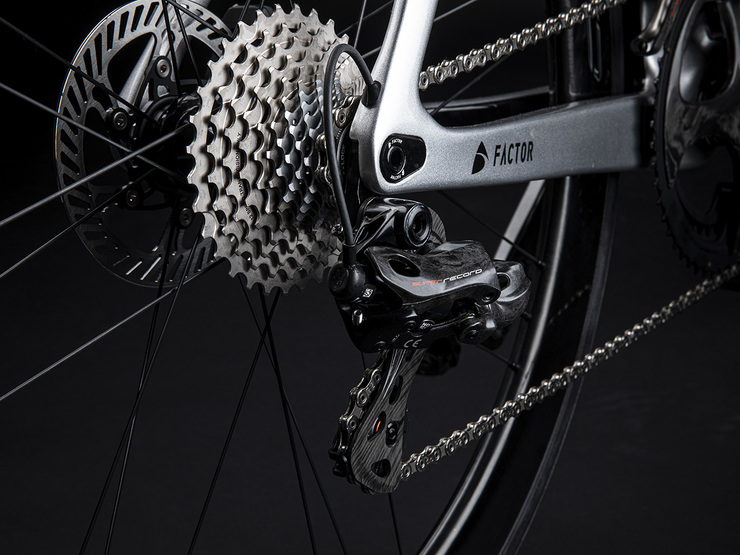 Information regarding the return of batteries and electrical equipment:
Information on the return and disposal of batteries and electrical equipment can be found
here
.
Specifications:
Series:
Super Record EPS 12s
Application:
Road, Cyclocross
Gearing:
12-speed
Mount:
standard
Capacity:
32 teeth
Compatibility:
Campagnolo 12-speed
Compatibility - Chains:
Campagnolo 12-speed
Technical Information:
Derailleur Pulleys:
12 teeth
Material:
monolithic technopolymer
Outer Cage Material:
Carbon
Inner Cage Material:
Carbon
Note from the manufacturer:
This Record rear derailleur is marked FG and therefore only compatible with components marked F, G or FG.
Features:
- motors with high torque and high transmission ratio
- precise, fast shifts
- position sensor that always sets the rear derailleur to the optimum position in relation to the selected sprocket
- special treatment that keeps the titanium parts intact and keeps their performance for a long time
Technology:
Multi-Shifting:
The electronic further development of the multi-shifting technology used in the mechanical systems allows multiple gears to be shifted across all sprockets.
Unlock System:
The rear derailleur is equipped with an automatic unlocking system that allows manual operation of the rear derailleur in the preferred position in the event of system faults.
Waterproof - IP67:
The electronic drivetrain groupset complies with international standards IP67. The electronic components are protected against dust and liquids.
Manufacturer Number:
RD19-SR12EPS
Contents:
- 1 x Campagnolo Super Record EPS 12s rear derailleur