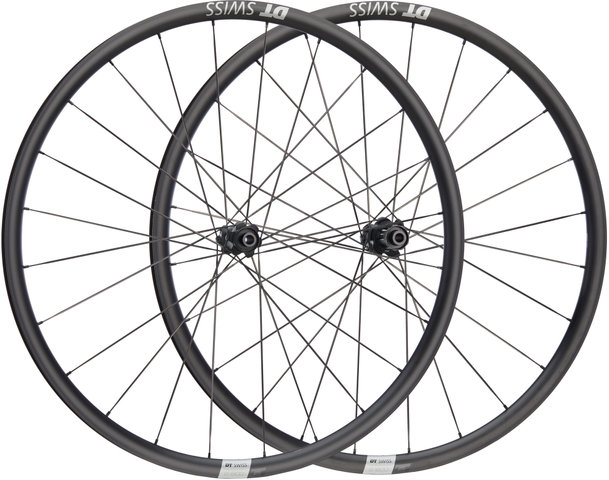 DT Swiss G 1800 SPLINE 25 Center Lock Disc 28" Wheelset
DT Swiss G 1800 SPLINE 25 Center Lock Disc 28" wheelset - off-road riding pleasure
The G 1800 SPLINE 25 wheelset by DT Swiss is perfect for your 28" gravel bike. It has 25 mm deep and 24 mm wide aluminium rims that allow a tyre width of up to 53 mm and are of course tubeless-compatible. This way you benefit from increased riding comfort and puncture protection during your off-road adventures. The rims were joined together using the sleeve-joint method for extra strength and fitted with a hook on the rim flange, which stabilises the tyre bead. The 370 SPLINE hubs are designed for centre-lock brake discs and straightpull spokes. The rear wheel has a Ratchet LN freehub with an 18-tooth disc and an engagement angle of only 20°. Wear is therefore particularly low and unwanted idling is minimised, which increases your speed. The extremely robust DT Aero Comp Wide spokes absorb shocks from rough ground and have been equipped with self-locking Pro-Lock Squorx nipples made of aluminium for even more safety.
Specifications:
Application:

Gravel

Wheel Size:

28"

Tyre Type:

clincher tyre

Number of Spokes:

24

Brake Type:

Center Lock Disc

Tubeless System:

Tubeless Ready
Technical Information - Rim:
Rim Flange:

with hook

Dimensions (ETRTO):

24-622

Inner Width:

24 mm

Depth:

25 mm

Valve Hole Diameter:

SV/Presta (6.5 mm)

Rim Material:

aluminium
Technical Information - Front Hub:
Type:

370 straight pull

Over Locknut Dimension:

12 x 100 mm thru-axle

Body Material:

aluminium
Technical Information - Rear Hub:
Type:

370 straight pull

Over Locknut Dimension:

12 x 142 mm thru-axle

Body Material:

aluminium

Freehub Body Material:

aluminium

Freehub Body:

Ratchet LN 18
Technical Information - Lacing:
Front Lacing Pattern:

2-cross

Rear Lacing Pattern:

2-cross

Spoke Type:

DT Aero Comp Wide/ straight pull

Spoke Material:

stainless steel

Nipple Type:

DT Pro Lock Squorx ProHead

Nipple Material:

aluminium
Approved For:
Weight Limit:

130 kg (system weight)

Air Pressure (max.):

Recommended Tyre Width:
Features:
robust, adaptable 28" gravel wheelset
tubeless-compatible sleeve joint hook rims made of aluminium, 25 mm deep
24 mm jaw width for up to 53 mm wide tyres, thus more off-road riding comfort
reliable ratchet freehub system for efficient propulsion
durable, shock-absorbing straightpull spokes
nipple with thread lock for even more safety and durability
Technology:
Intended use: Category 2
Suitable for use on predominantly paved and partially unpaved ground with a slight slope and a temporary loss of ground contact as well as drops of up to 15 cm.
Pro Lock
The nipple thread is coated with two-component adhesive to increase the durability of the wheels. It can still be re-trued several times without any problems, but the adhesive strength decreases slightly. The connection between the spoke and nipple cannot loosen by itself.
Ratchet LN
The Ratchet LN freehub is used to convert DT Swiss 370 hubs with pawls to a ratchet freehub. The advantage, compared to pawls, is the significantly larger contact surface with improved frictional connection. The seal attached to the freehub body, and not to the hub shell as usual, makes the freehub body easily replaceable. The modular design allows free selection of the engagement angle (18, 24, 36 or 54 teeth) and of the freehub body.
SPLINE
Straight pull hubs, straight spokes and strong rims result in a durable wheel. It can therefore be reliably used in training and competition.
Models:
28" set (front 12x100 + rear 12x142) Shimano:
Freehub:

Shimano Road

Gearing:

8-/9-/10-/11-/12-speed

Note:

The assembly of 8-/9-/10-speed cassettes on a Shimano road rotor requires a 1.85 mm spacer.

Manufacturer Numbers:

W0G1800AIDXSA21293 + W0G1800NIDMSA21294
28" set (front 12x100 + rear 12x142) SRAM XDR:
Freehub:

SRAM XDR

Gearing:

11-/12-speed

Manufacturer Numbers:

W0G1800AIDXSA21293 + W0G1800NID1SA21295
Contents:
1 x DT Swiss G 1800 SPLINE 25 Disc Center Lock 28" wheelset (front and rear wheel)
2 x rolls DT Swiss rim tape (applied)
2 x DT Swiss tubeless valves
Weight:
black/28" set (front 12x100 + rear 12x142) Shimano: 1835 g (pro Satz)
100 day return period

Online since 1998

Trusted Shop

4.89

/ 5.00