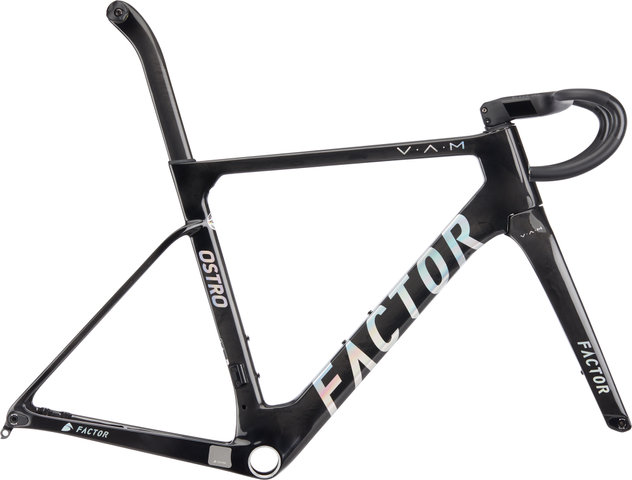 The OSTRO V.A.M.Frame kit from Factor combines high performance and comfort
The OSTRO V.A.M. frameset by Factor gives you the opportunity to build an ultra-light aerodynamic carbon road bike. The fork, frame and seatpost have been optimised to create a streamlined design. This lightweight frameset impresses with its outstanding stiffness, which is achieved through the use of TeXtreme carbon fibres. TeXtreme consists of very flat fibres that can be laid wide, which results in very little material being used. These fibres are supported by pitch-based carbon fibres. The tyre clearance measures 32 mm, and the specially-designed fork can accommodate tyres up to 32 mm wide, both of which make mounting wider, more comfortable tyres easy and stress-free. A high-end headset and bottom bracket from CeramicSpeed deliver lower friction loss while riding, and thanks to the streamlined handlebar stem unit from Black Inc, this frameset can truly live up to its " speedy" name (OSTRO is the name of a wind that blows through the Mediterranean). Handlebar tape and a training computer mount are also included.
Do you want a bike for classic races like Paris-Roubaix? With the OSTRO V.A.M. frameset, you get the right basis for a comfortable, fast road bike.
Specifications:
Application:

Road

Wheel Size:

28"

Size:

49 cm, 52 cm, 54 cm, 56 cm, 58 cm

Frame Material:

Carbon

Fork Material:

Carbon
Technical Information - Frame:
Wheel Standard:

12 x 142 mm (standard)

Axle Type:

12 mm thru-axle

Headset:

IS41/28.6 - IS49/37(36 ) (top to bottom)

Bottom Bracket Standard:

T47

Shell Width:

77 mm

Chainline:

46.5 mm

Brake Mount:

flat mount

Front Derailleur Mount:

Direct Mount (High-Direct)

Cable Routing:

internal electrical

Bottle Cage Mounts:

2
Technical Information - Fork:
Steerer Tube:

1 1/8" - 1 3/8" tapered

Wheel Standard:

12 x 100 mm (standard)

Axle Type:

12 mm thru-axle

Brake Mount:

flat mount

Offset:

43 mm, 48 mm, 53 mm

Trail:

57.1 mm, 57.3 mm, 57.5 mm

Axle to Crown:

363 mm

Over Locknut Dimension:

100 mm

Steerer Tube Material:

Carbon

Crown Material:

Carbon

Blade Material:

Carbon

Dropout Material:

Carbon

Drop Handlebars:

125 mm

Reach Handlebars:

80 mm

Flare Handlebars:

3°

Material Integrated Stem/Handlebars:

Carbon
Approved For:
Weight Limit:

110 kg (system weight)

Rotor Size (max.):

160 mm

Tyre Size (max.):

32-622 (700x32c)

Chainrings:

1x, 2x

Chainring Size (max.):

55-tooth
Geometry:
49 cm:
Stack:

503 mm

Reach:

370 mm

Seat Tube Length:

456 mm

Effective Top Tube Length:

511 mm

Wheelbase:

968 mm

BB Drop:

72 mm

Seat Tube Angle:

74.5°

Head Tube Angle:

71.7°

Fork Offset:

53 mm

Trail:

57.1 mm

Stem Length:

90 mm

Handlebar Width:

400 mm
52 cm:
Stack:

523 mm

Reach:

376 mm

Seat Tube Length:

480 mm

Effective Top Tube Length:

527 mm

Wheelbase:

968 mm

BB Drop:

72 mm

Seat Tube Angle:

74°

Head Tube Angle:

72.5°

Fork Offset:

48 mm

Trail:

57.3 mm

Stem Length:

100 mm

Handlebar Width:

400 mm
54 cm:
Stack:

542 mm

Reach:

384 mm

Seat Tube Length:

502 mm

Effective Top Tube Length:

550 mm

Wheelbase:

982 mm

BB Drop:

70 mm

Seat Tube Angle:

73°

Head Tube Angle:

72.5°

Fork Offset:

48 mm

Trail:

57.3 mm

Stem Length:

110 mm

Handlebar Width:

420 mm
56 cm:
Stack:

565 mm

Reach:

392 mm

Seat Tube Length:

525 mm

Effective Top Tube Length:

566 mm

Wheelbase:

985 mm

BB Drop:

70 mm

Seat Tube Angle:

73°

Head Tube Angle:

73.3°

Fork Offset:

43 mm

Trail:

57.5 mm

Stem Length:

110 mm

Handlebar Width:

420 mm
58 cm:
Stack:

587 mm

Reach:

401 mm

Seat Tube Length:

548 mm

Effective Top Tube Length:

582 mm

Wheelbase:

1005 mm

BB Drop:

70 mm

Seat Tube Angle:

73°

Head Tube Angle:

73.3°

Fork Offset:

43 mm

Trail:

57.5 mm

Stem Length:

120 mm

Handlebar Width:

440 mm
61 cm:
Stack:

611 mm

Reach:

409 mm

Seat Tube Length:

570 mm

Effective Top Tube Length:

597 mm

Wheelbase:

1023 mm

BB Drop:

70 mm

Seat Tube Angle:

73°

Head Tube Angle:

73.3°

Fork Offset:

43 mm

Trail:

57.5 mm

Stem Length:

120 mm

Handlebar Width:

440 mm
Manufacturer Numbers:
49 cm:

FS-V49

52 cm:

FS-V52

54 cm:

FS-V54

56 cm:

FS-V56

58 cm:

FS-V58

61 cm:

FS-V61
Contents:
1 x Factor OSTRO V.A.M. Frame
1 x Factor OSTRO fork
1 x Factor OSTRO seatpost
1 x CeramicSpeed 110 headset
1 x CeramicSpeed T47A bottom bracket
1 x Black Inc V.A.M. handlebar stem unit
1 x Factor/Black Inc. mount for training computer
1 x pair handlebar tape
1 x headset cover 5 mm
1 x headset cover 20 mm
1 x Factor spacer 2.5 mm
1 x Factor spacers 5 mm
1 x Factor spacer 10 mm
1 x DUB bottom bracket adapter
1 x bottom bracket adapter 24 mm
1 x bottom bracket adapter 30 mm