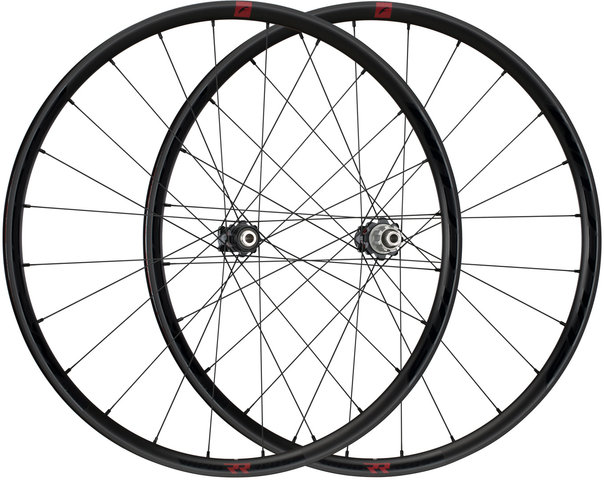 Fulcrum Rapid Red 5 DB Disc Center Lock 28" Wheelset
Versatility and freedom: the Rapid Red 5 DB wheelset from Fulcrum
There are many ways of interpreting a popular new trend that represents something different to every participant. For some, it offers a new way to further test their limits; for others, it is a new opportunity to completely revamp their approach to cycling. B-Road, or " Gravel" , encompasses all of these aspects, and the Rapid Red 5 DB has been designed and produced by Fulcrum to accommodate this trend from a holistic perspective. In developing the Rapid Red 5 DB, Fulcrum's R&D department used all the experience and technical solutions developed for road bike wheels and redesigned them for off-road applications.
For dirt and gravel roads, one needs a wide rim width, which measures 23 mm for this wheel, with low and extremely tough 24 mm rims to absorb shocks and guarantee excellent riding comfort regardless of the vibrations. The tread pattern allows the mounting of tyres between 33 and 46 mm Tubeless Ready, with many possibilities of adjustment according to the distance to be covered. The 24 straight pull spokes, supported by a strong aluminium hub, guarantee ideal support for rough terrain as well as a slightly-increased wheel weight that is ready for travel.
Specifications:
Application:

Gravel

Wheel Size:

28"

Tyre Type:

clincher tyre

Number of Spokes:

24

Brake Type:

Center Lock Disc (AFS Axle System™)

Tubeless System:

2-Way Fit™
Technical Information - Rim:
Dimensions (ETRTO):

23-622

Inner Width:

23 mm

Outer Width:

28 mm

Depth:

24 mm

Rim Material:

aluminium
Technical Information - Front Hub:
Over Locknut Dimension:

12 x 100 mm thru-axle

Bearings:

cassette bearings, sealed

Body Material:

aluminium w/ aluminium flanges
Technical Information - Rear Hub:
Over Locknut Dimension:

12 x 142 mm thru-axle

Bearings:

cassette bearings, sealed

Body Material:

aluminium w/ aluminium flanges
Technical Information - Lacing:
Spoke Type:

round, straight pull

Spoke Material:

stainless steel

Nipple Material:

aluminium
Approved For:
Weight Limit:

120 kg total weight

Tyre Width (max.):

32 - 46 mm
Features:
ASTM category 2: for use on roads, maintained dirt roads and gravel roads (on Touring and Cross Country bikes) with jumps up to a height of 15 cm
Kit for converting the front hub to 15 x 100 mm
DRP (Dirt Road Protection) bearing protection
Technology:
2-Way Fit™
Tubeless technology was first used in the automotive sector, then in motorcycles and finally in bicycles. After entering the MTB world, the time has come for their use on the road: Fulcrum has developed the 2-Way Fit™ technology to guarantee the perfect compatibility of Fulcrum tubeless rims even with normal clincher tyres with tubes. 2-Way Fit™ wheels are particularly versatile and therefore perfectly suited to every situation. Thanks to a special marking in the valve area, inner tubes are installed with high precision and the tube remains firmly stabilized in the clincher tyre. The valve for tubeless tyres can also be used safely. This offers the undeniable advantage that air can never penetrate during assembly due to inaccurate positioning.
The advantages are undisputed: tests have shown an incomparably high increase in smoothness. The absence of an inner tube prevents friction with the tyre and the perfect adhesion of the tyre to the rim prevents energy loss. A tubeless tyre cannot lose air abruptly through a hole and suddenly become flat, which is a clear safety advantage. There is also no danger of snake bites, as there is no inner tube that can be punctured.
What about a flat tyre? Don't worry! One of the advantages of the Fulcrum 2-Way Fit™ system is the possibility of removing the tubeless valve and inserting a normal inner tube to get you home.
AFS Axle System™
The Axial Fixing System is the solution developed by Fulcrum to mount the disc rotor to the hub. The connection provided by the stop surface of the mount is greater than that of the already known standards, allowing greater structural rigidity and therefore more precise and efficient braking.
Models:
28" set (front 12x100 + rear 12x142) Shimano:
Freehub: Shimano Road
Gearing: 8-/9-/10-/11-speed
Manufacturer Number: RR5-20DFR22AS
28" set (front 12x100 + rear 12x142) SRAM XDR:
Freehub: SRAM XDR
Gearing: 11-/12-speed
Manufacturer Number: RR5-20DFR22AX
Contents:
1 x Fulcrum Rapid Red 5 DB wheelset (front & rear)
2 x Fulcrum 2-Way Fit valves
2 x rolls of rim tape
Weight:
black/28" set (front 12x100 + rear 12x142) Campa N3W: 1700 g
black/28" set (front 12x100 + rear 12x142) Shimano: 1700 g
100 day return period

Online since 1998

Trusted Shop

4.89

/ 5.00