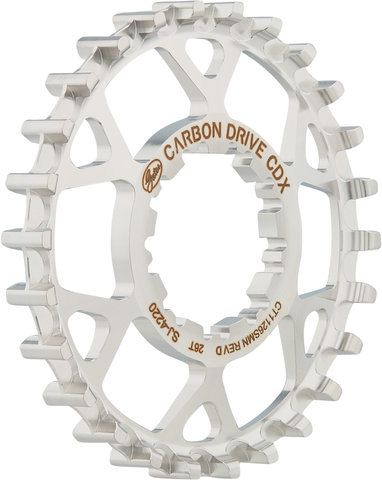 This rear CDX belt drive sprocket from Gates for touring and off-road use has a 9-spline mount with nine grooves, and is compatible with Shimano HG-type freehub bodies. It is made of stainless steel.
Guidelines for Replacing E-bike Components:
Before you replace components on your e-bike, please read through the
guidelines
for component replacement for CE-marked E-bikes/pedelecs with pedal assistance.
Specifications:
Application:

All Mountain, City & Touring

Teeth:

20 T, 22 T, 24 T, 26 T, 28 T, 30 T, 32 T, 34 T

Mount:

9-Spline
Technical Information:
Width of the teeth:

11 mm

Tooth division:

11 mm

Mounting web thickness:

5.0 mm

Offset:

0.5 mm (assembly surface), 3.0 mm (centre line)

Material:

stainless steel
Compatibility:
Shimano HG standard freehub body with nine notches (Shimano MTB, Shimano Road)
Features:
CDX: high-end version for high loads and best performance
suitable for mud, sand, snow and ice as well as all roads
middle guide groove (CenterTrack)
high mileage
robust stainless steel
Technology:
Gates Carbon Drive System
The main advantages of the Gates Carbon Drive system are cleanliness, smoothness and robustness. Urban commuters as well as mountain bikers, E-bike users or leisure riders benefit from the high mileage. Oil-stained or rusty chains are a thing of the past.
Clean:
No lubricant means no accumulation of grease and dirt.
Smooth and silent operation:
no metal-to-metal contact of the chains.
Light:
The whole system weighs less than a standard bicycle chain.
No elongation:
Belt does not need to be re-tensioned or replaced.
Self-cleaning:
CenterTrack and MudPort profiles are specially designed to repel mud, dirt, snow or other contaminants.
Consistent efficiency:
The drive boasts a long service life compared to that of a conventional chain, where efficiency is significantly reduced by wear or dirt.
Installing a Gates Carbon Drive Belt Drive requires a specially-made frame, therefore we strongly advise against using one to modify a conventional framework.
Models:
20 tooth:
Outer Diameter:

68.3 mm

Manufacturer Number:

CT1120SMN
22 tooth:
Outer Diameter:

75.3 mm

Manufacturer Number:

CT1122SMN
24 tooth:
Outer Diameter:

82.3 mm

Manufacturer Number:

CT1124SMN
26 tooth:
Outer Diameter:

89.3 mm

Manufacturer Number:

CT1126SMN
28 tooth:
Outer Diameter:

96.3 mm

Manufacturer Number:

CT1128SMN
30 tooth:
Outer Diameter:

103.3 mm

Manufacturer Number:

CT1130SMN
32 tooth:
Outer Diameter:

110.3 mm

Manufacturer Number:

CT1132SMN
34 tooth:
Outer Diameter:

117.3 mm

Manufacturer Number:

CT1134SMN
Contents:
1 x Gates CDX 9-Spline Rear Belt Drive Sprocket
Order Together: