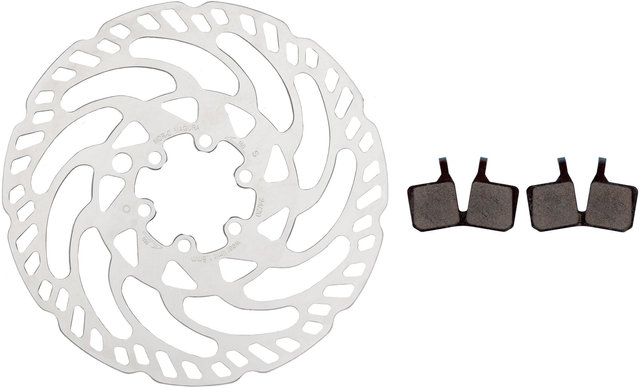 The MDR-C brake rotor and brake pad kit 6-bolt 160 mm by Magura - brake pads included
The one-piece MDR-C brake rotor from Magura with 160 mm diameter and 6-bolt mount is available in a kit with matching brake pads for your MT. Characteristic of the MDR-C brake rotor is its stiffness and vibration resistance thanks to an additional connecting ring. It is particularly heat resistant and durable, making it the perfect all-rounder for the city or trail. The right brake pad for your Magura MT is also included in the selection of brake pads.
Manufacturer's Notice:
Use only original brake pads and Royal Blood by Magura, otherwise the warranty will expire.
Guidelines for Replacing E-bike Components:
Before you replace components on your e-bike, please read through the
guidelines
for component replacement for CE-marked E-bikes/pedelecs with pedal assistance.
Technical Information - Brake Rotor:
Mount:

6-bolt

Diameter:

160 mm

Design:

1-piece

Rotor Material:

stainless steel
Specifications - Brake Pads:
Brake Pad Compound:

organic

Backing Plate Material:

steel

Cooling Fins:

no
Features:
Models:
7.P:
Compatibility:

MT 2-piston disc brake as of 2012

Brake Pad Compound:

P Performance brake pad compound for safety with very good performance on long tours

Manufacturer Numbers:

2701917 + 2701625
7.R:
Compatibility:

MT 2-piston disc brake as of 2012

Brake Pad Compound:

R Race pad compound for maximum deceleration under extreme loads, e.g. in Downhill use

Manufacturer Numbers:

2701917 + 2701179
7.S:
Compatibility:

MT 2-piston disc brake as of 2012

Brake Pad Compound:

S Sport brake pad compound optimised for use on E-bikes

Manufacturer Numbers:

2701917 + 2701993
8.P:
Compatibility:

MT 4-piston disc brake as of 2015

Brake Pad Compound:

P Performance brake pad compound for safety with very good performance on long tours

Number of plates per side:

2

Manufacturer Numbers:

2701917 + 2701628
8.R:
Compatibility:

MT 4-piston disc brake as of 2015

Brake Pad Compound:

R Race pad compound for maximum deceleration under extreme loads, e.g. in Downhill use

Number of plates per side:

2

Manufacturer Numbers:

2701917 + 2701173
8.S:
Compatibility:

MT 4-piston disc brake as of 2015

Brake Pad Compound:

S Sport brake pad compound optimised for use on E-bikes

Number of plates per side:

2

Manufacturer Numbers:

2701917 + 2701994
9.P:
Compatibility:

MT 4-piston disc brake as of 2015

Brake Pad Compound:

P Performance brake pad compound for safety with very good performance on long tours

Number of plates per side:

1

Manufacturer Numbers:

2701917 + 2701627
9.C:
Compatibility:

MT 4-piston disc brake as of 2015

Brake Pad Compound:

C Comfort pad compound for beginners, durable with easy to modulate braking power

Number of plates per side:

1

Manufacturer Numbers:

2701917 + 2701626
Contents:
1 x Magura MDR-C brake rotor
6 x bolts
1 pair of Magura brake pads
1 x pad retaining bolt (only 7.S)
2 x pad retaining bolts (only 7.P, 7.R, 8.P, 8.R, 8.S)
100 day return period

Online since 1998

Trusted Shop

4.89

/ 5.00