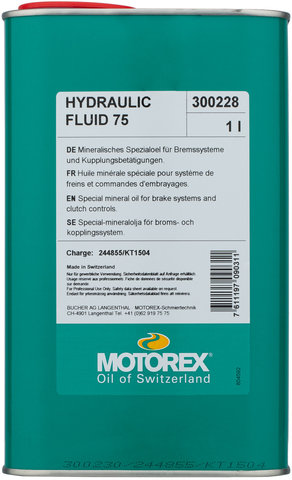 Motorex Hydraulic Fluid 75 Mineral Oil
The Motorex Hydraulic Fluid 75 is a mineral oil based brake fluid for hydraulic brakes.
Specifications:
Designation:

HYDRAULIC FLUID 75

Application:

brake fluid
Compatibility:
for hydraulic disc or rim brakes with a mineral oil-based pressure medium (Shimano, Magura)
Features:
high seal compatibility prevents premature seal failures
resistant to ageing
viscosity changes only slightly with temperature fluctuations, making the fluid suitable for high temperatures
Manufacturer's Warning:

Motorex Hydraulic Fluid 75 must not be mixed with DOT 4.0 or DOT 5.1 brake fluid.
Hazardous Substance:

Signal Word:

Danger
Hazardous Components:
Distillates (petroleum), heavy hydrocracked
Distillates (petroleum), hydro treated light paraffinic
Distillates (petroleum), hydro treated light paraffinic
mineral oil
Hazard Warnings:
H304 May be fatal if swallowed and enters airways.
Safety Information:
P301 + P310 IF SWALLOWED: Immediately call a POISON CENTER / doctor.
P331 DO NOT induce vomiting.
P405 Store locked up.
P501 Disposal of contents / container in accordance with local / regional / national / international regulations.
Manufacturer:
BUCHER AG LANGENTHAL
MOTOREX-Schmiertechnik
Bern-Zürich-Strasse 31
CH-4901 Langenthal
Telephone: +41 (0)62 919 75 75
Models:
100 ml:
Nominal Amount:

100 ml

Packaging Type:

dropper bottle

Manufacturer Number:

304858
1 litre:
Nominal Amount:

1000 ml

Packaging Type:

canister

Manufacturer Number:

300230
Contents:
1 x Motorex Hydraulic Fluid 75 mineral oil brake fluid
100 day return period

Online since 1998

Trusted Shop

4.89

/ 5.00