RAAW Mountain Bikes is a young bike company from the Allgäu region of Germany, dedicated to building a durable and easy to maintain MTB that will let you ride even the hardest trails for many years. Ruben Torenbeek is the brains behind RAAW and has worked for other well-known bike manufacturers before founding his own brand. His experience there now flows into the development and production of his own mountain bike, which is designed for tough Enduro use and is correspondingly robust. The timeless design and uncompromising functionality of the Madonna V2 make it a perfect foundation for a long lasting love of bikes. But beware: The Madonna V2 is not a mass-produced product. The numbers are limited, so you better get hold of one quickly!
The Raaw family has grown and Madonna has another sibling, the Jibb. With the Jibb, Raaw has managed to design a frame that encourages an extremely playful and fun riding style but also can't hide its love for harder trails.
RAAW Jibb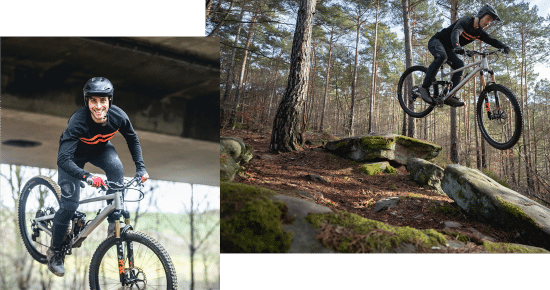 The Jibb doesn't fit into the classic definition of an all-mountain bike, even if you would think so because of its suspension travel. The Jibb puts fun front and center. Trail obstacles like stones or bumps are easier to jump than natural doubles, and the Jibb feels much more agile especially in tight turns. Even a visit to the bike park or an enduro tour in the Alps gains new appeal. Jumps feel more defined, and uphill climbs are easier thanks to the efficient and firmer suspension. For me, it's plain to see: Jibb means fun, which is what almost every mountain biker is looking for!
More about RAAW